"If you thought you were seeing more riders during your daily public transit trips, it's not your imagination" says the American Public Transportation Association (APTA). In a 12 March media release, APTA announced that Americans took 10.1 billion trips on local public transportation in 2006 – a level not seen in 49 years. Over the last decade, says the organization, the growth rate of urban public transportation outpaced that of both the nation's population and the total of vehicle miles traveled on America's highways.
By far, America's rail transit systems led the nation – with light rail, rapid rail, and regional passenger ("commuter") rail posting substantial growth rates.
Light rail leads
Once again, light rail transit (LRT) – including modern streetcars, interurban or semi-metro-type trolleys, and heritage streetcars – had the highest percentage increase among all modes, with a 5.6 percent ridership growth rate in 2006. Indeed, reports APTA, some light rail systems showed double-digit increases in ridership – such as San Jose, with a whopping 36.6%. Some of the top performers included:
· San Jose – 36.6 percent
· Minneapolis – 18.4 percent
· New Jersey – 20.1 percent
· Saint Louis – 16.2 percent
· Philadelphia – 10.8 percent
· Salt Lake City – 14.2 percent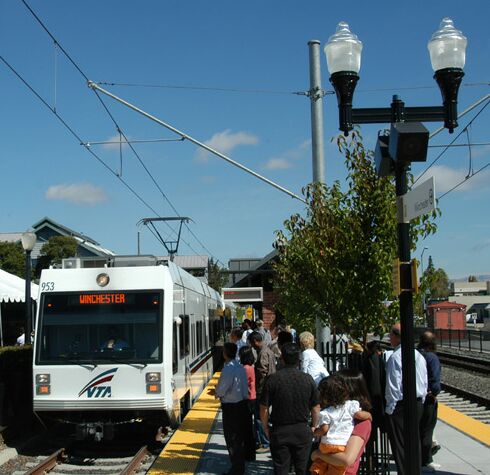 San Jose's VTA LRT system produced the highest rate of ridership growth in the USA, helped by substantial system expansion. Here an inaugural train boards passengers at the new Downtown Campbell station in October 2005.
[Photo: © Peter Ehrlich]
Rail rapid transit in second place
Ridership on rail rapid transit (RRT, "heavy rail") posted the second-largest increase at an average of 4.1 percent. The five RRT systems with the highest increase in ridership for 2006 included:
· Los Angeles – 10.8 percent
· New Jersey – 10.1 percent
· Staten island, NY – 9.4 percent
· Atlanta – 6.3 percent
· Chicago – 4.5 percent
Regional passenger rail is third-highest
Regional passenger rail (RPR, "commuter rail") posted the third-largest increase at 3.2 percent. The five RPR systems with the highest ridership growth rate in 2006 included:
· South Florida RPR based in Miami – 21.3 percent
· Pennsylvania RPR based in Harrisburg – 18.9 percent
· South Bend, indiana to Chicago, illinois RPR system – 10.7 percent
· Stockton to San Jose, California RPR system – 8.8 percent
· South Shore RPR based in New Haven, Connecticut – 8.3 percent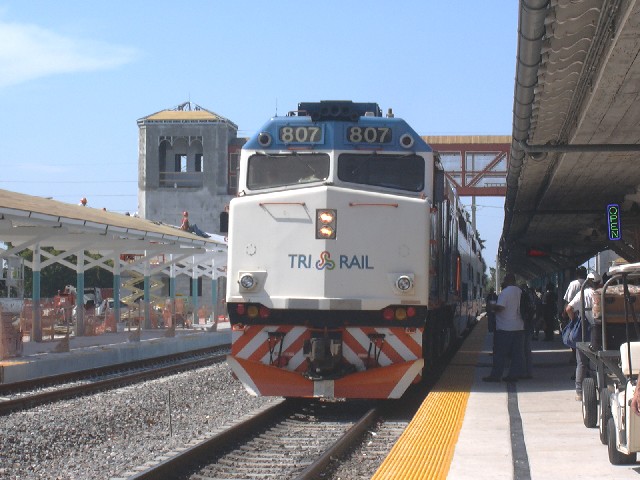 South Florida's Tri-Rail regional passenger rail service, linking Miami and West Palm Beach, produced the highest rate of ridership increase among the regional rail systems in 2006..
[Photo: L. Henry]
Even bus ridership was up
Across the USA, other modes registered increases. Average transit bus ridership increased by 2.3 percent, and demand-responsive services – typically provided by smaller van-type buses – saw ridership grow by 2.9 percent.
Some larger bus operations experienced major ridership increases in the following cities:
· Seattle – 12.1 percent
· San Antonio – 9 percent
· Dallas – 8.3 percent
· Los Angeles – 6.2 percent
· Houston – 6.1 percent
"This significant ridership milestone is part of a multi-year trend as more and more Americans ride public transit to get to destinations important to them, while realizing the benefits of saving money and avoiding congestion" said APTA president William W. Millar. "Public transit ridership helps reduce America's dependence on foreign oil and decreases our contribution to global warming; but ultimately, this milestone represents 10 billion reasons to increase local and federal investment in public transportation."
US public transit soaring
According to APTA, public transit use overall is up 30 percent since 1995.
That is more than double the growth rate of the population (12 percent) and higher than the growth rate for the vehicle miles traveled on our roads (24 percent) during that same period. in 2006, public transit ridership grew 2.9 percent over 2005. To put the 10.1 billion public transportation trips in perspective, transit trips outnumber domestic airline trips by 15 to one.
"Public transportation is a proven way to meet our nation's goals" said Millar. "As Congress looks to find ways to reduce America's dependence on foreign oil and reduce emissions causing global warming, we call on them to increase investment and include incentives to encourage further use of public transportation."

The complete APTA ridership report can be viewed at the following website:

http://www.apta.com/research/stats/ridership



Light Rail Now! website
URL: http://www.lightrailnow.org/news/n_lrt_2007-03b.htm
Updated 2007/03/15