The spectacular expansion of electric light rail transit (LRT) systems in American cities seems to represent a strong vote of confidence by the planners and decisionmakers of these urban areas in LRT as an effective public transport solution to mobility problems. This expansion has continued throughout the spring of 2004 with the opening of several new lines across the country. And even more expansion is under way. Here's a synopsis of the latest openings: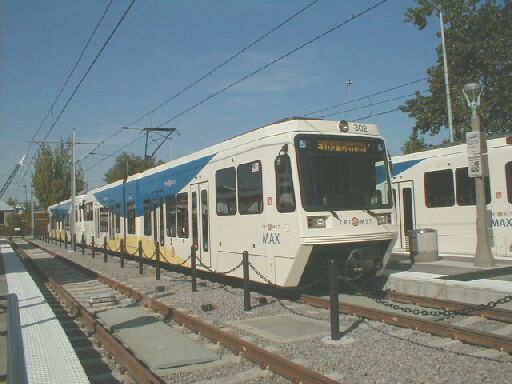 Portland
Interstate MAX Yellow Line opens ahead of schedule and under budget
Portland's MAX Yellow Line (mainly routed on interstate Avenue) opened ahead of schedule and under budget on Saturday, May 1st. Serving north and northeast Portland between the city's downtown and the Expo Center, the new line (see map, below) includes 10 new stations along North Interstate Avenue, a former state highway that fell into decay after it was replaced by the Interstate 5 freeway in 1964. The 5.8-mile, $350 million project marks another milestone in the region's quest to alter urban development patterns, according to a local TV news report.
[KGW-TV, 1 May 2004; photo: M. Eidlin]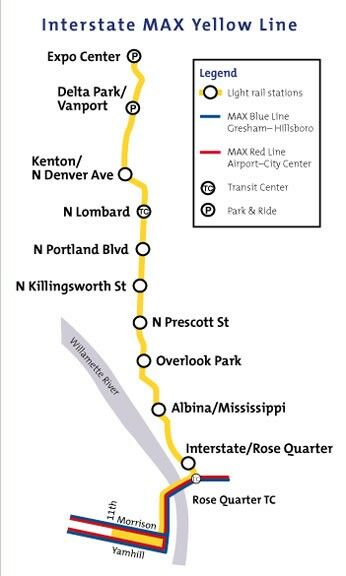 Running through North Portland and the Rose Quarter, the line then enters downtown Portland on tracks used by the Blue and Red lines. By the end of its first year, it is projected to carry as many as 13,900 passengers per day. However, urban development goals appear equally critical for local planners; the new rail line is also intended to bolster economic development and housing opportunities in what is described as a "downtrodden corridor".
[Portland Oregonian, 05 May 2004; KGW-TV, 1 May 2004]
Early indications suggest that the MAX Yellow Line is readily achieving both its mobility and urban development goals. As of Monday, 3 May, the Yellow Line had tallied 12,900 boardings – about 93% of its first-year ridership target within its first 3 days of service.
[Portland Oregonian, 05 May 2004]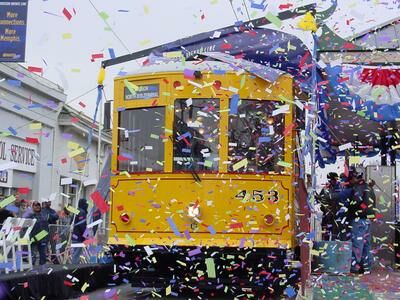 Memphis
Medical Center heritage trolley extension opens as planners eye modern LRT
The opening of Portland's modern LRT extension along Interstate Avenue was preceded by the launch of extensions to two other LRT systems – these providing heritage streetcar service – in Memphis (15 March) and New Orleans (18 April).
Memphis's heritage electric streetcar system took a powerful leap forward on Monday, 15 March 2004, when the Madison Avenue extension – serving the city's Medical Center complex – opened with a grand fanfare. Several hundred people cheered and confetti flew as the first big yellow trolley burst through a banner and confetti at Cleveland Station and headed downtown (see photo, above).
[Memphis Commercial Appeal, 16 March 2004]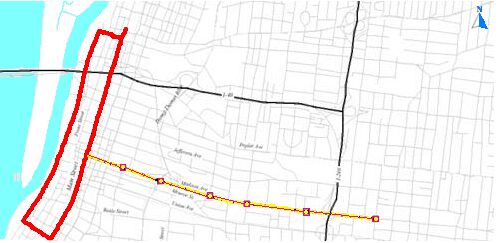 The Memphis trolley system is operated by the Memphis Area Transit Authority and, until the latest expansion, was transporting more than 800,000 passengers a year over two downtown circulator lines, providing service 7 days a week. A 2.5-mile Main St. line opened in 1993, traveling the length of Main St. This line connects the South Main and Pinch historic districts with numerous downtown attractions. A 2.0-mile Riverfront Trolley Loop, opened in 1997, connects together the two ends of the Main St. Line, primarily using a railroad right-of-way shared with Amtrak. (The map at above, right shows the base streetcar system in red, and the Madison/Medical Center extension in yellow-red; the Mississippi River is light blue.)
[Vintage Trolley website, 2004; map: MATA, FTA]
Service has been provided with 14 rehabilitated streetcars imported predominantly from Portugal and Australia, plus one replica car. According to MATA, ridership on the established system had reached 3,300 boardings per day.
[Vintage Trolley website, 2004; MATA website, May 2004]
The new Madison Avenue/Medical Center line operates five additional heritage trolleys refurbished by contractor Gomaco (a well-known supplier specializing in replica and refurbished heritage-style railcars). The 2.5-mile extension is expected to attract an additional 2,100 rider-trips a day.
[Vintage Trolley website, 2004; The Business Journals, Feb. 08, 2004]
The new line operates in mixed traffic along Madison Avenue, generally on tracks located in the inside travel lanes. Grade separations have been constructed at two locations: (1) two new rail-only bridges at Danny Thomas Blvd. (one on each side of an existing bridge), and (2) reconstruction of the existing bridge over the i-240 interstate freeway (with tracks placed on the bridge). The project has added six new stations and a small park-and-ride facility at the eastern end of the line. Five of the six stations are located in the center of the street.
[Vintage Trolley website, 2004]
The Madison Avenue/Medical Center streetcar extension is intended to provide both a transportation and an economic development link between Memphis's Central Business District and Medical Center and will expand transit service options for employees, residents and visitors. This corridor has high-density development, plus significant concentrations of households without autos, many elderly people, and others who rely on transit for access to medical facilities for care and employment. it is hoped that the rail line will enhance development efforts that are already under way and provide a catalyst for redevelopment in other sections of the corridor.
While the original budget for construction and procurement of five heritage streetcars was $74.6, the actual cost of the project came in significantly under budget, at approximately $55 million. With this extension, Memphis's rail transit system has taken a qualitative leap, from being merely a nostalgic, tourist-oriented circulator and shuttle in the downtown, to serving as a major rail transit link for multiple destinations in central Memphis.
Memphis's historic streetcar system is envisioned as a precursor to a modern LRT system, in which trackage and power would be shared by both modern and historic vehicles. Thus, the Madison/Medical Center heritage streetcar project has been planned as the last segment of the downtown rail circulation system as well as the first segment of a modern regional LRT system, tentatively with at least three corridors (targeted for the year 2020).
[MATA website, 2004]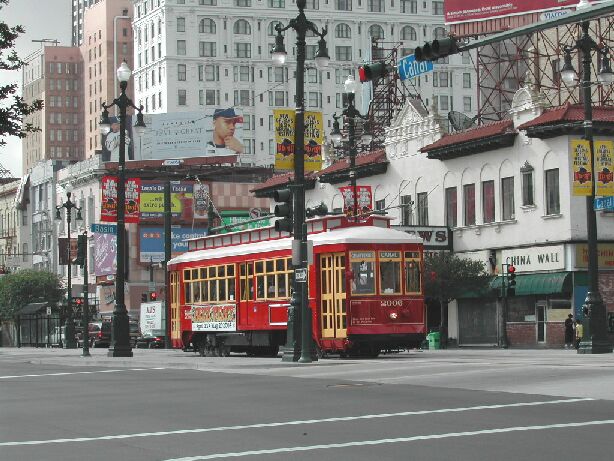 New Orleans
Canal Streetcar line reopens after 40 years
For the first time in 40 years, streetcars returned to New Orleans' historic Canal Street. On Sunday, 18 April, the New Orleans Regional Transit Authority (NORTA) resumed revenue-service operation of the Canal streetcar line, providing service for residents and visitors along the city's historic business district, with a one-way ride costing $1.25.
[Metro, 15 April 2004; photo: Mike Harrington, 2004]
The new streetcar line, which travels a 5.5-mile route from the French Market to its final stop at the New Orleans Museum of Art, includes a fleet of 24 brand-new, air-conditioned streetcars. The Canal cars are painted red to distinguish them from the historic olive-green cars running on the venerable St. Charles line. Built by NORTA blacksmiths, carpenters, electricians, and mechanics, in collaboration with Brookville Equipment Corp., the new high-performance Canal line cars are designed to resemble the Perley Thomas models used on the St. Charles line (and on the Canal streetcar service until its abandonment in 1964).
The opening of the Canal streetcar line is the latest milestone in a gradual but consistent program of upgrades and expansions of New Orleans' renowned (and once extensive) streetcar system. As noted above, trolleycars had last run on Canal in 1964, when the rail line was abandoned and the right-of-way paved over as a busway (i.e., early "Bus Rapid Transit"), operated with diesel buses.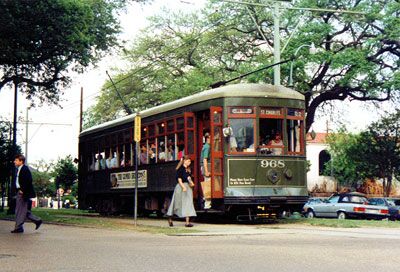 However, the St. Charles streetcar line, with continued heavy ridership, was kept in operation – the last remnant of a once-vast citywide system. in 1973, the St. Charles Line and the remaining fleet of 35 Perley Thomas cars received national recognition when they were named to the National Register of Historic Places. Eventually, the entire bus and streetcar system was taken under public operation by NORTA.
[Vintage Trolley website, 2004]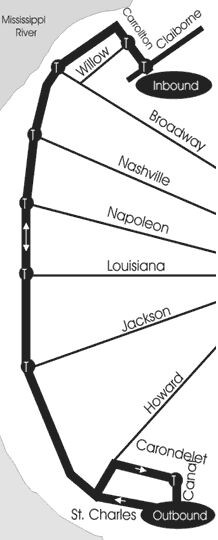 The St. Charles line extends approximately 7 miles, most of it in a center median on St. Charles Avenue, with about ten blocks of street running in mixed traffic to connect with Canal St. in New Orleans' Central Business District. There are 52 stops in total. All of the center-median track (known locally as "neutral ground") on St. Charles and Carrollton Avenues is covered with grass (sod), flush with the top of the rails. The track is laid to New Orleans' traditional 5' 2-1/2" broad-gauge standard. The overhead contact system on the line is direct-suspension trolley wire, powered at 600 volts DC, suspected primarily by bracket arm construction using center poles.
[Vintage Trolley website, 2004; map: NORTA]

In August 1988, New Orleans opened a totally new streetcar line, the Riverfront Line. The first phase of this line connected together the then-new commercial developments in the Warehouse District to developments along the Mississippi Riverfront and in the French Quarter. The initial line utilized a 1.5-mile section of the existing Public Belt Line railroad, incorporating a single track with a passing siding in the middle. Unlike the St. Charles Line, this new route initially was standard gauge.
[Vintage Trolley website, 2004; map: NORTA]
Overwhelming public response to the new line (5,000 riders per day instead of the projected 2,000) prompted plans for expansions which began to be phased in starting in 1990. The line was extended another half-mile, a second track was added, and three wheelchair-accessible ex-Melbourne streetcars were added to the service.
in 1997, the line received another major overhaul, being converted to the 5' 2-1/2" broad-gauge standard of the St. Charles Line in order to permit direct use of the Carrollton "station" (maintenance facility) serving the St. Charles line. The Riverfront service was also re-equipped with a fleet of seven new cars built at Carrollton. These new cars were built to the classic Perley Thomas pattern so familiar to New Orleans, but featured PCC-derivative running gear and controls from CKD (Tatra) in the Czech Republic. The Melbourne cars formerly used on the line were subsequently resold to Memphis for that city's own heritage trolley operation (see previous story, above).
The Riverfront line currently has ten stations, featuring relatively short, low-level concrete platforms with modern steel canopies and informational signage. ADA access is provided with car-mounted wheelchair lifts from Ricon. The double-track line (as noted, utilizing a traditional railroad right-of-way) is still paralleled by a standard-gauge track for freight trains. Guard rails have been added between the running rails on the freight track for the length of the line adjacent to the streetcar tracks. Direct-suspension trolley wire is hung from steel poles utilizing bracket arm construction. The poles are topped with lights that also provide nighttime illumination.
[Vintage Trolley website, 2004]
As of 2001, weekday rider-trips on NORTA's St. Charles and Riverfront streetcar lines averaged 14,100. This relatively high ridership, and the streetcars' success in attracting new passengers, prompted strong interest in restoring streetcar service to Canal St., where ridership had steadily plummeted despite the "BRT" busway service which had replaced the earlier streetcar line in 1964.
[FTA NTD 2001]
Despite the ridership drop, five major Canal bus lines were still experiencing approximately a total of six million annual boardings in the late 1990s, and it was felt that the re-introduction of streetcars would inherit adequately strong ridership from the bus service, while introducing the potential to significantly invigorate ridership in the corridor. Planners predicted that replacing NORTA's buses with streetcars would allow for a significant reduction in the cost of providing public transit on Canal Street and in the Mid-City area, while maintaining current service schedules and capacity. improved traffic flow, better air quality, and the potential for economic development in underserved areas were additional benefits hoped for.
[NORTA website, 2002/11/17]
Work on the $161 million Canal project began in January 2001. This project has included reinstalling streetcar trackage in the "neutral ground" on Canal Street for 4.13 miles, between the bottom of downtown and the Cemeteries area, plus the branch to City Park (see map, below). Trackage for the one-mile spur on North Carrollton Avenue has been installed in the left traffic lane; the streetcar extension terminates at Beauregard Circle opposite the New Orleans Museum of Art. Tracks have been laid using the 5' 2-1/2" broad-gauge standard of the St. Charles Line to facilitate interlining with other lines and to permit access to the Carrollton station of the St. Charles line.
[New Orleans Times-Picayune, 16 September 2003; NORTA website, 2004; Vintage Trolley website, 2004]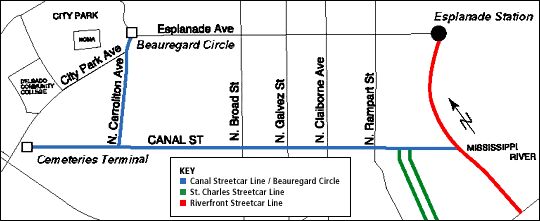 A major feature in the Canal project has been the fabrication of the two dozen brand-new, high-performance streetcars based on the Perley Thomas (PT) model – the PT-2000. Like the Perley Thomas replicas operating on the Riverfront Line, the new car has been fabricated mainly in-house, with trucks and electrical equipment provided by Brookville Equipment Corp. ADA access is provided via onboard wheelchair lifts on both sides. The car is all-electric, and uses PCC-derivative trucks from CKD-Tatra.
Unlike the Riverfront cars, the Canal cars are air conditioned, a modification which has eliminated the traditional Perley Thomas arched ceiling and its bare light bulbs inside the car. The Canal cars instead have a flat ceiling and modern light fixtures, although the wooden walkover seats found on the older cars are retained. The PT-2000s have an unusual faux-clerestory section added on the roof, housing the car's air-conditioning unit and resistor grids for the propulsion system.
[Vintage Trolley website, 2004]
NORTA's energetic streetcar expansion program emphasizes that New Orleans regards its heritage-style streetcar system as its mainstay rail transit mode to serve the central city. Planning for additional streetcar lines continues, with a possible reinstatement of the famous Desire line at the top of NORTA's list. This would introduce a route similar, although not identical, to the original "Streetcar Named Desire" route immortalized in Tennessee Williams's play and subsequent movie.
Vigorous US LRT expansion continues
The new extensions in Portland, Memphis, and New Orleans are merely the latest examples of an ongoing, vigorous resurgence of LRT expansion, including modernization measures and capacity upgrades, extensions to existing systems, and totally new startups in several cities. (The openings in Portland, Memphis, and New Orleans follow on the heels of the launch of the River Line non-electrified light railway in southern New Jersey, connecting Camden with Trenton; see Camden-Trenton: River Line Light Railway Gains Riders, Spurs Economic Development.)
Here's a summary of some of the most important examples of current electric LRT expansion projects:
· Extensions: Projects currently under way in San Diego, San Francisco, San Jose, Sacramento, Denver, Dallas, St. Louis, Philadelphia, Pittsburgh, Hudson-Bergen, Newark.
· Upgrade: Project currently under way in Baltimore (double-tracking project).
· New Systems Startups: Projects currently under way in Phoenix, Seattle, Little Rock (heritage streetcar), Charlotte (modern LRT plus extension to existing heritage streetcar).
Some of the information in this report has been adapted from material on the MATA, NORTA, and Vintage Trolley websites.