NOTE: Our original article has been modified to reflect a 2004 date for beginning of revenue service. Also, the route map has been modified to reflect current plans for entry to the trolley barn (carhouse) from 6th street rather than from 7th.
Little Rock, Arkansas is bringing back the streetcar.
An historic electric streetcar system is being installed via the River Rail Streetcar Project, which finally got under way in early November.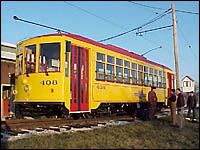 in 2003, if everything stays on schedule, streetcars will once again rumble over tracks in the downtowns of Little Rock and North Little Rock. Phase One will open with three replica or vintage trolleys operating on 2.1 miles of new track, serving downtown Little Rock, including the River Market District, and Main and Maple Streets in downtown North Little Rock.
[Data source: Central Arkansas Transit Authority website 2002/12/26]
Phase 1 of the $16 million River Rail project was given a major jolt of energy with a nearly $3 million Federal Transit Administration grant in December 2001, enabling the Central Arkansas Transit Authority (CATA) to begin construction. The streetcar system is intended to facilitate movement in and around both CBDs, and to boost tourism and economic development.
Expansion of the system is on the agenda. A $7.5 million second phase is already planned to extend the River Rail streetcar line to the new Clinton Presidential Library in east Little Rock. More extensions are possible to the Little Rock airport and eventually to a regional rail system for Central Arkansas.
[Data source: Raymond Dunbar, news compiled from press reports, 2002/10/28]
Connecting major city attractions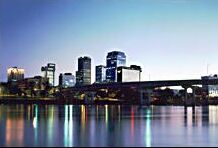 in Phase 1 of the River Rail development program, electric trolleys will link a number of vibrant destinations in the River Cities. These include the 18,000-seat Alltel Arena, the 220,000-square-foot Statehouse Convention Center, the River Market, numerous loft apartments, hotels, two city halls, the Argenta neighborhood, restaurants, Historic Arkansas Museum, Discovery Museum, the main Library, two Chambers of Commerce, courthouses, the Robinson Auditorium Concert Hall, Riverfront Amphitheater, and dozens of office buildings.
[Data source: Central Arkansas Transit Authority website 2002/12/26]
The route will use Markham and Second Streets between Spring and Commerce in Little Rock, and will use Main Street, Seventh Street, and Maple Street in North Little Rock. Eight stops are planned. (See map below.)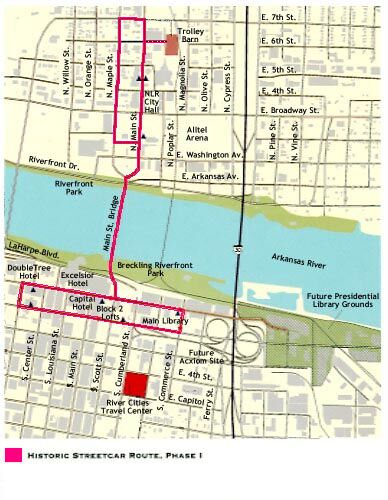 A whiff of history
As in Little Rock's old days, streetcars will run in mixed traffic with motor vehicles. The line uses single track, with trolleys operating in a loop in both Little Rock and North Little Rock. However, there will be one block of contra-flow operation in North Little Rock between the foot of the Arkansas River bridge and the Alltel Arena stop. The Main Street Bridge section itself over the river consists of about 2200 feet of single track, with cars operating in both directions (scheduling will ensure that two cars don't meet each other on the bridge). The overhead contact system (OCS) consists of simple trolley wire throughout, providing an authentic appearance faithful to the look and feel of the original streetcar system.
[Data source: Central Arkansas Transit Authority, 2002/12/31]
Initial rolling stock for the River Rail line will consist of replicas of double-truck Birney streetcars which ran in Little Rock and North Little Rock from the 1920s to 1947. The streetcars are being built by Gomaco Trolley Company of ida Grove, iowa.
History was made when the first streetcar for the line was tested at a track in Mount Pleasant, iowa, on 10 and 11 December 2002 (photo at left). Car number 408, a replica double-truck Birney, will be the first car delivered to Central Arkansas Transit. The old numbering series of the former streetcar system ended in Number 407, hence the new car has the number 408.
Streetcar maintenance and storage will be provided by a trolley barn, located in North Little Rock between Sixth and Seventh streets just east of Main Street. Its design is a combination of functionality and an acknowledgement of its proximity to the North Little Rock Downtown Historic District. The first streetcar will be shipped to North Little Rock upon completion of the trolley barn in the late spring of 2003.
The trolley barn will be designed for expansion as the fleet increases. The barn will also accomodate educational tours to inform the public about the craftsmanship of the streetcars.
Bargain price for nostalgic mobility
At a total cost of approximately $16 million for the 2.1 miles of line, Phase 1 River Rail has an amazingly low unit cost of about $7.6 million per mile. The project is fully funded, with 80 percent of the funding coming from federal sources ranging from New Starts rail funds, flex STP funds, and High Priority funds from TEA 21. Local funds are being provided by Pulaski County, Little Rock, and North Little Rock.
Progress of the project is being monitored by Paul Pool, CATA's Project Manager, and by Jim Graebner of Lomarado Associates, an advisory consultant to CATA. Phase 1 revenue service should begin in mid-2004.
Planning for Phase 2 is currently in early stages. This phase of the River Rail program will connect Phase 1 with two major developments – the William Jefferson Clinton Presidential Library, and the headquarters and Global Village Center of Heifer Project international. The planned stop for Phase Two will be the old Choctaw Railway Station at the end of Third Street just east of interstate 30.
The proposed Phase 2 route of the streetcars will begin at Second and Commerce. Tracks will be laid in Commerce Street to Third Street, and then along Third Street to the Choctaw Station.
No Federal or local funds have been pledged to the Phase 2 project yet. The new track and two additional cars will cost an estimated $6 million.