East Los Angeles Goes for the Gold ...
With Opening of "La Linea de Oro"
Susan Pantell With Light Rail Now Project Team · January 2010

Los Angeles's light rail transit (LRT) Gold Line Eastside Extension, officially named the Edward R. Roybal Gold Line/La Línea de Oro, began revenue service on 15 November 2009, with more than 50,000 people riding the trains for free on opening day. As Mayor Antonio Villaraigosa told a crowd at the dedication ceremony, "This caps a 20-year battle to bring rail back to East LA – one of the most transportation-dependent communities in Los Angeles." County Supervisor Gloria Molina echoed the mayor's enthusiasm: "With the opening of La Linea de Oro – the Metro Gold Line Eastside Extension – Eastside residents now have access to jobs, schools, medical centers, shopping, entertainment, and cultural opportunities throughout our county." [1]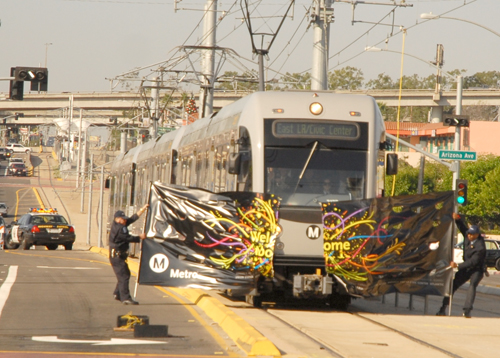 Metro light rail train breaks through celebration banner on opening day of East LA Gold Line.

[Photo: Mario Villegas]
Project background & overview
The East Gold Line project was constructed by the Metro Gold Line Construction Authority, an independent transportation planning and construction agency created in 1998 by the California State Legislature to take over construction of the Gold Line to Pasadena when the Los Angeles Metropolitan Transportation Authority (Metro, formerly called MTA) was unable to complete it. Now, Metro operates the line as part of itts comprehensive, integrated, growing rail network.
The new line extends the Gold Line 5.9 miles (9.5 km) east from Union Station, linking Little Tokyo, the Arts District, Boyle Heights, and East Los Angeles to the rest of the Metro Rail network via Union Station. [2] From Union Station, the extension proceeds on an elevated viaduct crossing the Hollywood Freeway; it then ramps down to surface level, proceeding at grade on Alameda Street north of Temple Street. The line then turns into First Street, crossing the Los Angeles River and going underground for a stretch before jogging on Indiana St. and emerging on Third Street, which it then follows in a median alignment to its current terminus at Atlantic Blvd. [3] (See map below.)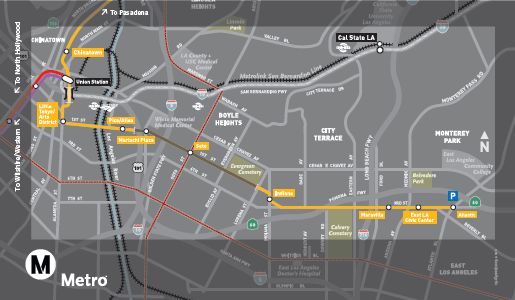 [Map: Metro]
The extension includes eight new stations and one station modification. Most of the line is at grade (i.e., on the surface), but there's a 1.7-mile (2.8-km) twin tunnel under Boyle Heights with two underground stations, an overpass over State Route 101, and tracks on the existing 1st Street Bridge over the Los Angeles River. The line runs on a separate transit reservation but is governed by traffic signals, without preemption.
Union Station is on the east side of downtown Los Angeles, and riders have to transfer in order to go into downtown. Metro is planning to build a downtown connector, which would allow for a direct ride into downtown, but at present the Gold Line connects at Union Station with Metro's Red Line, which in turn connects with the Blue Line LRT and Orange Line ("Bus Rapid Transit"); the Blue Line in turn connects with the Green Line LRT service. Altogether, this network of rail and "BRT" operations provides service to downtown LA, Hollywood, the San Fernando Valley, Long Beach, Redondo Beach, Norwalk, and LAX Airport (via a connecting free shuttle). Connections can also be made to the Metrolink regional passenger rail service and Amtrak at Union Station, and Metro will be implementing increased feeder bus service to the LRT stations on the Eastside Gold Line. There is paid parking at Union Station and a free 200-space park-and-ride lot at the last station on the line, Atlantic Boulevard.
Investment & operating costs
With fairly heavy elevated and subway sections, project investment cost for the East Gold Line totaled $898.8 million (about $152 million/mile), with a federal New Starts funding share of$491 million. Other sources for funding included: $23.1 million from the Section 5309 Fixed Guideway Modernization program, $189.9 million from the Flexible Funds program, and $195.1 million from local sales tax revenue.
Operating costs are projected to be $22.4 million per year, or $0.36 per passenger-mile. Metro allocated $4.5 million for safety enhancements to the line. [4] There are no crossing gates at the intersections, but Metro plans to provide fencing along most of the route. [5]
Rolling stock & operations
The Gold Line uses AnsaldoBreda P2550 cars, which are each 90 feet long and have seating for 76 passengers (see photo above). Most trains have two cars, with the exception of one-car trains used during the evenings and weekend mornings. Metro purchased 50 light rail cars in 2005 for the Blue, Green, and Gold Lines, including the Eastside Extension, for $2.9 million each. Metro planned to contract with AnsaldoBreda to supply 100 additional light rail cars for the system, and the company agreed to build a plant in the LA area; but the contract fell through, so the purchase of the rolling stock will be opened to bid. [6]
Trains run from 04:21 to 00:45, with headways every 7 to 8 minutes during peak hours and every 12 to 20 minutes off-peak and on the weekends. It takes about 24 minutes to travel the length of the new line, an average of 14.9 mph (24 km/h). The trains travel at a maximum speed of 35 miles per hour on the streets, up to 55 mph underground, and only 10 mph (16 km/h) on the bridge over the 101 Freeway.
The base fare is $1.25, with 60 cents additional per zone. A separate ticket must be purchased when changing lines, or a day pass or longer-term pass may be used. There is an electronic fare card available, called Transit Access Pass (TAP). Metro has used a proof-of-payment system for years, but now the agency is in the process of installing fare turnstiles and fences because, management officials say, they are losing about $5 million a year in fares, and they need additional security because of the threat of terrorism and the large number of riders. Turnstiles will be installed at some stations on the Gold Line in 2010. [7]
With the addition of the Gold Line Eastside Extension, Metro now has 79 miles (127 km) of rail, all built during the last twenty years. As of June 2009, the total Metro system had 303,708 average weekday boardings, 189,510 average Saturday boardings, and 155,679 average Sunday boardings. The Eastside Extension is projected to have 13,000 riders per day by the end of the first year of operation, and 23,000 average weekday riders in the year 2020. [8] The line had 11,000 riders during the first week of revenue service. [9]
Corridor implications
While the new line does not run on the core commercial streets (Whittier Blvd. to the south and Cesar Chavez Ave. to the north), it does serve low- to moderate-income neighborhoods of City Terrace, Belvedere, and East Los Angeles. The East Side corridor has among the highest residential densities and transit-dependent populations in the Los Angeles region. At the time of the 1990 census, 26% of households were low income, and 30% of residents did not have access to an automobile. [10] Population in the corridor is expected to increase 20% through 2020, to 275,000, and employment is expected to increase 30%. [11]
A number of development proposals are planned or under construction along the east side corridor, including the Pico Aliso and Aliso Village Urban Revitalization Demonstration Projects, which will provide new residential units and new medical and cultural centers. The Los Angeles Land Use and Transportation Policy and Metro's Joint Development Policy contain incentives to reduce parking and increase densities within a half-mile of transit stations.
Diana Tarango, a 74-year-old, lifelong Boyle Heights resident and member of the MTA's Resident Advisory Committee for the Eastside Extension told the Los Angeles Times before the opening that she can't wait for the Gold Line trains to begin running. "We've been waiting a long time for this" Tarango enthused. "I think it's going to be a whole changing of the community. I really believe it." [12 Sept. 2009]
Gold Line history
The East LA Gold Line project was initially conceived in 1994 as an extension of the Red Line, Metro's rail rapid transit system (currently, totally in subway). Metro suspended this plan in January 1998 because of Red Line cost overruns, which severely reduced political support for the project; and a 1996 court order that required the agency to spend more money on its bus service. In November 1998, a ballot initiative was approved that stipulated that no local Proposition A or C sales tax revenues be used to fund any "new subway" – defined as any underground rail transit line other than the Red Line segments 1, 2, or 3. The initiative did not prohibit use of these sales tax funds for construction of a light rail line that was at grade or elevated, and the Gold Line used the tax funds for above-ground sections and federal funds for the tunnel.
Metro approved the concept of a rapid bus demonstration project for the corridor in March 1999; but after conducting a Re-Evaluation/Major Investment Study, which included consideration of "bus rapid transit" (BRT), heavy rail, and light rail, Metro decided on a light rail line as the preferred alternative. This decision was based in part on approval by the state Traffic Congestion Relief Program of funding for a light rail line. FTA approved the project's entry into preliminary engineering in 2000 and final design in October 2002, and offered a Full Funding Grant Agreement (FFGA) in June 2004. Construction began in July 2004, and train safety testing began in January 2009.
The first leg of the Gold Line, which runs 13.7 miles (22 km) from suburban Pasadena west and then south to Union Station, opened in July 2003. (See LA's Gold Line Opens Saturday, July 26th.) It cost $859 million and was paid for with state and local funding. Portions run elevated, below ground, in city streets, and in the median of a freeway.
Future Gold Line extensions
Phase II of the Gold Line Eastside Extension is in the planning stages, and Metro will consider the following four possible routes in the Draft Environmental Impact Statement/Draft Environmental Impact Report (DEIS/DEIR):
• SR-60 LRT — Mixture of at-grade and aerial running along the Pomona Freeway to South El Monte
• Beverly LRT — Primarily at-grade along Beverly Boulevard and the Whittier Greenway through West and Central Whittier
• Beverly/Whittier LRT — Mixture of at-grade and aerial running along Beverly Boulevard through Montebello and then switching to Whittier Boulevard through Pico Rivera and Whittier
• Washington LRT — Aerial running south on Garfield Avenue and then east on Washington Boulevard to Whittier
The Foothill Extension of the Gold Line is planned to run east from Pasadena 24 miles (38.6 km) to Montclair in the San Gabriel Valley. This segment would be entirely above ground, following the old Santa Fe Railroad route but on separate tracks and with a small portion in the median of Interstate 210. The first phase of the project, installation of the line to Azusa, is projected to begin construction in 2011, with revenue service slated to begin in 2013. This project is estimated to cost $735 million and is funded with a sales tax (Measure R, approved in 2008). The three-mile (4.8 km) extension to Montclair is projected to cost an additional $435 million and begin revenue service in 2017.
A light rail link from the end of the line in Montclair to the LA/Ontario International Airport is also being studied. San Bernardino County will fund the extension to Montclair and the airport, if that happens, in part with its own transportation sales tax measure. [12]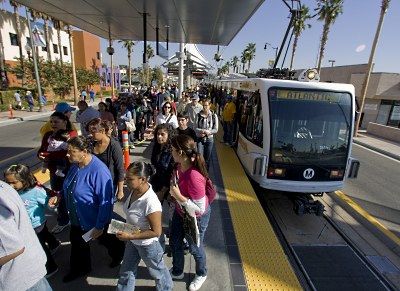 Crowds thronged East LA Gold Station stations on opening day, 15 November 2009.


[Photo: Eric Reed]








[1] Los Angeles Wave, 15 Nov. 2009.
[2] Angelenic Blog, 31 December 2007:
http://www.angelenic.com/275/construction-coverage-gold-line-eastside-extension/
[3] Wikipedia, 16 April 2010:
http://en.wikipedia.org/wiki/Metro_Gold_Line_%28LACMTA%29
[4] Federal Transit Administration (FTA), New Starts Reports, Nov. 2003 and Nov. 2007.
[5] Los Angeles Downtown News, 6 Nov. 2009.
[6] StreetsBlog, 31 Oct. 2009.
[7] Los Angeles Times, 16 Aug. 2009.
[8] Metro website and FTA New Starts Report, Nov. 2003.
[9] Metro website, The Source, 3 Dec. 2009.
[10] Los Angeles Eastside Corridor, Final SEIS/SEIR, 4 Jan. 2002.
[11] FTA New Starts Report, Nov. 2003.
[12] Inland Valley Daily Bulletin, 3 Sept. 2009, and Metro website.




Original research and narrative for this article were provided by LRN Research Associate Susan Pantell; additional information and analysis, and final editing, were provided by others on the Light Rail Now Project team.



Light Rail Now! website
URL: http://www.lightrailnow.org/news/n_la_2010-01a.htm
Updated 2010/01/05