Denton, Texas Rolls Out Its A-train Regional Passenger Rail Service
Light Rail Now Project Team · July 2011

Denton, Texas — This small city north of Dallas has become the fifth Texas city to sponsor its own local-area rail transit service.
On 20 June 2011, public transit service officially began on the A-train regional passenger rail ("commuter rail") line of Denton County Transportation Authority (DCTA) as a short train of "retro-look" refurbished Budd RDCs (rail diesel cars) – called DMUs, or diesel multple units in today's parlance – rolled out of the Downtown Denton Transit Center and headed for the A-train's southern terminus, the Trinity Mills Station in the community of Carrollton, with an across-platform connection with the Green Line electric light rail transit (LRT) service of Dallas Area Rapid Transit (DART).
"Denton County commuters left the headache of rush hour traffic behind Monday morning as they lined up to ride the A-Train" enthused reporter Amanda Guerra in a June 20th NBC Dallas Fort Worth news report.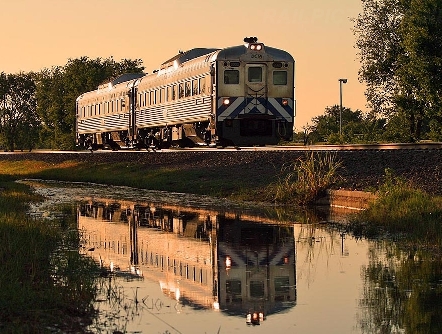 Train of two "retro" 1950s-era Budd RDC DMUs is reflected in water as it makes its run over DCTA's new A-train line.
[Photo: © Blair Kooistra]
The Monday, June 20th commercial service launch had been preceded on Saturday by a launch party and preview celebration held over several hours at all five of the Denton County stations, featuring live music, food, and free rides for visitors who wanted to try the train.
Low cost, but bare-bones operation
As the previous LRN NewsLog article, Denton, Texas: Regional rail transit line using DMUs prepares to open, reported, DCTA's A-train line stretches over 21 miles (34 km), with an investment cost of about $325 million. That's about $15.5 million per mile ($9.5 million per km) – dirt cheap by modern major investment standards, but there are some special circumstances that keep the cost down.
For one thing, the starter system is fairly bare-bones, and designed for ridership of only a few thousand per day. Also, construction on an existing railway right-of-way is far cheaper than construction in urban streets, "greenfield" alignments, elevated structures, and other alignments that most rail transit projects must contend with.
Rolling stock
As that previous article explained, even though its main rolling stock has not yet been delivered, tested, and accepted, the A-train was able to start its service by using refurbished 1950s-era Budd RDCs on loan from the Trinity Railway Express (TRE) regional rail system that connects Dallas and Ft. Worth. These are classic, "retro-look" cars with plenty of power and internal passenger comfort that have proven their value and mettle in many years of TRE service.
Eventually, the fleet will be converted to brand-new Swiss-made Stadler GTW 2/6 DMUs, very similar to those deployed on Austin, Texas's new MetroRail light railway. (See Austin's Capital MetroRail Returns Rail Transit to Central Texas.)
Route and stations
The A-train alignment follows the abandoned route of the former Missouri-Kansas-Texas Railroad, running parallel to and just east of Interstate 35E, traversing Lewisville Lake, and connecting Denton with the town of Carrollton, with a total of 6 stations. (See map below.)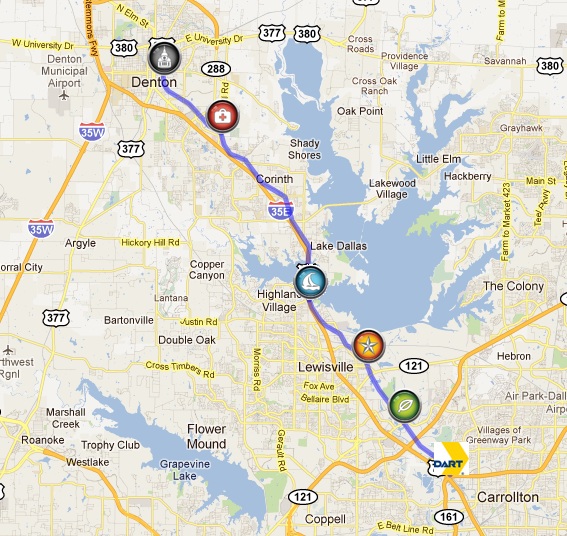 [Map: DCTA]
The following station listing is adapted from an informative discussion on Wikipedia.
• Downtown Denton Transit Center — Located in downtown Denton, this station is bordered by Hickory and Sycamore streets (north to south) and Bell and Railroad avenues (west to east).

• Medpark Station — Located in south Denton, serving the Denton Regional Medical Center and nearby medical offices.

• Highland Village/Lewisville Lake Station — Located in north Lewisville near Garden Ridge Road, serving the Lewisville Lake and Highland Village area.

• Old Town Station — Located near the Old Town district of Lewisville (its downtown area),

• Hebron Station — Located in south Lewisville near Hebron Parkway; this station serves several apartment complexes and warehouses as well as Lewisville's main retail district including Vista Ridge Mall.

• Trinity Mills Station — The Trinity Mills Station, part of the DART Green Line, is the southern terminus of the A-train.
Scheduled service and ridership
As the NBC Dallas Fort Worth news report details, A-train service will run approximately every 20 minutes during peak periods. Total A-train travel time from Denton to Carrollton is approximately 37 minutes. Then, by DART's Green Line LRT, the ride from Carrollton to downtown Dallas will take about 33 minutes. Total travel time, including transfer between the two systems, is less than 75 minutes.
Forecasts of initial ridership project are that the will count 2,500 to 3,000 passenger-trips per day. Eventually, this is expected to increase to 4,000 to 5,000 a day.
Projected benefits and future growth
According to a June 16th Dallas Morning News story, Denton and DCTA officials say the A-train "will provide Denton commuters with a 70-minute trip to Dallas, relieve traffic congestion along Interstate 35E and spur development around the five stations along its route."
Because much of the track runs just east of I-35E, A-train passengers "can catch glimpses of cars along the highway as they travel the 38-minute commute from Denton to Carrollton."
"This is a great time to start A-train service" emphasized DCTA chairman Charles Emery. "It will be an alternative for people who drive the interstate."
Emery also noted that the A-train project is already becoming an "engine" for transit-oriented development (TOD). According to the Dallas News report, "A mixed-use project is planned around the Hebron Station, near Hebron Parkway in the southern part of Lewisville. The proposed project includes residential, office and commercial space on a 90-acre tract."
This TOD was also cited in a commentary by County Commissioner Andy Eads posted in the Cross Timbers Gazette of June 11th, which noted that
>>
Like many rail transit systems across the United States, the A-train promises to enhance economic development activities near its rail stations through transit-oriented development. This is already being illustrated in South Lewisville near the Hebron Station where a $212.7 million mixed use development has broken ground.
<<
DCTA chariman Emery indicated that similar developments influenced by the A-train service were expected to spring up around other our stations along the rail transit route.



Light Rail Now! website
URL: http://www.lightrailnow.org/news/n_dtn_2011-07a.htm
Updated 2011/07/01