On Friday, 12 November 2004, Dallas's light rail transit (LRT) system passed yet another milestone in its seemingly relentless expansion, with the opening of Victory Station, located at American Airlines Center, a major sports and special events venue just west of downtown. The 35th stop on DART's LRT system, Victory Station will initially be served only during arena events until the rail line reaches further expansion goals around 2009 to 2010. An estimated 2,000 LRT and 1,000 regional "commuter" rail passengers are expected to use Victory Station, which has been provided with longer station platforms to help accommodate the crush of passengers expected after events.
[Dallas Morning News, 12 November 2004]
Dallas Area Rapid Transit (DART), the transit agency, assisted by a trainload of local dignitaries, unveiled the station with fanfare. "DART has really shown the world that you can have a modern transportation system that can be run efficiently, on time and under budget" said US Senator Kay Bailey Hutchison, a staunch DART supporter who was on hand to welcome the trains to Victory Station.
[Dallas Morning News, 12 November 2004]
"Today is about results. Delivering those results is exactly what DART is about" said US Representative Pete Sessions, R-Dallas.
To celebrate the Victory Station opening, DART sponsored two days of special events, on 13 and 24 November, featuring "great food, live music, local exhibitors and more...." This included a shuttle train operating throughout the day between the Pearl Street station downtown and the Victory station.
[DART News Release, 1 Nov. 2004]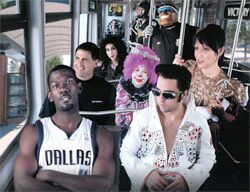 "Everyone's heading to Victory Station...." says DART, in a promo for its 2-day special opening event.
Prior to the opening of the extension, DART's LRT was serving 57,000 daily rider-trips over its 44-mile, 34-station system. The 1.25-mile extension, at a cost of about $79 million, marks the first step in future rail line construction to northwest Dallas, irving, Carrollton, and Farmers Branch – what DART describes as "the start of a 49-mile DART Rail expansion to the southeast and northwest."
[Dallas Morning News, 12 November 2004; DART News Release, 1 Nov. 2004]
The scale of DART's rail expansion program is daunting. Through 2018, DART is planning for its rail network to link Pleasant Grove, South Dallas, Fair Park, and Deep Ellum to the southeast with the Medical/Market Center, Love Field, northwest Dallas, Farmers Branch, Carrollton, Las Colinas, irving, and DFW Airport to the northwest. In addition, service will be extended south from Ledbetter Station in South Oak Cliff to I-20 and northeast from Downtown Garland Station to Rowlett.
[DART News Release, 1 Nov. 2004]
However, warns the Dallas Morning News, "North Texans will have to wait awhile for the next DART station openings. Stops from downtown to Fair Park could open in late 2009, and stations along the northwest line will open in mid-2010 and mid-2011." The paper notes that "The five-year wait for the next station will be the longest between openings since DART debuted its starter system in 1996. The White Rock station opened in 2001, four years after the transit agency unveiled the final piece of its starter system."
[Dallas Morning News, 12 November 2004]
Meanwhile, the popularity of the rail service continues to grow, driving other efforts to meet demand and improve service. To meet the rising demand for service, DART plans to add 20 new light rail vehicles (LRVs) to its 95-car fleet in 2005.
[DART News Release, 1 Nov. 2004]
Light Rail Now! website
Updated 2004/11/13