Cincinnati:
Rail Transit Wins at Last!
Light Rail Now Project Team · November 2009

Cincinnati — At long last, voters have given an OK for rail transit and rail passenger planning to move forward in this southwestern Ohio city.
On 3 November 2009, Cincinnati voters affirmed the city's need for rail transit by defeating a referendum, mandated via a petition circulated by rail opponents, which would have altered the city charter to prohibit Cincinnati or any of its agencies "from spending any monies for right-of-way acquisition or construction of improvements for passenger rail transportation (e.g. a trolley or streetcar) within the city limits without first submitting the question of approval of such expenditure to a vote of the electorate of the city and receiving a majority affirmative vote for the same...."
The pro-rail (i.e., anti-referendum) position won by a healthy 56% to 44% of votes cast.
This issue was discussed recently in our Oct. 22nd NewsLog article, Cincinnati: Streetcar plan, and future of all rail, to be decided in November 3rd vote, which described the plan for a streetcar system, routed as a 7.9-mile (12.7-km) loop linking the Downtown riverfront to the Uptown neighborhoods near the University of Cincinnati (UC).
The proposed route for the first phase of the project, about 6 track-miles, would stretch from the Banks along Main and Walnut Streets to the Over-the-Rhine district, from 12th Street to McMicken Avenue, and from there into Uptown, serving Fountain Square, the Contemporary Arts Center, Findlay Market, and the Brewery District. Tentative projected investment cost for this starter segment is about $128 million.
[Map: Wikipedia]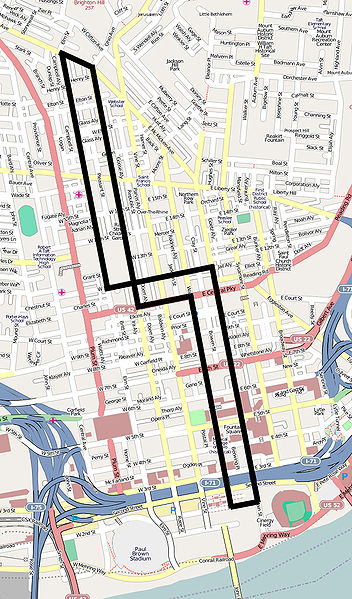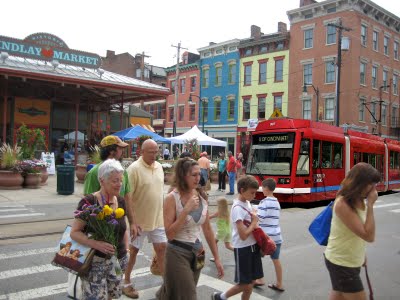 As the NewsLog article proceeds to relate, streetcar stops would be installed about every two blocks. Management, operation, and maintenance of the streetcar system would be contracted out by the city.
Streetcars would be operated 18 hours a day, seven days a week, with 10-minute peak headways and 20 minutes off-peak, and an average schedule speed of about 13 mph (21 kph). Daily ridership for the line linking downtown with the Over-the-Rhine district is estimated to average about 4,850 daily trips during the first year of service, not counting special events.
[Graphic simulation: Cincy Streetcar]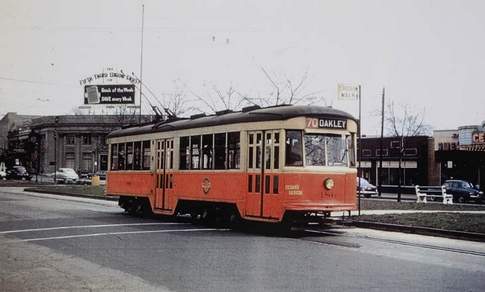 The modern streetcar project represents a revival of a public transport technology that once was the mainstay of urban Cincinnati's mobility system. The city's original electric streetcar network extended up to 222 track-miles (357 km) in Cincinnati and Northern Kentucky, and for decades the system consistently carried over 100 million passengers a year. [Wikipedia, "Cincinnati streetcars",12 November 2009]
[Photo of original streetcar: Jim Tarbell]
Even with the considerable attrition of the Great Depression era, following World War 2 the system was still operating with a fleet of more than 430 streetcars – providing (together with motor buses and electric trolley buses) a veritable web of excellent basic public transport access throughout central-city Cincinnati.

Cincinnati's original streetcar system had some unusual features – such as the use of double overhead contact wires, including not only the usual positive power wire, but also a negative wire for current return, in contrast to the conventional practice of returning "negative" current through the running rails. The double-wire system was mandated by local authorities in response to objections from the local telephone utility and others in Cincinnati concerned that electrical currents straying from the surface tracks might cause interference, corrosion, and other problems.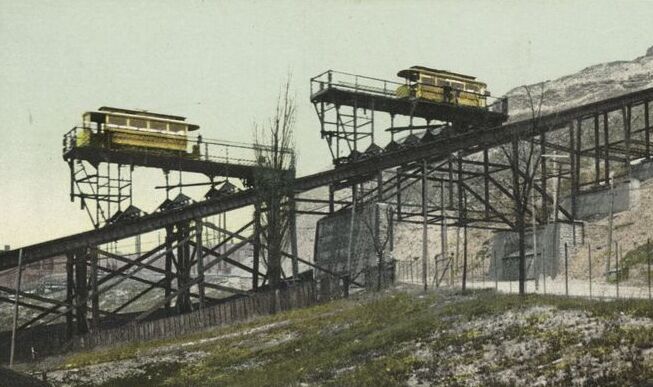 Another distinctive feature of Cincinnati's original streetcar infrastructure (particularly illustrating its intricate and substantial integration into the urban landscape) was the use of incline cable railways to convey streetcars on some routes up Cincinnati's steep hills This unusual method of surmounting hills operated over four of the city's inclined railways – the Mount Adams Incline, Mount Auburn Incline, Bellevue Incline, and Fairview Incline.
[Photo of original incline railway with streetcars: Wikipedia]
Electric streetcars were run onto rails on each of the level incline platforms, which were also equipped in most cases with short segments of overhead trolley wires that stayed and moved with the plaform. The platform, riding on its own inclined track, would then be pulled up the hill by the cable, carrying the streetcar. Upon reaching the top, each streetcar would simply be driven off of the platform, back onto tracks in the street.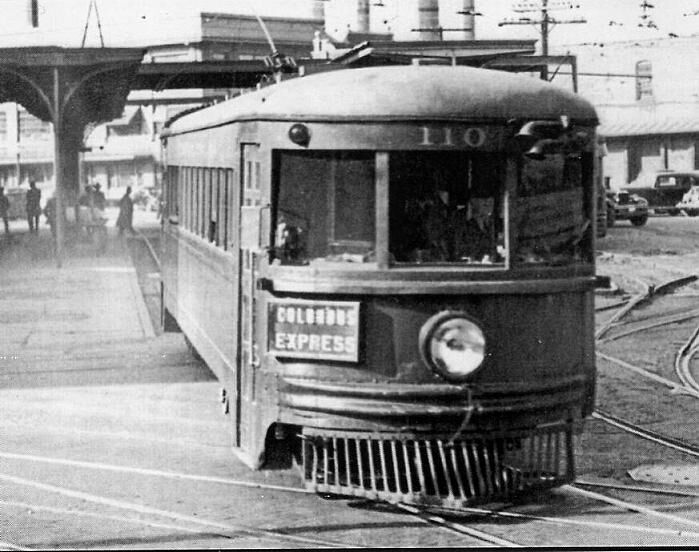 In addition to the urban streetcar network, an array of higher-speed electric interurban railways radiated out of central Cincinnati into the surrounding region over at least 8 routes operated at one point by up to 9 different railway companies.
[Photo of C&LE train leaving Springfield: Bill Volkmer collection]
By far the most extensive of these interurban systems was the renowned Cincinnati & Lake Erie, linking Cincinnati over hundreds of miles with other major Ohio cities such as Dayton, Springfield, Lima, Toledo, and Columbus, and even reaching as far west as Ft. Wayne, Indiana and as far north as Detroit, Michigan.. The C&LE's famous highspeed "Red Devil" trains made history with their speed, even at one point outracing a biplane at a speed of 97 mph.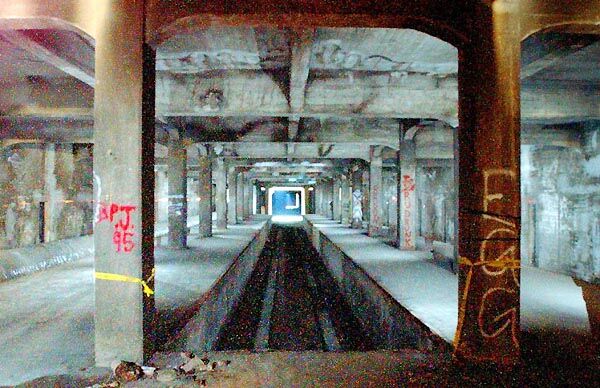 A curious and noteworthy relic indicating the importance of electric rail transit in the Cincinnati's past is the city's still-existing but never-used subway – 2.2 miles of concrete tubes excavated and paid for by Cincinnati taxpayers in the 1920s and 1930s (and even into the 1960s), but never used. Planned as a circular "loop" line, envisioned first for high-platform rapid transit trains and later as a means of access for electric interurban services, the facilities include ghostly downtown subway stations, partly finished, that saw neither the electric trains nor the crowds of passengers they were designed to accommodate.
The Cincinnati Subway – along with the highspeed interurban railways and ultimately the workhouse urban streetcar system – eventually succumbed to the ravages of the Transit Devastation era. As in almost every city across the USA, electric interurban and urban streetcar systems fell victim to hostile public policy, particularly the public promotion of competitive travel by motor vehicles. Beginning in the 1920s, a veritable political crusade against urban electric railways was compounded by the economic catastrophe of the Great Depression. Many urban and regional railway systems, like Cincinnati's, were resuscitated for a time by the conditions of World War 2 (particularly the rationing of gasoline and other motor-vehicle products); but following the war, almost all the remaining systems were destroyed in the Transit Devastation – a process contributing to a plunge in US transit ridership, fostering dependency on the automobile, and ushering in decades of rapidly emerging mobility problems.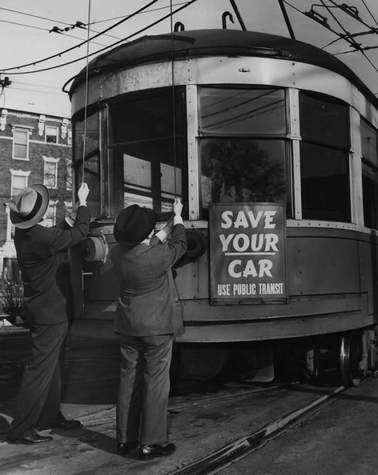 29 April 1951 saw the last full day of streetcar operation in Cincinnati, as officials parked the last streetcar (see photo), and motor buses, burning petroleum fuel, replaced what remained of the electric rail system.
[Photo: historical archives]
However, the revival of interest in electric rail transit, beginning with the streetcar starter line, could develop into plans on a much larger scale. This includes possible revitalization of the old, unused subway as part of a more expansive light rail transit system. Not only could the subway provide a way to easily connect the city's east side to the west side, but also the tunnels could represent hundreds of millions of dollars in terms of "in kind" local match for federal dollars for a future transit project seeking approval from the Federal Transit Administration.
Despite clearing the hurdle of the November 3rd referendum, Cincinnati's streetcar project – as the Cincinnati Enquirer (November 4th) reports, still has significant obstacles to overcome. First, city leaders concede that the streetcar project needs about $60 million in federal funds to proceed. With reasonably strong support in Washington, that money could be forthcoming, but, as the paper also notes, "there could be another challenge at home, where opponents are considering again circulating petitions to force a straight up-or-down vote on the streetcar next year."
It may not yet be a totally clear track for the streetcar project, but, with their eyes on substantial benefits projected for the project, Cincinnati's civic leadership seem determined to make it succeed.
According to our earlier NewsLog article, a 2007 streetcar feasibility study, evaluating a proposed 3.9-mile (6.3- km) starter line, projected total project benefits over 35 years amounting to $432 million, with net benefits of $316 million – including accident and emission cost savings, trip cost savings, reductions in welfare subsidies, and increases in commercial and residential property values. Averaged over 35 years, the project's economic return was projected to be 2.7 times greater than the investment cost of the system. Potential economic development benefits from the project have been forecast to include redevelopment of vacant and under-utilized floor space, and the possibility that 92 acres of parking lots along the route could generate over $1.4 billion in development benefits over fifteen years.
As City Manager Milton Dohoney emphasized to the Cincinnati Enquirer [23 June 2009]. the streetcar system "would make the city more interesting to people here now and especially to those thinking of moving here."
Envisioned to become the core of an eventual citywide light rail streetcar system, the streetcar starter line would function as the urban component of an ultimately much larger network of metro-like and interurban light rail and regional passenger rail ("commuter rail") services. These in turn would provide the local regional public transport links for the Cincinnati-area component of a highspeed intercity rail passenger system connecting Cincinnati to cities such as Cleveland and Chicago to the north and Louisville and Atlanta to the south.
With continued resolve by Cincinnati's civic leadership, and public support, plus perhaps a bit of luck, the November 3rd vote may represent the first step in a renewed and much more enduring friendship between Cincinnatians and electric rail transit that will last far into the future.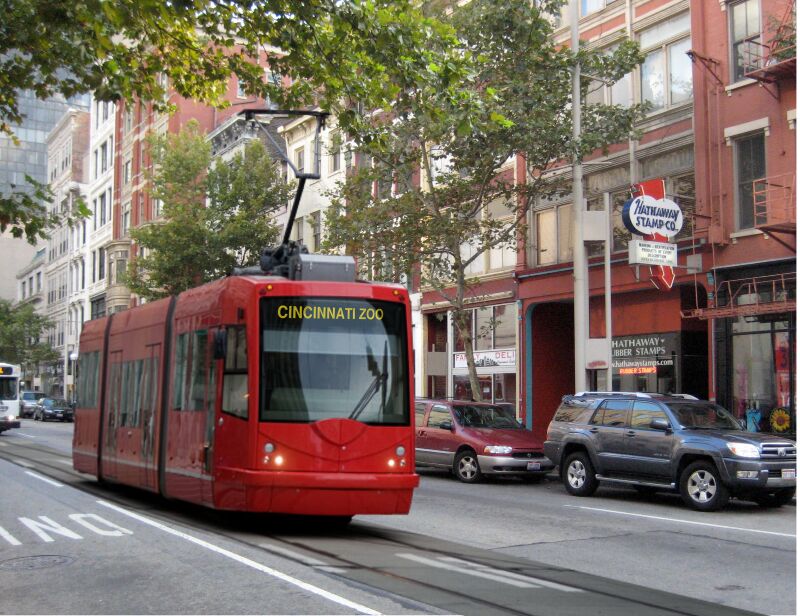 Simulation of streetcar heading northbound on Main, toward the Cincinnati Zoo. Averaged over 35 years, streetcar project's economic return is projected at 2.7 times greater than investment cost of system.
[Graphic: Cincinnati Streetcar]











This article has included information and material provided by LRN Research Associate Susan Pantell.



Light Rail Now! website
URL: http://www.lightrailnow.org/news/n_cin_2009-11a.htm
Updated 2009/11/05