Whether it's light rail, bus, rail rapid transit, or other forms of public transportation, facilitating good pedestrian access and ensuring pedestrian safety are critical issues for any transit service. Proponents of better public transport and New Urbanism have a strong vested interest in the welfare of pedestrians.
These issues are raised by the following news item concerning pedestrian accidents in New Jersey. There, many bus routes have stops on highways that have been upgraded with center barriers and more lanes for faster vehicle speeds. However, these alterations are a major problem for bus passengers who have to use bus stops on both sides of the highways.
A transit rider may be able to just go to his or her corner to board the bus, but, when he or she is returning, the location of the bus stop on the opposite side of the busy highway may force the passenger to cross several lanes of traffic and possibly to climb over a safety barrier to get to the other side. The only alternative may be to ride the bus to the nearest intersection with a traffic light. This may be a considerable distance from where the passenger wants to go, and therefore makes using the bus less attractive.
There is also the situation in the winter, when the road crews plow the roads for motorists. The piled-up snow blocks the bus stops, forcing passengers to stand in a traffic lane with their backs against a snowbank only inches from moving vehicles.
Pedestrian improvements are integral with transit improvements and the future of public transportation. Keep these issues in mind as you consider the problems and issues raised in the following article.
---
Star-Ledger - New Jersey
Thursday, April 03, 2003
N.J. pedestrian deaths soared 37% in '02
Traffic officials cite warm winter and increase in senior population
By Joe Malinconico
Star-Ledger Staff
Pedestrian deaths on New Jersey's roads rose by 37 percent last year, a surge that produced the highest number of fatalities in almost a decade, according to state statistics.
There were 183 pedestrian deaths in 2002, compared with 134 in 2001. That increase contrasted with reductions in the number of people killed in accidents in motor vehicles and on motorcycles and bicycles.
Traffic safety officials were at a loss to pinpoint a primary cause for the rise in pedestrian deaths, instead offering a variety of explanations.
They suggested that the warm winter of 2002 may have caused the jump in pedestrian deaths in January and February, when the number of fatalities more than doubled, from 17 in 2001 to 39 in 2002.
Officials also said the state's growing senior citizen population may have contributed to a 42 percent rise in pedestrian fatalities among people 65 years old and older, from 38 in 2001 to 54 in 2002.
"We realize we have a pedestrian safety problem in New Jersey," said Bob Gaydosh, spokesman for the state Division of Highway Traffic Safety. "Obviously, when you have the most densely populated state in the country, that lends itself to increased dangers for pedestrians."
Two counties registered double-digit increases in pedestrian deaths -- Bergen, where the number went from 13 to 24, and Middlesex, where the figure soared from 9 to 23.
"I haven't analyzed the data, so I can't tell you that the problem is bad roads or bad lighting or something else," said Nick Sewitch, the assistant Middlesex County prosecutor who oversees fatal accident investigations.
"Pedestrians get killed for all different reasons and most of the time the pedestrians contribute to the cause or are at fault," Sewitch said, emphasizing the dangers of walking across roads where there is poor lighting or no crosswalk. "Most people cross the street where they're not supposed to cross. We all do it."
Gaydosh said state officials have noticed that more and more pedestrian deaths have been occurring on state highways -- where people normally would not be expected to walk -- as opposed to local roads. In Middlesex County, for example, 14 of the 23 fatalities last year happened on highways.
Highway pedestrian deaths last year included a 67-year-old man killed on Route 46 in Parsippany, a 75-year-old woman killed on Route 31 in Hampton, a 37-year-old man killed on Route 9 in Woodbridge and a 28-year-old man killed on Route 1 in South Brunswick.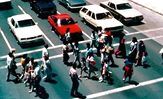 The Tri-State Transportation Campaign, a watchdog group that has drawn attention to the pedestrian fatalities, criticized state government for not spending enough money to improve road safety for pedestrians by building wider medians, bigger sidewalks and speed bumps.
"Year after year, the municipalities ask for millions of dollars for traffic-calming and safety measures, and they always get much less than they ask for," said Kate Slevin, a spokesperson for the Tri-State Campaign.
For 2003, Slevin said, local governments asked Trenton for $41.8 million for pedestrian safety measures. The state says it gave out about $6 million for pedestrian programs and another $6 million for bicycle paths and walkways.
State officials, however, said they have made pedestrian safety a priority. For example, the Division of Highway Safety dispensed $18,000 grants to 19 municipalities last year to pay for extra police for pedestrian safety, Gaydosh said.
Transportation Commissioner Jack Lettiere said the state would like to give out more money from its limited budget for pedestrian programs.
"Even though we spend a considerable amount of money on safety measures, obviously, it's not enough," Lettiere said. "We've got to work to reduce the pedestrian fatalities. ... I'm not happy about these numbers at all."
Statewide, total traffic deaths rose by about 5 percent, from 745 in 2001 to 786 in 2002, according to preliminary statistics. But take away the figures for pedestrians, and the total road deaths actually declined somewhat in 2002.
A national poll released this week by a Washington, D.C.-based nonprofit advocacy group showed that Americans supported policies that would make walking safer, such as designing streets for lower speed limits and allocating more federal money for safety improvements.
Too often, highway officials around the country design roads without including enough protection for pedestrians, said Linda Bailey, a policy analyst for the Surface Transportation Policy Project, an advocacy group.
"We see a pedestrian unfriendly environment in too many states," Bailey said.
Joe Malinconico covers transportation. He can be reached at jmalinconico@starledger.com or (973) 392-4230.