Historic Trolleys, Memphis LRT Discussion Links Added


Special Report by Light Rail Progress

© Light Rail Progress – February 2001

As enthusiasm for light rail transit (LRT) sweeps the country, a particularly interesting aspect of the LRT revival is the restoration of historic streetcar (trolley) systems. Also known as vintage trolleys or heritage trams, these restored (and often newly installed) systems are comprised of true electric streetcars (trolleys) – either rehabilitated, preserved authentic cars or replicas – which perform bona fide transportation roles in urban settings.

While New Orleans (electric streetcars) and San Francisco (cable cars) for many years were the only cities to retain the historic relics of their once-extensive systems, historic trolleys are today playing a significant role in the LRT revival in city after city throughout North America. They have a clear circulator role but have a unique attraction in providing a link to history and a bona fide (or "replicated") historical experience – in the category of horse-pulled carriages, steam trains, etc.

Vintage Trolley Website

An excellent overview of historic trolley systems in North America is the vintage Trolley Website, to which we've added a link. As the website explains,
a vintage trolley is a regularly-scheduled operation using genuine historic or replica electric railway cars in an urban environment, which is operated independently from an established railway or trolley museum. The cars run on rails and operate electrically from overhead wires or from a mobile generator.
A vintage trolley operation strives to provide an authentic historic trolley experience that mixes urban transportation with visitor entertainment. In many cases, the vintage trolley lines are operated as part of the local transit system, and in other cases by a local non-profit organization, or by some combination of the two.
Through the Vintage Trolley Website you can visit an impressive variety of systems now in regular operation, as well as learn about proposals for new systems. Each page contains links to websites covering the individual systems, so additional information is always close at hand. New information is being added continuously, so visitors are advised to check back regularly. Here's the link:
http://www.railwaypreservation.com/vintagetrolley/vintagetrolley.htm
Memphis LRT Discussion Group
One place where a historic trolley system has clearly been playing the role of precursor to a full-fledged citywide LRT system is Memphis. Here, a historic trolley system opened in 1993 is operated by the local transit agency (Memphis Area Transit Authority, or MATA) and currently transports more than 800,000 passengers a year over two downtown lines.
As the Vintrage Trolley Website explains, "Conceived as part of a plan to resuscitate a failing pedestrian mall in a fading downtown, the trolley has grown into an effective transit circulator system."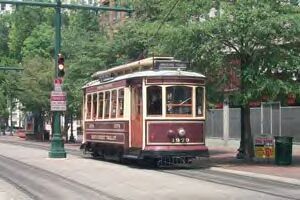 The initial 2.5-mile system on Main St., linking the South Main and Pinch historic districts with numerous downtown attractions, has been expanded with a 2-mile Riverfront Trolley Loop connecting together the two ends of the Main St. Line, and primarily using a railroad right-of-way shared with Amtrak. Service is offered 7 days a week, and the fare is 50 cents one-way, with a lunchtime fare of 25 cents.
Encouraged by the success of the historic trolley service, MATA is now planning an impressive citywide LRT system, tying in with the historic system and using much of its trackage, and designed to link two major employment areas with downtown Memphis. The region's master plan intends to provide LRT service to the entire Memphis-Shelby County region.
Memphis LRT supporters have established an online discussion group, Light Rail Transit in Memphis, which serves as a meeting ground for citizens and officials in the Memphis metropolitan area to discuss different views and ideas concerning the possibilities of LRT and other transit issues in Memphis.
The Light Rail Transit in Memphis discussion group can be accessed via the following URL:
http://clubs.yahoo.com/clubs/lightrailtransitinmemphis
We're pleased to add these links to the Light Rail Now website.
Updated 2003/01/01