Light rail opponents often retail the fiction that new light rail transit startups consistently fail to meet their ridership projections. it should be noted that this is often based on a form of "numbers voodoo" performed by anti-rail zealots upon transit agencies' ridership projections for various early system configurations and assumptions, which typically change dramatically during decisionmaking and design refinement.
In reality, light rail has an excellent "track record" for meeting and even exceeding its ridership forecasts, based on projections made for a finalized system design at the time of project installation.
Here are some figures on recent light rail ridership projections vs. achievement:
• in Dallas, DART's LRT ridership (now at about 40,000 a day) was 10% higher than forecast.
[SOURCE: DART, 2000]
• in Portland, ridership on the new Westside MAX LRT extension exceeded forecasts by 22%.
[SOURCE: Tri-Met, 2000]
• in St. Louis, ridership on the MetroLink light rail system exceeded its initial forecast of 12,000 by carrying 20,000 riders its first year – exceeding the forecast by 67%. Today, after 8 years, ridership has reached the 40,000 level – already exceeding the 20-year projection of 37,000.
[SOURCE: Bi-State Development Agency, 2000; Citizens for Modern Transit, 2001]
• in Salt Lake City, ridership on the Trax light rail line – now at an average of 20,000 people on weekdays – has exceeded forecasts by 43%.
[SOURCE: Utah Transit Authority, 2000; Denver Business Journal 2001/01/26]
• And Denver's brand-new Southwest LRT extension to Littleton, Colorado, opened in the summer of 2000, is now carrying up to 14,000 people on weekdays – 67% above the original projections of 8,400.
[SOURCE: Denver RTD ; Denver Business Journal 2001/01/26]
These data are summarized in the graph below.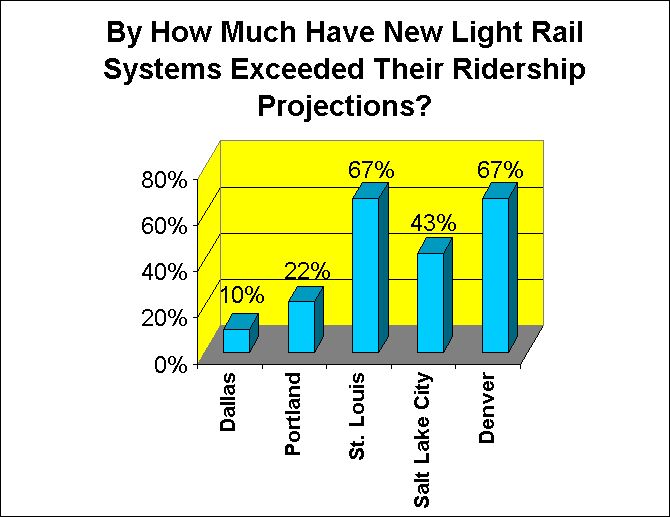 Light Rail Progress Rev. 2001/03/11