This is the second commentary in our series Electrification 101 – a discussion aimed at informing transportation professionals, decisionmakers, and the public at large of the value and advantages of electrifying transportation operations, and the electrification of public transport systems in particular.
Edson L. Tennyson, P.E., a transportation consultant and former deputy secretary of transportation for the State of Pennsylvania, is a technical consultant to the Light Rail Now Project.
---
Why are most urban rail transit systems, and even some bus operations, electrified? Across the globe, electrically powered public transportation is widely recognized as highly cost-effective and environmentally beneficial. This perception has grown recently with the recognition that world oil production will imminently peak, and with realization of the widening gap between petroleum capacity and demand, and the skyrocketing cost of motor fuel.
However, among many American transportation planners and decision-makers, the inability to recognize the economic advantages of electrification seems widespread. To some extent, this is suggested by the substitution of diesel-powered light railway service for electric light rail transit (LRT) in more and more new rail starts – Spokane being a recent example. Electric LRT is proposed for a line in Spokane, but only for a "luxury" fully double-tracked proposal; the second option is a partially single-tracked line, but with only a diesel-propelled light railway service.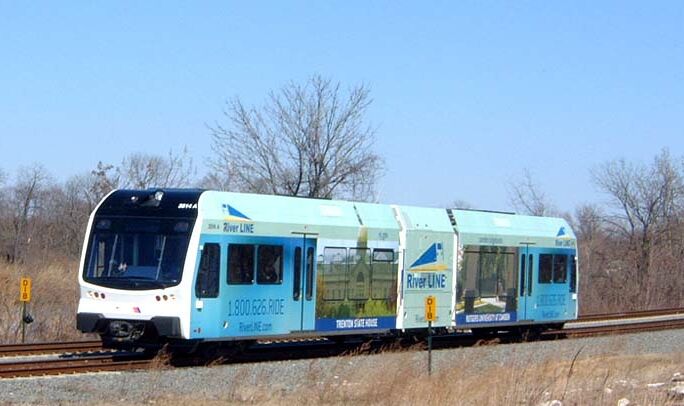 Camden-Trenton light railway provides example of non-electrified rail transit using fuel-powered rolling stock. But while initial capital cost may be less, is this cost-effective in the long run? At what point is electrification justified?
[Photo: B. Vogel]
While light railway operations using diesel multiple units (DMUs) or similar rail vehicles self-propelled by fuel engines can be a practical means of providing rail transit at lower initial capital cost (albeit with generally less capacity, lower performance, and the need for special fueling facilities and, often, more rolling stock), there is a point at which electrification becomes more cost-effective (and probably, even before that, a point at which it is more attractive to the public). This breakeven point is generally a function of variables such as station spacing, length of line, number of vehicles, etc. Electric vehicles perform significantly faster at closer station spacings; they don't have to have refueling facilities or run deadheads to be refueled; and they weigh less and cost less than diesel-driven railcars.
Yet many system planners appear to be simply embracing the assumption that dieselized operation is ipso facto cheaper and thus are rushing to recommend non-electrified rail starts without even bothering with a benefit-cost or serious, comprehensive alternatives analysis. But a proper analysis of the multiple factors involved – including full traffic potential – often leads to a conclusion justifying rail electrification.
Some examples from my own experience may help illustrate the benefits of electrification. In 1966, when I was in charge of rail transit operations as Deputy Commissioner for Transit Engineering for the City of Philadelphia, I electrified the Reading Company's Fox Chase Branch, then diesel-operated with both locomotives plus coaches and self-propelled RDC (rail diesel cars) rolling stock (like on today's Dallas-Ft. Worth Trinity Railway Express), which ran ten trains a day plus some return movements.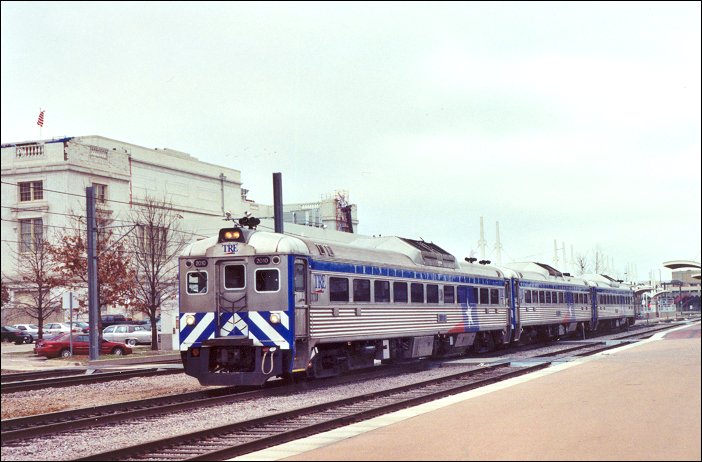 Budd rail diesel cars (RDCs) on Trinity Railway Express line at Dallas's Union Station. Note power plant housing atop cars. Reading Company's Fox Chase Branch (now part of SEPTA) originally used similar rolling stock.
[Photo: Jim Cumbie]
Initially, Reading Company management told me it was hopeless. They were decent, honest people, but had seen the Turnpike kill their anthracite business and were dispirited. I asked to see their Fox Chase passenger counts over the years and found growth that they had not realized was occurring. They had never looked - after all, it was only a branch line.
First, they told me I could have only one of the two mainline tracks, but I told them it would not make sense to reduce both freight and passenger capacity with my new investment. They finally relented and gave me both tracks where it was on the main line to Jersey City.
I had to go to court and testify against anti-tax activists that the bonds the City of Philadelphia would sell would cost the taxpayers nothing. I got the funding.
Louis T. Klauder & Associates (now LTK Engineering Services) did the electrical engineering for me. I had to install all-new rail as the existing trackage was old and the Reading could not afford to upgrade on their own. We needed new signals to cope with 11 kvAC. I got ten miles of electrification, signals, and new rail for $2.5 million thanks to LTK's prudent estimates with my limitation on how fancy they could get. For example, I told them to use wood poles, but Reading demanded steel on the main line. I got wood on the single track.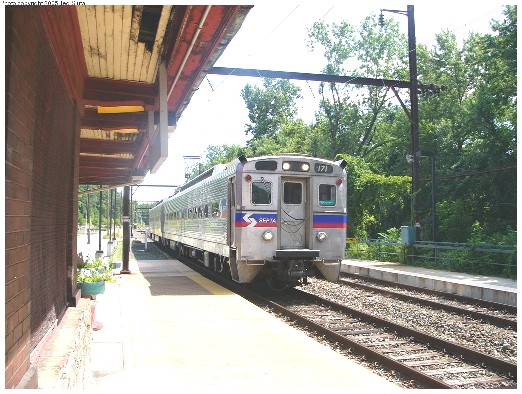 Electrified regional rail train enters station on Fox Chase Branch in August 2005. Electrification has saved operating cost and attracted higher ridership.
[Photo: Ted Siuta]





As I've noted, it cost $2.5 million. Today, it would be approximately six times that - perhaps $15 million for ten miles of catenary, new rail, and signals. The wire portion was well below a million dollars per mile with LTK as the managing engineering consultants and under my direction. No "gold plate" on that project.

Ridership and revenue increased 1,300 percent - that's one thousand three hundred percent. it is all in the records of the court and the railroad.

Reason: The RDC cars could not make the round trip in an hour. EMU (electrical multiple-unit rolling stock) could. To get an hour headway, electric propulsion was needed to avoid a doubling of operating cost. (Today the electrified Fox Chase Branch is part of SEPTA – Southeastern Pennsylvania Transportation Authority.)

There are other examples which illustrate the cost efficiencies of electric operation - but, unfortunately, in the negative. For example, when illinois Terminal and Piedmont & Northern switched from electric to diesel propulsion, it was the end of both of them. The interurban lines were very profitable with freight hauled by electric power, but not as diesel. The Milwaukee Road underwent a similar experience.

Diesel power was cheaper in the sense that there was no catenary to maintain, and diesel fuel was cheaper than purchased power - but that is not the bottom line. Diesels lost too much business with fewer trains to save money. They could no longer compete. All three had other, competing, railroads parallel to them.

Even today, rail transit operators experience substantial operating cost savings with electric power. For example, both the Southeastern Pennsylvania Transportation Authority (SEPTA) and the Northern indiana Commuter Transportation District (NICTD) operate regional passenger rail (RPR) electrically for $300 per car-hour, not counting layover time. (Rapid transit counts layover time, so they cannot be compared.) in contrast, Dallas-Ft. Worth's TRE with RDCs (see photo, above) and diesel locomotives runs up operating costs of around $400 per car-hour, as do most RPR systems with diesel.

When the VRE (Virginia Railway Express, one of Washington's RPR systems) was buying locomotives, they were told that electric would make their desired runs in 75 minutes but diesel would take 90. For all-day service, that means that 7 diesel trainsets and crews could be replaced by 6 electrically propelled ones with 20 percent more revenue from the faster trip. For local transit services in, say, an urban area like Spokane, the same thing is true – with no need for running all night in winter to keep diesel equipment from freezing. No deadheading to the oil tank. No foreign oil to buy. And no smoke and less noise.

It's time for North American transit planners to wake up and "smell the coffee" – not the diesel fumes.


Light Rail Now! website
URL: http://www.lightrailnow.org/features/f_lrt_2006-03a.htm
Updated 2006/03/07