Would the Rapid Streetcar concept represent a viable solution for unravelling Kansas City's somewhat knotty light rail transit (LRT) plans?
According to the Kansas City Star of 6 May 2007, "A group of urban-core advocates is developing a light-rail plan it hopes will be more workable – and come sooner – than the plan approved by voters last fall." As Tom Bogdon explains in the Light Rail Now article Kansas City: Federal Funding in Target Sights of Light Rail Planners, Kansas City planners and politicians are virtually tied up in knots trying to figure out how to forge a truly workable LRT plan, based on voters' wishes, and pull together the funding for it.
Suggestions have been tossed onto the planners' table from every direction, and, as the Star article relates, one of the most recent comes from Kansas City's Urban Society:
The Urban Society of Kansas City, which includes architects, planners and others interested in urban-design issues, envisions a 5½-mile starter line from Third Street and Grand Avenue to Volker Boulevard and Troost Avenue east of the Country Club Plaza.

It would use a form of transit technology called "fast streetcar" that looks like light rail but runs at slower speeds.
Actually, Rapid Streetcar is a form of light rail. A summary of the concept is explained in the Light Rail Now article Rapid Streetcar: Rescaling Design and Cost for More Affordable Light Rail Transit:
Electric streetcar or tram-type rail vehicles, rather than being consigned solely in street configurations to relatively slow circulator, shuttle, or feeder-type services, would be deployed in some types of alignments and operating practices currently envisioned for higher-level, interurban- type light rail vehicles (i.e., the current standard). Streetcars operating up to 40-45 mph (65-75 kph) in reserved lanes, median reservations, or exclusive rights-of-way, as well as in mixed traffic, could provide modestly faster service attractive to shorter-distance commuters, while rendering operational cost savings (compared with bus service) through multiple-unit (MU) entrainment of cars or extended articulations. Somewhat less costly infrastructure and vehicles, and various cost-saving techniques, have the potential of lowering system costs and improving affordability of LRT in lower-traffic corridors, while retaining many of the advantages of rail transit that have proven attractive to the public.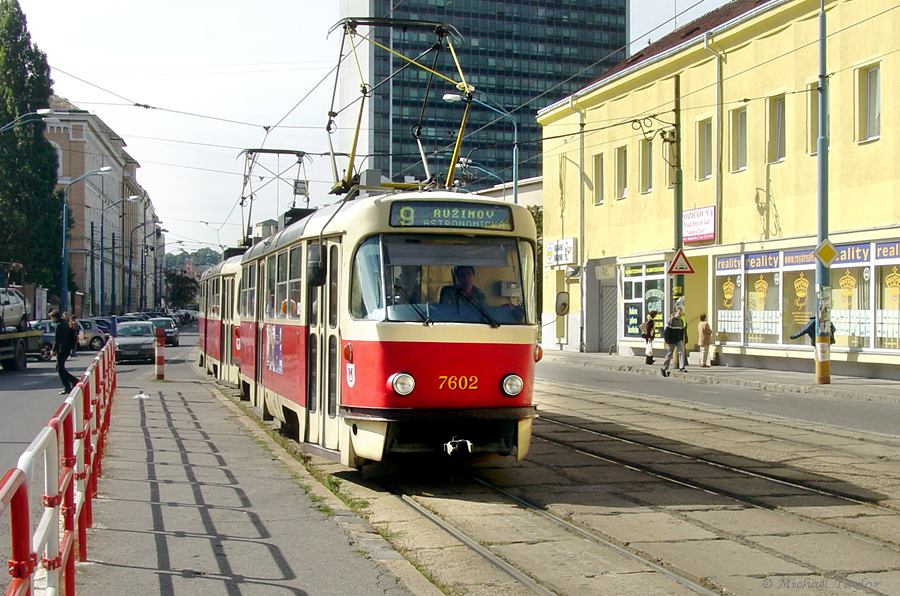 Bratislava provides example of classic Rapid Streetcar configuration found throughout Europe, where streetcars move from arterial reservations to mixed traffic and back again. Streetcars also frequently operate as multiple-unit trains.
[Photo: Michael Taylor]
In an effort to zero in on a concept that is both workable and affordable, the Urban Society may be on to something – although the specifics of their particular 5.5-mile "fast streetcar" plan (roughly priced at US$150 million) may itself need some tweaking. So far, the effort to heed the voters' wishes, and move to implement some kind of LRT project in Kansas City, has resembled nothing so much as a kind of tug-of-war – with different parties pulling at different angles, at that. And, of course, Clay Chastain – the Kansas City civic activist and LRT advocate who, after repeated attempts finally managed to pull together KC voters' endorsement of a rail plan – is tugging on one of the ropes.
Route and design challenges
The design problem has been, first of all, to fit a meaningful, workable project into the existing urban and suburban fabric of Kansas City – negotiating a formidable obstacle course of political, legal, jurisdictional, logistical, and physical challenges in the process. The second problem is to emerge from this minefield with a project that is also affordable in some manner.
"I don't know if Kansas City really knows what is ahead of them" says St. Louis rail transit advocate Bill Heger, who offers a taste of some of the problems facing LRT planners there.
Problem number one is where they want to go with the line. Getting from Dodson to Westport is almost no problem. The old right-of-way from the [street railway era] Country Club line is still intact as a bike path.

The problems come once you get to Westport. There is no abandoned rail right-of-way to use so ultimately you have to get on a street. Where do you go after 43rd Street? Years ago, the streetcar line ran in on Main Street after leaving its private right-of-way at 43rd Street. Potentally, you could still do this. However, any plan involving street trackage is not going to go over well with the motorists and the property owners along Main Street or any other street they might consider running on. Furthermore, if Chastain thinks he is going to remove all motor vehicle traffic off one of the city's busiest main drags, he will have an open rebellion on his hands.
Another problem, says Heger, is how to cross the Missouri River.
Either the Hannibal Bridge or the old ASB Bridge could be used. Both have now abandoned auto decks. However, the ASB might be the better choice because only its rail deck needs to be lifted to allow river traffic to pass. The highway deck does not lift. On the other hand, the Hannibal Bridge is a swing bridge so both decks would be out of use when river traffic passes below. Granted, there is not that much river traffic on the Missouri River. However, it was enough of a problem to cause the city to abandon the auto deck on the Hannibal Bridge and build the Broadway bridge next door because people used to sometimes miss their flights at the old airport due to the bridge being out.

Getting from North Kansas City to KCI [airport] is also going to be a challenge. I am not aware of any abandoned rail right-of-ways north of the river unless the old Kansas City, Clay County and St. Joseph is still available. This line has been gone for over seventy years and may have subdivisions built on it. I doubt if the residents would be to keen to have the trolley back after a 70-year hiatus.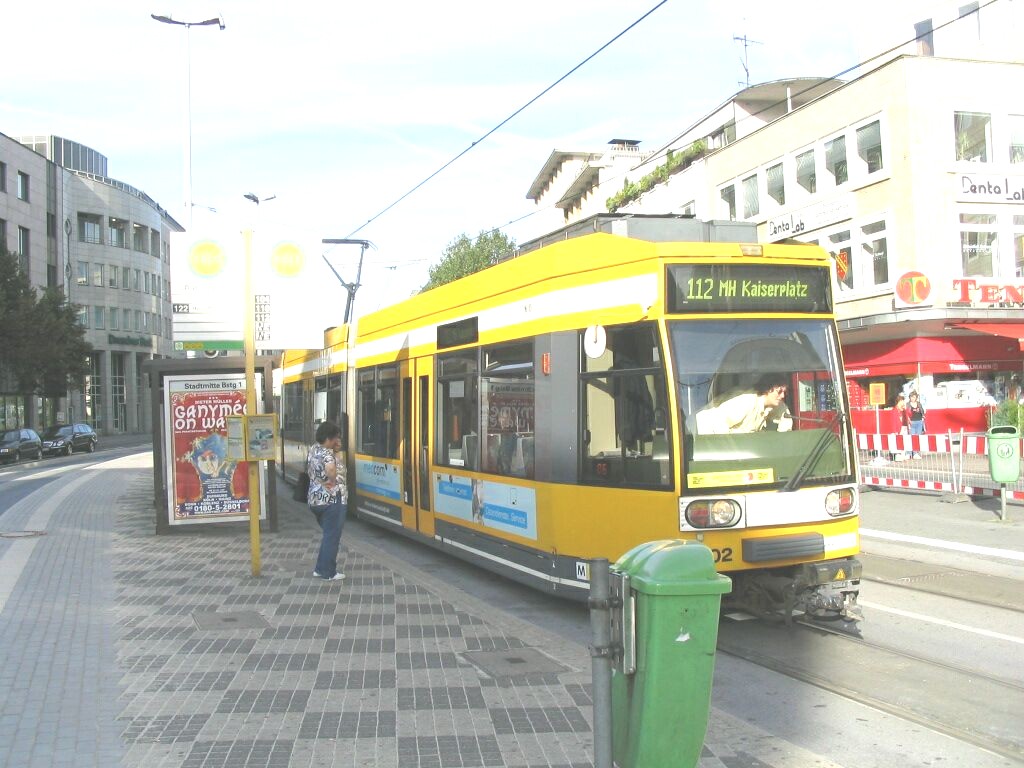 Given these constraints and conditions, more than ever, Rapid Streetcar sounds like it might be a good fit for an initial KC starter system – especially if there's a need for some street running. LRT streetcars could operate in multiple-unit (MU) trains on Main St., even in mixed traffic if necessary – quite similarly to Sacramento's original LRT line (1987), which operated in one lane with mixed traffic and the other in reservation, at the edge of the city's CBD, leading into the downtown transit-pedestrian mall.
[Photo of Mülheim tramway: Jos Straathof]
Use of streetcar-type LRT operational practices could also resemble the operation of the successful MAX rapid bus ("bus rapid transit") line, a project of the Kansas City Area Transportation Authority (KCATA – the regional transit agency) which has approximately doubled ridership in the corridor to about 3,000-4,000 a day. The MAX service deploys traffic signal prioritization to speed operation, with buses running in mixed traffic at offpeak times and reserved lanes during peak periods. A Rapid Streetcar service could follow this same pattern, with curbside "mini-stations" equipped with passenger information displays (PIDs – providing information on next-train arrivals) and other user-friendly amenities. It's plausible to speculate that an LRT line – including one using Rapid Streetcar technology – could double or even triple these ridership gains, with additional increases in passenger-miles and improvements in operational costs per passenger-mile.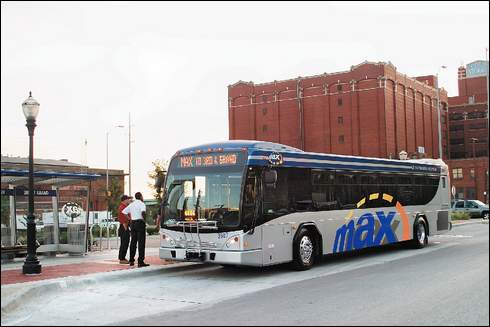 Kansas City's MAX "rapid bus" service provides a model for minimizing design and cost of LRT Rapid Streetcar deployment, which could offer additional advantages of rail transit.
[Photo: KCATA]
The "fast streetcar" line proposed by KC's Urban Society would follow Grand Avenue to a point south of Crown Center, then Main Street to Volker. However, according to the Kansas City Star article, some critics of the plan "argue that light rail should run along Main Street through downtown. They also contend that to be politically palatable, the starter line needs to cross the Missouri River into North Kansas City."
The Star also quoted Kite Singleton, "an architect and transit advocate", who told the reporter that a Main Street route would be closer to many employment centers and entertainment venues. "Missing Union Station is a terrible mistake" Singleton emphasized.
The Urban Society responded by acknowledging that it "is willing to consider revisions" to its original proposal, including expanding its plan by routing the light rail starter line across the Missouri River in Phase One.
Upward "cost creep" of LRT projects
Another issue involves cost and funding. In reality, issues of concept, design, cost, and financing are all interrelated.
From the outset, immediately after last November's vote endorsing LRT, various pundits, consultants, and transit officials began warning the KC public and decisionmakers that LRT would cost significantly more than Chastain's campaign had portrayed. These assertions were mainly based on comparable costs of recent major LRT projects elsewhere – but is that completely realistic?
There is a certain "copycat" effect plus a bit of "one-upmanship" which may be driving up the cost of LRT projects – each new project incorporating all the "nice-to-haves" of the last one, then trying to dollop a bit more.
Richard D. Pilgrim of URS/BRW, Inc. alluded to this phenomenon in his paper titled "Are We Pricing Light Rail Transit Systems Out of Range?" presented to the 8th Joint Conference on Light Rail Transit in Dallas, Texas in November 2000. Raising concern over the ever-higher-creeping capital costs of recent LRT projects, Pilgrim warned, "With costs at these levels, many agencies are faced with a significant problem to identify adequate sources of funds early in the planning process. An especially difficult problem is encountered in pre-New Start cities, where study data from other cities is used to estimate costs during planning studies."
Noting that "knowledgeable sources" were being quoted to warn that KC's LRT project could cost "considerably higher" than initially estimated, Dudley Horscroft, a transit planning professional based in Australia, questions whether some of the "knowledgeable sources" might actually be opposed to the LRT project "and therefore have an incentive to project higher costs than are really likely." Further, observes Horscroft,
Also remember that the costs of a system will depend on what is actually built into the design. It is easy to add bolt on goodies, in the hope that there will be money to pay for them. Far better is to cut the cloth according to the money available. Any "bolt-on goodies" should be strictly prohibited until and unless it can be shown that each individually will either save money elsewhere to cover its cost, or is likely to increase patronage sufficient to cover its cost.
KC-area planners, decisionmakers, and transit advocates should keep in mind that the costs of LRT can vary widely, depending on a wide array of factors, including frills and amenities as well as how the "essentials" are engineered and major challenges are solved. Some of the lower-cost streetcar projects in recent years have ranged between US $8 million to about $30 million per mile (approximately $5 million to $19 million per km) – certainly affordable within the cost scenario envisioned by Chastain's successful pro-LRT campaign,
Budget engineering
A key notion is suggested above by Dudley Horscroft: "Far better is to cut the cloth according to the money available." This relates to an emerging concept called "budget engineering", which would certainly seem to have considerable relevance in the Kansas City case. Instead of leaving it up to consultants to "lay it on thick" with design and cost, a budget engineering approach would approach the project with the principle: "We have X total dollars available. To fit this budget, we will design a system for $Z million a mile."
Houston Metro basically pursued a very similar approach with their Main St. LRT project – so did the designers of the original LRT projects in San Diego and Sacramento. Likewise, other projects – such as Dallas's MicKinney Ave. streetcar, Portland's streetcar, Little Rock's River Rail streetcar, and Nashville's "Music Star" regional passenger rail system – essentially implemented a budget engineering approach to these projects.
The planners of all these systems designed their projects to fit the available budget. Would this not be a workable concept for Kansas City?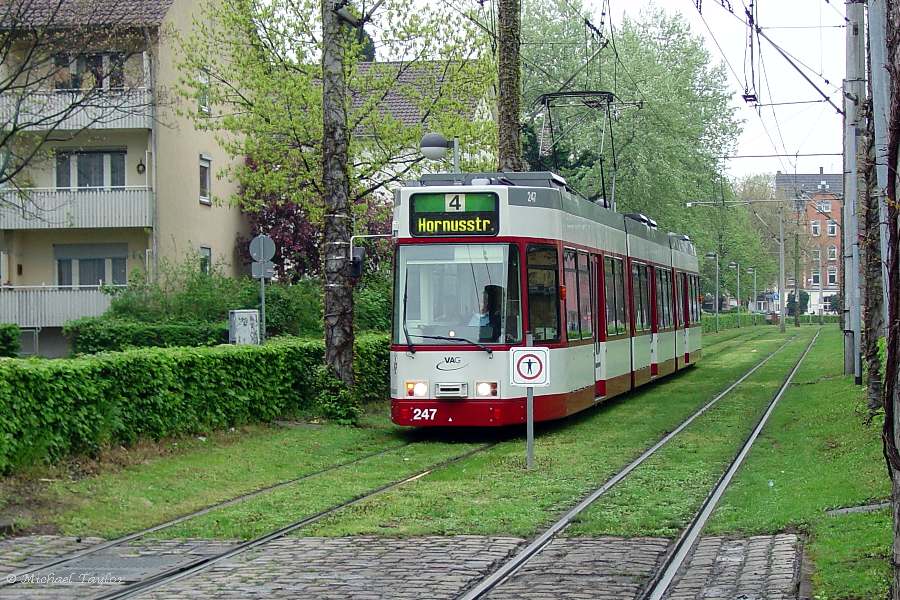 Freiburg's Rapid Streetcar system provides an excellent example of a low-budget, cost-effective LRT system that is also attractive, environmentally pleasant, and and efficient. Streetcar tracks in some reservations and exclusive rights-of-way can be embedded in grass for both sound dampening and attractive landscaping.
[Photo: Michael Taylor]
Local financing – nix the feds?
Next, if the cost could be constrained by downscaling design to fit the parameters of a workable minimal starter system within the framework of budget engineering, could this be brought in synch with available financing? Voters approved dedication of revenues from a 25-year, 3/8-cent sales tax predominantly to installation and operation of an LRT system. However, federal funding assistance was assumed by the project's supporters, and this assumption seems a "given" by most planners and officials involved.
Tom Bogdon's article (see reference, above) reflects the widely held view of many KC officials that that "Federal funding is crucial for rail transit development." "Fortunately, this is not so" argues Horscroft.
Remember that San Diego [Trolley] started with no Federal money, and if I recall correctly, nor did Houston. Federal money would be nice, but it brings with it strings, such as going back to Square One for "Alternatives Analysis" (commonly believed to be loaded against light rail). It also means that finance is subject to capricious decisions in FTA and the House Appropriations Committee. Houston can testify to the effect of Congressmen who decide that the voters were wrong, and therefore will not permit the appropriation of money for what the voters have agreed.
Could a KC starter LRT project be funded without resorting to (almost impossible to obtain) federal funds? Horscroft notes Tom Bogdon's report (again, referenced above) which cites Kansas City finance director Troy Schulte's observation that the three-eighths cent sales tax (currently used to partly finance the bus system), yields $22.5 million per year. Furthermore, for the last five to seven years, revenue from the city sales tax has been growing at the rate of 1 percent per year – and this revenue growth is compounding, meaning that revenue growth over 25 years will increase more than 1 percent per year", according to the report.
Assuming that the base is a receipt of $22.5 million in 2009 and it increases by 1% in each of the years 2010, 2011, and 2012, at the end of 2012 the tax will have yielded $91,359,000 (rounded off to the nearest $1000). Assume that the interest rate on undated bonds is 5%. Then, on the basis of the expected income stream from the tax, it should be possible to borrow up to 20 times the expected sum. This amounts to $1,827,180,000 – an amount likely to more than pay for the scheme. This calculation is of course rather simplistic as there will be small amounts of spending in the 2007 and 2008 years while detailed plans are being prepared, and tenders [bids] called for construction and supply of vehicles. However, it should be possible to borrow now the small amounts to cover the preparation costs, and payment for the works will only be made when substantial progress has been completed. Thus, funding will be available to cover the works as done, with bonds issued as needed.

In subsequent years, the proceeds of the tax during the following 21 years will be used to pay interest on the bonds, provide a sinking found for short lived assets, and pay for any difference between operational costs and fare revenue.
Horscroft also endorses the view of Edson L. Tennyson (a technical consultant to the Light Rail Now Project) that "there will be a reduction in bus costs as some routes are taken over by the LRT."
Incremental LRT system development
A locally financed project could also be more affordable if it's implemented in smaller, "bite-sized" pieces. This is how projects such as Denver's LRT, Houston's LRT, and the Portland Streetcar have been achieved. Furthermore, once an initial, minimal operating segment has been opened, the rail system then moves into a somewhat more eligible status for federal funding (and, in some cases, portions of locally funded assets might be countable as local match in future federal grant arrangements) in any case, incremental expansion and upgrading is easier to achieve, even if entirely locally financed.
Horscroft cites the view of Dick Jerrold, director of system development and engineering for the Kansas City Area Transportation Authority, quoted in Bogdon's article. "This is a very long route" Jerrold emphasized. "It's certainly longer than most starter light rail lines. It will have to be implemented in multiple phases, not at one time."
"Exactly" agrees Horscroft. "What is needed is to determine a core route that can be started now, with extensions built as bonds are sold."
Horscroft does note one drawback – that construction would undoubtedly be cheaper if the firm concerned had a contract that covered the full length of the line – even if it were to be opened in stages." Nevertheless, there appear to be substantial advantages to an incremental, piecemeal approach. Thus, Horscroft recommends that the Urban Society "devote their energies to determining where a core section of route could be built. This section should be on the voter-approved alignment, but there could be no objection to a branch off to serve a large traffic generator that the Chastain plan does not serve.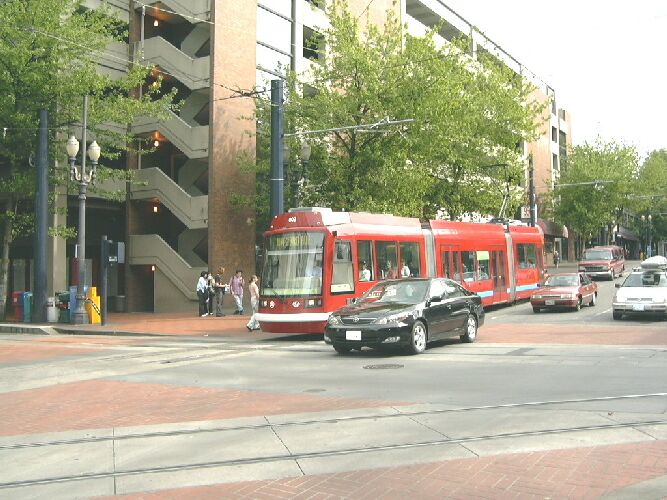 Portland Streetcar illustrates both the versatility of streetcar alignments and incremental development of a more extensive system. Original section of system, seen here, is routed almost entirely in mixed traffic.
[Photo: L. Henry]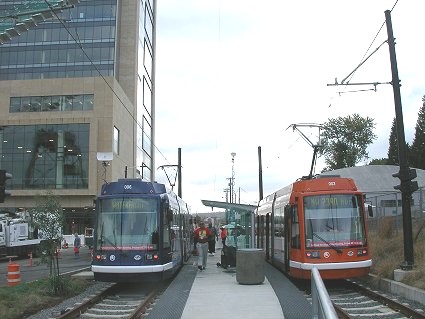 Portland Streetcar's extension to SW Gibbs, seen here – much of it on private right-of-way – demonstrates how the original circulator streetcar service has evolved through affordable, incremental extensions into a de facto Rapid Streetcar operation.
[Photo: Martin Glastra van Loon]
Keys to a viable project?
In any case, it seems clear the Kansas City LRT planners, civic officials, and serious advocates would be prudent to consider at least some of the possibilities this article has placed on the table:
· Rapid Streetcar – to scale an LRT starter project to Kansas City's size, density, and budgetary resources...

· Budget engineering – to design the project to fit the available budget, and then stay within that design and budget framework...

· incremental implementation – to move forward in "bite-sized", affordable, cauitous project steps toward fulfillment of a total regional system...

· Local funding – to avoid the brier-patch involved with federal funding and its convoluted, years-long maze of requirements and hurdles.
Could these ideas represent some of the keys to forging a truly workable, affordable, viable project that fulfills the basic intent of the voters' endorsement of light rail for Kansas City?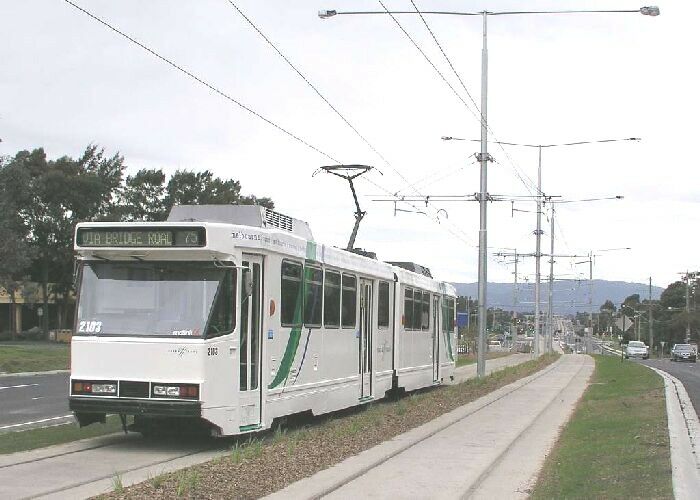 Melbourne tramway (streetcar) system illustrates another classic example of Rapid Streetcar. While inner-city lines have considerable running in mixed traffic, many outer and suburban lines offer faster speeds by running in reservations (such as this arterial median) and exclusive rights-of-way.
[Photo: Mal Rowe]