This commentary is a continuation of our series Busting "BRT" Mythology – a discussion intended to examine claims of so-called "Bus Rapid Transit" by its proponents and to evaluate and contrast these claims with actual experience. This commentary is the fourth article in this series.
The following commentary has been adapted from an entry originally posted to The Overhead Wire Weblog on 13 May 2007.
A May 13th Cox News Service article by one Jeff Nesmith in the Philadelphia Daily News claims that "Bus Rapid Transit" ("BRT") is better than rail for addressing a number of urban ills. However, this misinformation attempt by the BRT Lobby – in this case, led by Bill Vincent of the so-called "Breakthrough Technologies institute", an outfit virtually devoted to bus and BRT promotion – really seems to show that BRT promoters are starting to get scared by the rapid expansion of rail transit. One imagines they feel like they have to turn up the talk since they are getting pushed back into a corner by actual riders and citizens who don't want just more buses as America's major response to mobility, energy, environmental, and related urban problems.
The first whopper in this promotional article comes from Vincent himself, vehemently explaining that BRT can bring the same amount of ridership as rail. However, as proven in Los Angeles, the Orange Line busway only attracts about half of the riders it should when compared with the population living around the Gold Line light rail transit (LRT) line. [See, for example: Rail Transit vs. "Bus Rapid Transit": Comparative Success and Potential in Attracting Ridership.] Also, his claim that you can cut more greenhouse gases with diesel buses than with electric railcars is laughable at best. In cities like San Francisco – where Muni's electric LRT "metro", F-Line streetcar, and electric trolleybus systems are all powered mainly by renewable hydroelectric energy, this argument falls on deaf ears. [See, for example: Reality Check: Breakthrough Technologies institute's Dubious Claims on "Bus Rapid Transit", Electric Rail, and Global Warming.]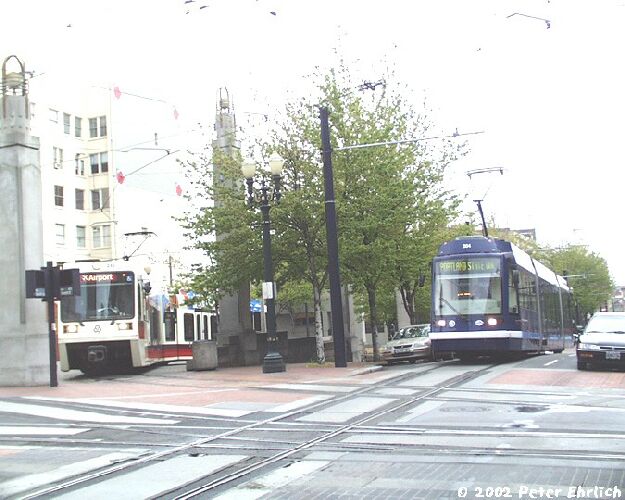 Portland's electric rail transit provides another refutation of "BRT" promoters' claims of "dirty" electricity. In this photo, Portland Streetcar (right) passes larger MAX LRT train (far left) – and electric power for both systems is derived 51% from hydro and other non-fossil-fuel sources.
[Photo: Peter Ehrlich]
In Oakland, it's another story, as the local AC Transit folks think that a network of BRT will bring people out of their cars. However, the first "Rapid" line on San Pablo is just a bus with a red paint job.
Moreover, the performance of the San Pablo BRT has been pitiful, at best, with a very marginal increase in ridership in the corridor. According to a February 2005 report, Rapid Bus Service in the San Pablo Avenue Corridor, while the 72R "Rapid" route showed some ridership increase, this was significantly offset by declines in other routes, resulting in a relatively puny gain of less than 3%: "By combining the gains of the 72R with the losses of the local routes, overall corridor ridership increased by 2.6% from May 2003 to October 2004."
Vincent also compares a number of rapid transit projects with each other and compares cost per passenger in operating cost. But what he doesn't mention is the cost of replacing buses every 12 years versus double that for rail, the costs of replacing pavement torn up by heavy vehicles, and the type of BRT project that he is comparing to a type of rail project.
For example, Vincent claims in the Cox News Service article, Boston's relatively new Silver Line, "a BRT that runs from South Station to Logan Airport", is costing more than $800 million per mile. Vincent then contrasts that with New York's Second Avenue Subway, which he says "will cost $2 billion per mile."
However, comparing the New York Second Avenue Subway to Boston's Silver Line BRT is hardly an accurate apples-to-apples comparison, particularly given the capacity constraints of 60-foot buses versus multi-car trains; furthermore, the Silver Line project was able to shave some expenses through cost-sharing with Boston's Big Dig freeway tunnel project.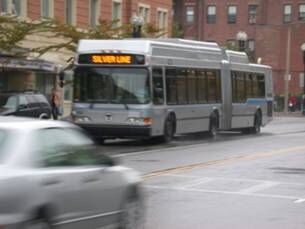 Boston's Silver Line "BRT" project (including tunnel sections) is costing about $800 million per mile, according to "BRT" promoter.
[Photo: Ross Mair]
The Cox News Service promotional article claims that "New showcase systems in Los Angeles; Adelaide, Australia; Bogota, Colombia and other cities have been received enthusiastically by commuters." But on the whole, experience in the USA has not been quite as favorable as this claims.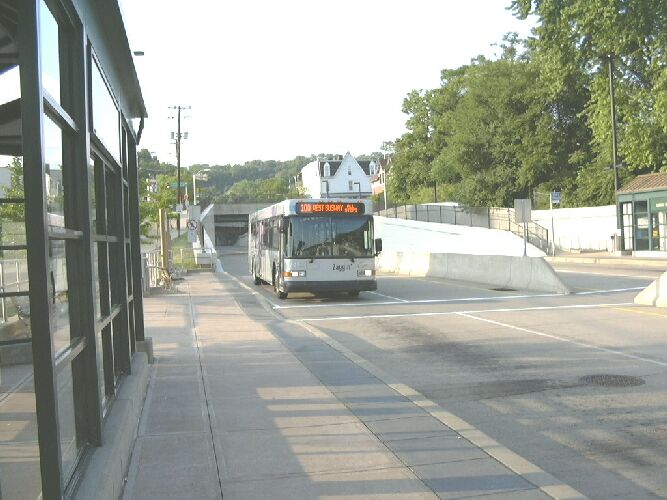 In the past, BRT projects like the Pittsburgh busways (see photo at right) and the Los Angeles Harbor Freeway busway have failed to garner the passengers that were promised. In fact, the LA Harbor Transitway busway has now been changed into an HOV lane instead of the originally planned dedicated bus-only lane due to low ridership.
[Photo of Pittsburgh West Busway: L. Henry]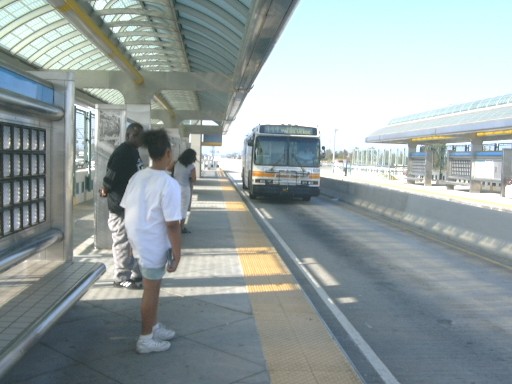 LA's Harbor Transitway "BRT" service, paralleling Blue Line LRT in similar corridor, averages around 5,000 rider-trips a day – far short of projections. In contrast, Blue Line LRT averages around 80,000 a day.
[Photo: L. Henry]
In an interesting 2003 transit comparison, Houston's 6 HOV busways carried 43,225 transit passengers, but Portland's Max System with 3 corridors carried 79,600. While the HOV lanes carried almost 75,000 people in individual vehicles, that increased auto use also contributed to sprawl and arterial congestion when those motor vehicles got off the freeway. On the other hand, Portland's light rail system has aided a massive downtown revitalization and led to lower congestion costs for each person compared with Houston.
In addition, from 1990 to 2005, 73% of America's ridership increases have come from increased rail usage. Even with the Consent Decree in LA – which mandated lower bus loadings and less crowding – and much investment in buses around the country, bus ridership has stayed flat while rail ridership has soared.
While some of those who promote BRT mean well, most of them seem to believe transit is strictly for the poor and seem to be out to kill good rapid transit. The citizens of this country, as evidenced by the "transit space race", have shown their preference. Now it's up to all of us to make sure those investments get the best possible return.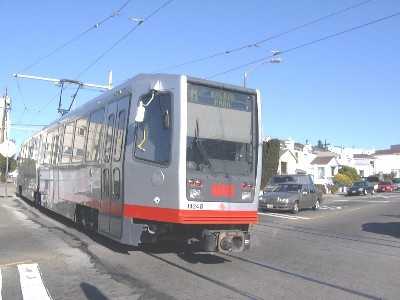 While the overwhelming majority of buses rely on some form of internal combustion propulsion, San Francisco's Muni LRT system gets 100% of its electric power from non-polluting hydro sources.
[Photo: L. Henry]