Your Campus – Does Light Rail Run Through it?
Light Rail Transit Access to North American Colleges and Universities
Analysis by David Dobbs
December 2005
Dave Dobbs is executive director of the Texas Association for Public Transportation, and publisher of the Light Rail Now! website.
One of the major advantages of rail transit – particularly light rail transit (LRT) – is that it can provide a highly efficient, relatively high-capacity, and very attractive mode of public transit to provide access to and from college and university campuses. Rail is ideally suited to accommodate the surges of passenger volumes that are often associated with these major activity centers, and to provide high-quality and understandable connectivity with the regional transit system as a whole.
While many campuses are served by full, "heavy" rapid transit systems (such as the older subway-elevated systems in New York City, Chicago, Philadelphia, and Boston, and newer metros in Toronto, Cleveland, Montreal, Vancouver, San Francisco, Washington, Atlanta, Baltimore, and Miami), this discussion focuses on direct LRT access to college and university campuses (i.e., either through, or adjacent to, campuses). Because of its lower cost and greater flexibility, LRT seems to be the rail mode of choice among many North American urban areas of lower to medium population density which have installed, or are seriously considering, rail transit.
LRT serves higher-education campuses via subway, elevated, or surface stations. Operating on the surface, both high-performance, interurban-type light rail vehicles (LRVs) and streetcars are very safe in pedestrian environments ~ far safer than automobiles – while providing convenient surface access to the public. While the following overview is by no means comprehensive, it does provide a perspective on some of the more important instances of LRT service to campuses across North America.
Canadian campuses served by LRT
In Canada, LRT lines serve a number of higher-education institutions.
· Toronto – LRT service consists of streetcar lines which pass on streets next to at least a couple of campuses. The University of Toronto is served by the 506-Carlton route, and the Ontario College of Art & Design is served by the 505-Dundas route.
· Calgary – The C-Train LRT runs right next to the University of Calgary.
· Edmonton – The city's light rail line runs under the University of Alberta with a subway station at that point which is currently the terminus.
US campuses served by new LRT systems
In the USA, several new (since 1981) light rail lines have been routed into or next to university campuses with convenient stations for the schools.
· Portland – The new streetcar system runs right through the Portland State University campus.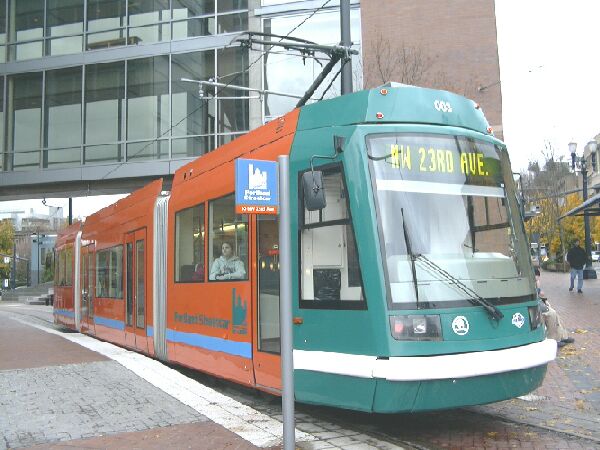 Portland Streetcar track runs straight through student union complex in heart of Posrtland State University campus.
[Photo: L. Henry (Nov. 2003)]
· Houston – The University of Houston's downtown campus anchors Houston Metro's LRT and it has a station at Rice University next to the line.
· San Diego – The LRT Trolley's latest extension (Green Line) has an underground station right on the San Diego State Campus where the train emerges from the tunnel to continue on the surface to the suburb of Santee.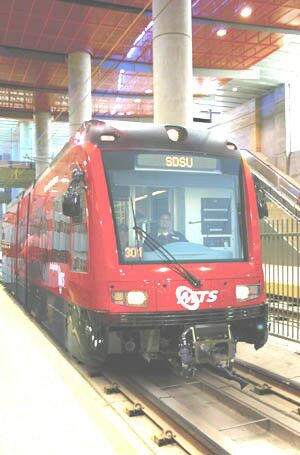 LRT in subway station runs directly underneath San Diego State University campus.
[Photo: San Diego Electric Railroaders Assn.]
· St. Louis – The Metrolink LRT has a stop right next to the University of Missouri North Campus. MetroLink's CWE station serves the St. Louis College of Pharmacy and the Washington University Medical School. Also. Southwestern illinois College at Belleview is a front-door stop on Metrolink.
· Baltimore – The city's LRT, operated by the Mass Transportation Administrtion, serves the University of Baltimore at its U. Baltimore/Mt. Royal station. The Maryland institute College of Art is also served.
· Denver – The C and D LRT lines of the Regional Transportation District (RTD) serve the campuses of the Community College of Denver Auraria, the University of Denver Health Sciences Center, and the Metropolitan State College of Denver. Altogether, 37,000 students are served at these three campuses. In addition, the soon-to-open southeast extension, with proposed routes E, F, H, and J, will touch the northern tip of the main University of Denver campus.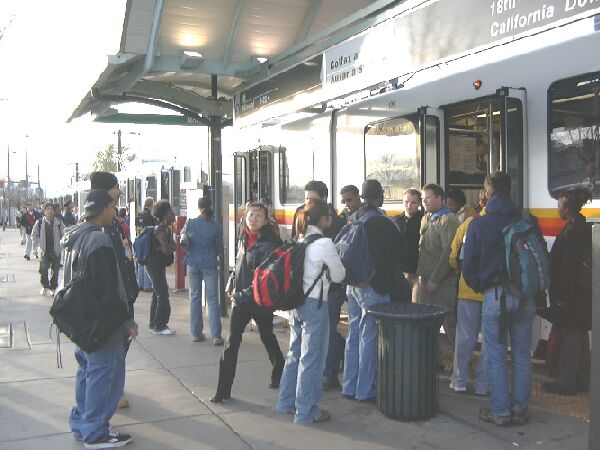 Denver LRT station serving Auraria campus is teeming with students boarding and deboarding trains.
[Photo: L. Henry (Nov. 2003)]
· Dallas – Dallas Area Rapid Transit's LRT system has the Dallas County Community College District's El Centro College Campus in the CBD next to a stop.
· Salt Lake City – The TRAX LRT system operated by the Utah Transit Authority (UTA) goes through the University of Utah campus. TRAX also serves the Downtown and Meadowbrook Campuses of Salt Lake Community College. Furthermore, in 2006, Latter-Day Saints (LDS) Business College and Brigham Young University (BYU) Salt Lake Branch are going to be relocated directly on the TRAX line in downtown Salt Lake City.
· Sacaramento – Regional Transit's South LRT line passes along the eastern edge of the Sacramento City College campus. The station is heavily used by students and others – so much so that the traffic to/from the college campus is a major component of the passenger transfer activity between the South and East (Folsom) lines that has turned the 16th Street LRT station into the second-busiest stop on the entire system.
US campuses served by "legacy" LRT systems
With respect to "legacy" LRT – surviving light rail lines built before World War 2 – college and university campuses are served by LRT in Boston, Philadelphia, New Orleans, and San Francisco.
· Boston – Both Boston College and Boston University are stops on the T's Green Line predominantly surface-running LRT line (a quasi-streetcar, in reality) that connects to Boston's metro rail rapid transit system. In addition, the E-Heath Street LRT line serves Northeastern University, and there's even a turnback by campus buildings.
· Philadelphia – Subway-surface LRT streetcar lines operated by the Southeastern Pennsylvania Transportation Authority (SEPTA) pass directly under the campus of the University of Pennsylvania with two stations serving the campus (36th and 37th St.). Drexel University is also served (33rd/Market station). The recently rehabilitated and re-opened 15-Girard Avenue streetcar route stops near the entrance to Girard College. In addition, the Route 100 LRT-like light metro line directly serves Villanova University.
· New Orleans – The historic St. Charles streetcar (currently out of operation because of damage from Hurricane Katrina) has stops at Loyola and Tulane Universities.
· San Francisco – Muni's LRT system runs through San Francisco State and next to the City College of San Francisco and the University of California San Francisco, and all three school's LRT stops are named for the respective schools. These San Francisco schools are clearly well connected with the Muni public transit network.
Undoubtedly, there are many other examples that this discussion has overlooked. But hopefully the examples provided in this analysis illustrate how many major college and university campuses across North America are connected by light rail to their respective cities' public transportation systems.
Light Rail Now! website
URL: http://www.lightrailnow.org/facts/fa_lrt_2005-12b.htm
Updated 2006/01/05