The latest news is in – and light rail transit (LRT) is once again the USA's big winner in ridership growth among the major transit modes.
APTA's Passenger Transport for 28 April 2003 has reported that, for 2002, LRT patronage increased 1.9 percent, the greatest increase among the "major modes" – despite America's economic downturn, post-9/11 blues, and war preparations.
Here are other results:
· Electric trolley coach riding went up 0.4 per cent.
· Motor bus riding dropped off by 1.9 percent, undoubtedly because of the rise in nationwide unemployment, but possibly mitigated somewhat by Bus Rapid Transit (BRT) gains.
· Rail rapid transit dropped down by 0.8 percent, undoubtedly because of subway shut-downs in New York City after "9/11" (11 September 2001).
· "Commuter" rail (regional passenger rail) lost 1.3 percent in 2002 (undoubtedly also for unemployment reasons) with no gains from new lines except for a Dallas extension.
For rail rapid transit, despite the decrease in ridership, pulled down by the big post-9/11 drop in New York City, there were important ridership gains, especially at some of the newer operations. Here are some specific winners:
· Baltimore gained 0.7 percent
· Chicago gained 0.5 percent
· Miami gained 1.9 percent
· Washington gained 1.9 per cent
Regional ("commuter") rail ridership generally suffered, especially in California. The Peninsula CalTrain and ACE lost about 19 percent, in the context of heavy Silicon Valley layoffs – but ridership is still good (just not as good as before the economic downturn).
And there were some important regional rail winners:
· Dallas-Ft. Worth Trinity Railway Express – up 52 percent
· Seattle Sounder – up 18.1 percent
· Washington Virginia Railway Express – up 17.4 percent (using some borrowed Seattle cars)
· Connecticut Shore Line – up 15.5 percent
· Boston Amtrak MBTA – up 8 percent
For LRT, even within a generally upbeat 2002, there were some especially spectacular gains by particular agencies: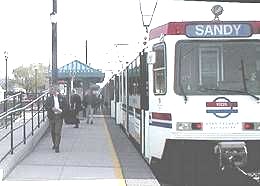 · Salt Lake City (pictured at right) posted a staggering 70.4 percent increase, helped significantly by the Dallas DART LRT cars borrowed for the Olympics.
· Denver was up 14.9 percent
· New Jersey Transit's LRT operations soared 11.3 percent, in part a result of the opening of the Hoboken extension late in the year.
APTA stresses that even with a small decline, transit overall in 2002 is up 19 percent from 1996. And LRT is up by a quantum jump since 1996.