Continuing a record of unrelenting growth, Portland's MAX high-performance light rail transit (LRT) system has hit new ridership records. According to a recent news release (9 September 2005) from TriMet, Portland's transit agency, over the course of 19 years since the LRT service started, MAX light rail ridership has grown to an average of 97,000 rider-trips per weekday, equating to an overall annual ridership of 32 million. TriMet's overall MAX system covers 44 miles (71 km), and has 65 light rail stations (see map below). Three MAX lines are celebrating "September birthdays", according to TriMet – i.e., they were inititally launched in the month of September.
Westside line tops 2008 forecast
Perhaps the most impressive ridership expansion has occurred on the system's Westside line, connecting the city's CBD with the suburb of Beaverton. According to the TriMet news release, weekday boardings on the Westside line now actually average more than 32,700 – exceeding 2008 ridership projections. All told, Westside MAX has carried more than 62 million rider-trips in the seven years since it first opened on 12 September 1998.
The MAX system's Westside branch stretches some 18 miles (29 km), linking the suburbs of Hillsboro and Beaverton to central Portland to the rest of the MAX light rail system. "Since opening, Westside trains have traveled about 10.4 million miles or the equivalent of 1,312 trips around the earth at the equator" reports TriMet.
Westside MAX LRT train boards passengers at 10th St. station in downtown Portland in May 2005.
[Photo: L. Henry]
Eastside MAX – 199 million in 19 years
According to the TriMet news release, the agency's Eastside MAX Blue Line "has carried 199 million rider-trips since opening in 1986 as the Portland area's first light rail line." TriMet reports that the 15-mile [24-km] line, linking Gresham to downtown Portland, "has seen steady ridership growth" from an average of 19,500 weekday rider-trips in its first year to an average of 41,100 daily trips last year (ending 30 June 2005). Current annual ridership for the line averages about 16.5 million rider-trips.
TriMet adds that since its inauguration on 6 September 1986, Eastside MAX trains have traveled about 18.5 million miles, "equivalent to 2,334 trips around the earth at the equator."
Red Line – 3.3 million to airport in 4 years
The third September "birthday" line, TriMet's Airport MAX Red Line, turned four years old on 10 September. TriMet reports that the line – a model for LRT connections to major airports – has carried 3.3 million passenger-trips to and from Portland international Airport since it first began running. Last year about 900,000 riders got on or off MAX at the airport. The 5.5-mile (8.9-km) segment runs every 15 minutes between Beaverton and Portland's regional airport (PDX). Prior to opening the Red Line in 2001, buses carried about 900 rider-trips to and from the airport per month.
Yellow Line – no "birthday", but big success
In addition to the three "September birthday" lines, TriMet's MAX LRT Yellow Line has also seen phenomenal success. As of the line's one-year anniversary this past May 1st, the 5.8-mile (9.4-km) line was averaging some 12,000 rider-trips a day.
Moreover, according to a TriMet news release (14 May 2005), Yellow Line Ridership "far outpaces ridership on the former bus line that operated on interstate Avenue...." The agency cites the following increases over previous bus service:
· Weekday ridership is up 92% over the former 5-interstate Avenue bus line
· Saturday ridership is up 104%
· Sunday ridership is up 97%
"In addition to strong ridership, we've seen tremendous excitement about the revitalized community that's a more attractive place to do business and live" said TriMet General Manager Fred Hansen. According to the TriMet release, the opening of the Yellow Line sparked a 50 percent increase in the number of new businesses along interstate Avenue, "and that number continues to grow."

MAX LRT System Map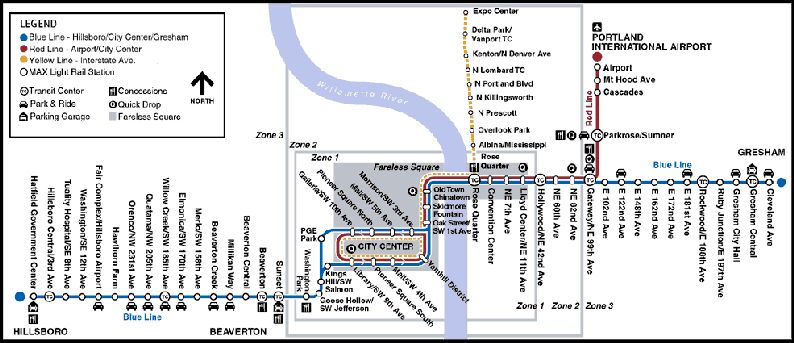 [Map adapted by LRN from TriMet]

Light Rail Now! website
Updated 2005/09/21