In urban mass transit, there is nothing that seems to elicit an outpouring of enthusiastic public support, acclaim, and excitement so much as the opening of a brand-new rail transit line – particularly light rail transit (LRT). And that certainly is the case with the opening of the Los Angeles area's new 13.7-mile Gold Line LRT running from Pasadena to LA's Union Station this past weekend (26-27 July 2003).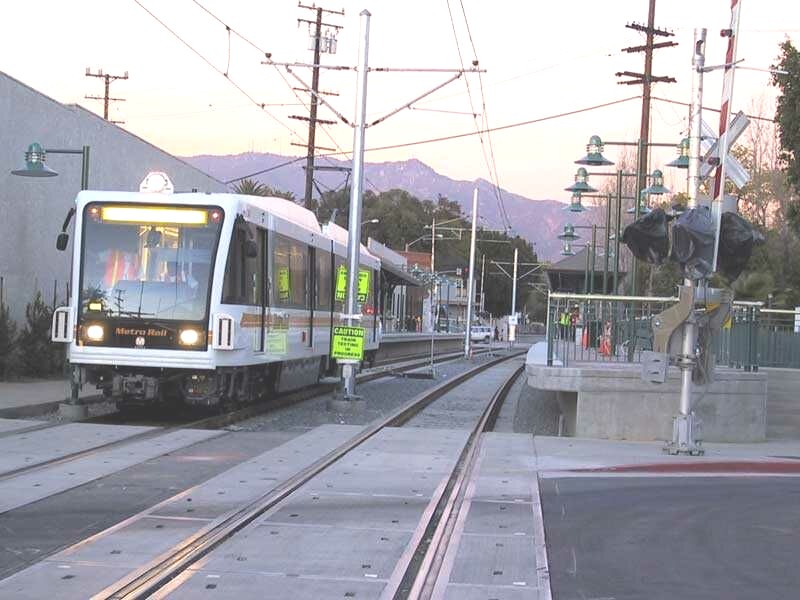 "70,000 Riders Go for the Gold Line" headlined the Los Angeles Times, in a July 27th article by reporters Kurt Streeter and Steve Hymon, who relate the tragic news that "transit officials found themselves with an unusual problem: The masses overwhelmed the mass transit system with more than 70,000 passengers." in fact, estimates of riders by the Los Angeles County Metropolitan Transit Authority totalled between 70,000 and 80,000 for the day.
"The onslaught overwhelmed a railway expected to handle about 30,000 rides on weekdays", the Times reports, adding:
By midafternoon, there was a wait of one to two hours to board the trains at some stops along the route. At Union Station, the line of people stretched the length of the terminal and then snaked through an underground parking garage.
The scene seems curiously similar to other recent openings of new LRT lines, such as those in Denver and Dallas (see our article Light Rail's Besieged With Riders! This is a Problem?).
Opening day riders on the Gold Line are reflected in LRT car windows as they queue up to board a train at the Del Mar station.
[Photo: K. Durflinger]
The Times reporters also noted that "It would be hard to find more passionate riders than those who made their way to Union Station for the first round-trip ride." They interviewed one rider, Jed Hughes, described as a "retired workers compensation specialist from Long Beach" who " recalled the days when there was a vast network of commuter [rail transit] lines across the region" (i.e., the extensive, 1000-mile Pacific Electric interurban railway, which was ultimately crippled by government promotion of motor vehicle travel and finally dismantled in the early 1960s).
"In the '50s and '60s I rode on the last trains of the old electric cars" Hughes told the Times reporters. "I saw the old ones die out. Now I'm riding the first train to Pasadena."
"Most of the riders said that they would use the Gold Line occasionally", the reporters related. "People in Chinatown said they would go to Pasadena to shop. People in Pasadena said they would ride to Chinatown to eat."
At LA's Union Station (the western terminus of the Gold Line), much of the day prospective passengers waited around 45 minutes in line to get to the LRT platform where they could board a train. The line reportedly stretched two-thirds the length of the main pedestrian tunnel and out its east end into switchbacks in the MTA parking structure.
At the opposite, Pasadena, end, the line was even longer, extending over a pedestrian bridge above the tracks and over the length of the Sierra Madre Villa/East Pasadena parking structure.
Lines were usually shorter in most of the intermediate stations. Eight two-car trains ran fairly reliably on 8-minute headways. One opening-day volunteer worker counted peak loads of up to 80-100 standees in addition to the 76 seated passengers per car on afternoon trains. Typically, 175 passengers were loaded onto trains leaving Union Station; according to one report, from 170 to 230 passengers were counted exiting from arriving trains.
LA Times reporter Kurt Streeter reported informally that he met a woman riding from Highland Park, taking the new service not for fun, but already to her work cleaning houses in Santa Monica. The train took half the time of her former bus to downtown.
For one opening-day Gold Line volunteer, it was an event not to be forgotten:
Although on my feet for hours, I found it a remarkable experience, seeing such a cross-section of Los Angeles: all races, and families with all ages, from babies in strollers to seniors with canes or in wheelchairs, mixed together waiting patiently to ride the trains.
The following article from the Pasadena Star News provides further details of the Gold Line opening and opening-day festivities.
---
Pasadena Star News
Saturday, July 26, 2003
Start of a Golden Age
Thousands jam stations for free ride on new trains
By Mary Bender, Staff Writer
PASADENA – Whether it was the first-day novelty, pent-up anticipation or just the free ride, swarms of people jammed aboard Metro Gold Line trains Saturday for the grand opening of the Los Angeles-to-Pasadena light-rail line.
By 9 a.m., it was standing-room- only aboard the trains, which travel between Sierra Madre Villa Avenue in east Pasadena and Union Station in downtown Los Angeles. The route is 13.7 miles and on a normal day will take 36 minutes to go from one end to the other.
Saturday wasn't a normal day.
"Push on in, darlin'. Push on in,' a Metropolitan Transportation Authority security guard urged a rider boarding a mid- morning train at the Del Mar Station. The brisk passenger loading and unloading times around which the Gold Line schedule is built went by the wayside Saturday, as drivers had to linger at each stop much longer because of the crowds.
A few miles east, lines snaked inside the multilevel Sierra Madre Villa parking garage, across the attached pedestrian bridge over the Foothill (210) Freeway, and onto the station platform in the freeway median.
The wait to get on a southbound train heading back to Los Angeles averaged two hours most of the day, Los Angeles County sheriff's deputies said. It was a scene repeated at Union Station for those waiting to board a northbound train to Pasadena.
The stops in between weren't much better, because already- full trains would pull into a station with many wanting to get on, but few willing to get off.
"Starting at 8:30 a.m., we had to force them off the train,' said Tom Jasmin, an MTA manager in charge of the Sierra Madre Villa Station on Saturday.
In all, MTA officials estimated that 70,000 to 80,000 people rode the trains Saturday.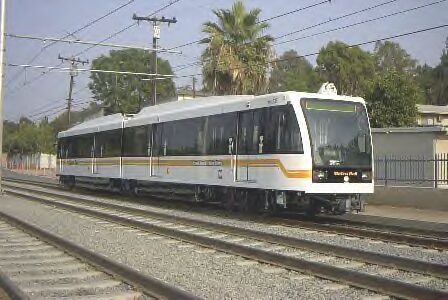 The long-delayed $859 million project joins a light-rail network that includes the Metro Red Line subway, the Metro Green Line, and Metro Blue Line to Long Beach.
The new rail system is operated by the MTA, which on Saturday put 22 of its 26 Gold Line trains into service, said MTA spokesman Ed Scannell.
"The trains are really packed,' said Callier Beard, an MTA transportation planner posted at the Del Mar Station. Beard was one of the dozens of agency employees in gold T-shirts who, communicating via walkie-talkie to workers at other stations, tried to balance the passenger count on each train.
"We had to shut this down at 10:30 in the morning,' Jasmin said, pointing to the Sierra Madre Villa garage. The stop was closed off for a while to passengers arriving by foot and by car because the line to board trains grew too long.
"I'm disappointed. It's too crowded. You're like a pack of cigarettes,' groused Nina Bonilla, a resident of L.A.'s Cypress Park district.
"They should have a limit only so much people (allowed on board) and that's it,' Bonilla said at the Del Mar Station, noting she boarded the train at the Heritage Park/Arroyo Station and couldn't get a seat.
Crowds aside, some could not be deterred.
"We've been waiting for this for over 20 years,' said Sam Huddy of Pasadena, who, at age 13 1/2, apparently was speaking for his father, Bob, as well.
"I was on the last (Amtrak) train in 1994,' the eighth-grader said. It's been nine years since passenger trains traveled the Los Angeles-to-Pasadena right-of-way, which for more than a century belonged to Santa Fe Railway.
"We wanted to be on the first new train. I think it's going to be a real shot in the arm for Pasadena,' added Bob Huddy, who for several years served on Pasadena's Transportation Advisory Commission, helping to plan the route and stations.
On Monday, Huddy will ride the Gold Line to work in downtown L.A. using a monthly pass that his employer pays for, he said.
Saturday's horde was a melting pot of ethnicities, age groups and demographics, with the introduction of new passenger rail service an irresistible event for train buffs, little kids and traffic-weary commuters alike.
"Look, Mom, the gate's shutting! Let's listen to this!' said 8-year-old Nick Farewell, scurrying from the ticket machine to the platform of the Del Mar Station, as ringing bells signaled the approach of a train.
The San Gabriel third-grader, who wore a small yellow hard hat for the occasion, was fascinated by the Gold Line all during its construction. "This will be his first train ride,' said the boy's mother, Jackie Farewell.
One train had problems with one of its brake systems shortly after leaving Union Station at 3:35 p.m., forcing rail officials to empty it of passengers at the next stop, the Chinatown Station. The train was taken out of service, Scannell said.
Free rides continue today [Sunday] on the Gold Line, with trains running the normal 4 a.m.-to-2 a.m. schedule all weekend.
The head of the MTA and the politician most responsible for getting the light-rail project built will greet passengers today in Pasadena. Roger Snoble, MTA chief executive officer, and Rep. Adam Schiff, D-Pasadena, will be at the Memorial Park Station from 11:30 a.m to 12:30 p.m.
Staff Writer Lisa Faught contributed to this story.
Mary Bender can be reached at (626) 578-6300, Ext. 4456 or by e-mail at mary.schubert@sgvn.com.
This report includes some information adapted from material originally posted to the Light Rail Progress Professional discussion list.