In the Los Angeles Business Journal of Monday, June 30, 2003, "End of Line for New Rail Projects", reporter Howard Fine elegizes,
With next month's opening of the Gold Line to Pasadena, L.A.'s grand experiment in rail will be grinding to an unscheduled halt.
This opening sentence pretty much reveals a common thread amongst the local press. Every time a new rail line is about to open in LA, at least one writer treats it like a funeral. There are phrases like "end of the line" or, as in this case, "an unscheduled halt". Note that we have had rail for 13 years and it's still "LA's grand experiment".
Fine's article continues in the same obsequial tone, informing us that "the construction boom is coming to an end", and that "The once boundless pool of state and federal funds that built out the current system has now dried up, and there's only scant hope more funds will be found in the near future." instead, we're told, it's "smaller, cheaper [bus] transit projects" that are now in favor.
Well, maybe. But I would not recommend rushing to declare the death of rail transit in LA just yet.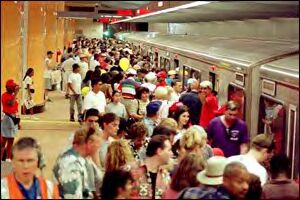 Whether one likes what was built, or how, people forget that in the 1990s LA built more urban rail than any other city in the world. Starting with zero at the beginning of 1990, LA wound up with close to a 60-mile system by mid-2000 – an over- $6 billion investment that included a 17-mile subway (photo, above right). Unfortunately, LA also allowed their bus system to deteriorate badly.
What we are seeing this decade is the pendulum swinging. it is possible that in the decade of 2000-2010 we may only see 20 miles of rail built in LA County (13-mile Pasadena line in 2003 plus 7-mile Eastside line in 2009). We are also getting a 13-mile busway in 2005 and 22 "Rapid Bus" routes (in effect, higher-quality service, mainly in mixed traffic) by 2008.
Well and good. But I believe that by the start of the following decade (2010) we will see the results of the pendulum swinging again. There are already indications this is true. The Consent Decree with the so-called "Bus Riders Union" (not mentioned in the Business Journal article) will expire in 2006. LA's political love affair with painting express buses red and calling them a "new mode" will have played out. (You already hear some politicians whistling "is that all there is?")
2010 should start with the opening of the Exposition Line at least to Culver City and in that decade we will see extensions to Santa Monica, extensions to the Gold and Green Lines, and maybe even see the repeal of the subway-local-funds-ban which could bring the Red Line to where it was meant to be in West LA.
Don't weep for rail in LA. it is alive and well.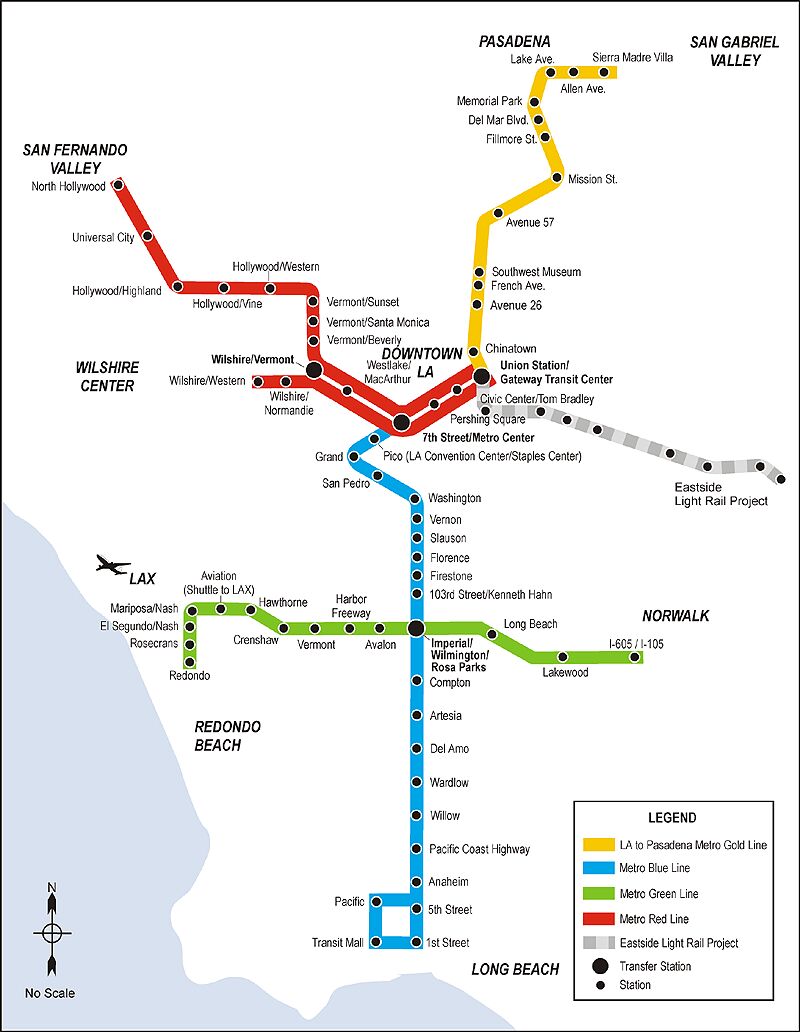 Since 1990, LA's rail transit systems have expanded to more than 60 miles.
[Map: Blue Line Construction Authority]