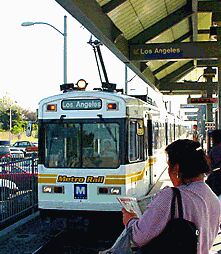 Related Links
---
Light Rail Progress can be contacted at:
Light Rail Progress
lightrailnow@lightrailnow.org





LA's Blue Line Hits New Ridership Record
By Light Rail Progress
Los Angeles' Blue Line light rail transit (LRT) service has been a huge success from the day it opened, and it continues to attract riders in droves (see graph). in early summer 2002, the Los Angeles County MTA (LACTMTA) announced the Blue Line hit a record average of 70,020 weekday boardings in May 2002. The LRT line is now consistently running 3-car trains, on 5-6 minute peak headways (12 minutes midday). Even in the middle of the day, cars frequently have all seats filled with riders. The Blue Line carries more passengers than any other single LRT line in the nation except in Boston.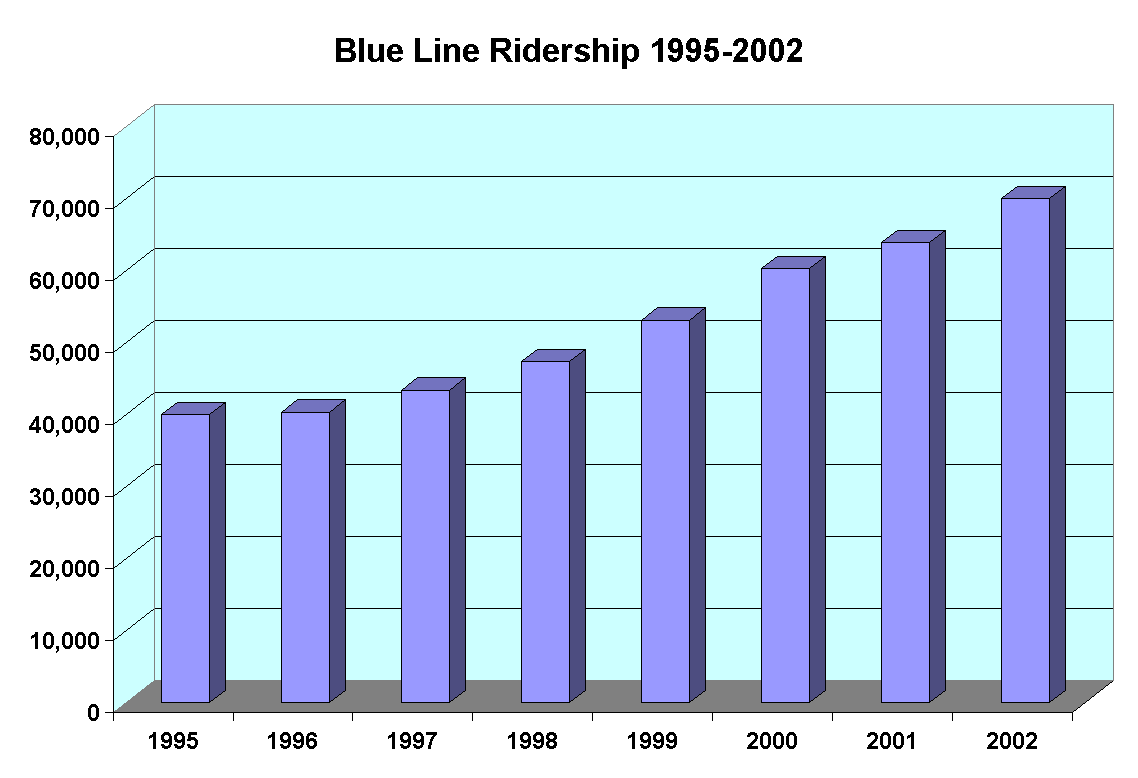 Because of skyrocketing passenger demand, MTA spent approximately $11 million during a 16-month period through November 2001 to extend the platforms at 19 stations to accommodate 3-car trains along the 22-mile route, which serves Watts, Compton, and Willowbrook as well as Long Beach, Los Angeles, and other communities. The Blue Line averages 24 mph end-to-end at all times (faster if the slow Long Beach in-street portion is not included). in comparison, the much-touted Wilshire Rapid Buses average only approximately 15 mph during rush hours.
The Blue Line's ridership has followed a steady upward trend, as the table below (for May average ridership since 1995) indicates. Except for 1995-96 (a period when civil unemployment in LA County reached 8.2 percent), annual ridership growth has been impressive, hitting double-digit levels in several years.
Blue Line Ridership
1995-2002
| | | |
| --- | --- | --- |
| | Ridership | Annual increase |
| 1995 | 40,000 | 0% |
| 1996 | 40,375 | 1% |
| 1997 | 43,400 | 7% |
| 1998 | 47,350 | 9% |
| 1999 | 53,150 | 12% |
| 2000 | 60,275 | 13% |
| 2001 | 63,925 | 6% |
| 2002 | 70,020 | 10% |