Related Links
---
Light Rail Progress can be contacted at:
Light Rail Progress
PO Box 150116
Austin, Texas 78715
Phone: (512) 441-3014
lightrailnow@lightrailnow.org





Los Angeles: LRT Selected Over "BRT" for Exposition Corridor
By Light Rail Progress
In a dramatic breakthrough for light rail transit (LRT) in Los Angeles, on 28 June 2001 the Los Angeles County Metropolitan Transportation Authority (LACMTA) board voted unanimously to proceed with light rail transit (LRT) in LA's Exposition Blvd. corridor rather than with a "Bus Rapid Transit" (BRT) busway plan which many of LACMTA's top officials and planners had previously favored.
This is a major victory and the culmination of well over a year of hard work by LRT supporters in West LA who not only applied reputable professional analysis to LACMTA's alternative proposals, but mobilized widespread community support. The mythology of "BRT" evaporated in the face of intensive scrutiny of the busway proposal's cost, safety, capacity, operational, and other assumptions. Through its perseverance and solid technical expertise, West LA's Friends 4 Expo group managed to bring about a total reversal of the momentum originally behind the official "BRT" plan for Exposition.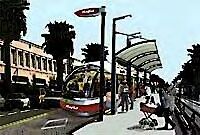 Some background to this situation has already been provided by the report "Los Angeles Times Says: Forget "BRT" – Go With Light Rail!". As this article relates, soured by the high cost of subway (Red Line) construction, some LA officials have been dazzled by the examples of "Bus Rapid Transit" ("BRT") in Curitiba, Brazil and then LA's own Rapid Bus version of "BRT" on Wilshire and Ventura Boulevards (a limited-stop service, operating in mixed traffic with prioritized traffic signals, along with new lowfloor buses and mini-stations). As a result, a "BRT" busway has been officially pushed (as a "rubber-tire surface subway") for both major corridors of Wilshire and Exposition Blvd. on LA's West Side. Exposition runs west from downtown LA to Santa Monica on the coast.
While LACMTA officials have been trying to drag the public, kicking and screaming, into their "BRT" idea, for more than a year, LRT supporters have organized to advance their vision of LRT on Exposition ... In effect, an uphill struggle in which residents of the area (organized as Friends 4 Expo) have been trying to drag the officials, kicking and screaming, to commit to LRT.
The official "BRT" proposal for Exposition, pushed by the Los Angeles County Metropolitan Transit Authority (LACMTA), was perceived as curiously skewed in its assumptions for a busway. One of its more bizarre aspects included the assumption that 55-mph express buses, on a 2-lane paveway, at 1.5-minute headways, would provide "skip-stop" operation, thus passing local buses by running in the opposing lane – in many instances, at points where visibility of the opposing lane was restricted. This rather catastrophe-prone scenario led some LRT supporters to dub the official proposal the "Execution Blvd. busway".

Fortunately, careful scrutiny of these safety issues, cost assumptions, and other aspects appears to be leading to the restoration of prudence and sanity in LA. First came the endorsement of LRT for Exposition by the prestigious 'Los Angeles Times'. Then, on 18 June, a LACMTA staff report recommended LRT (as opposed to "BRT") on Exposition, supporting a first section from downtown Los Angeles to Venice/Robertson. And, on 20 June, the Los Angeles City Council voted ten to zero to pass a resolution which "...urges the MTA Board to support the implementation of a light rail line along Exposition Boulevard and ensure that any, and all, impacts to the surrounding communities be properly mitigated ...."
The momentum for LRT at last culminated on 28 June, when the LACMTA Board approved unanimously (10-0) the first section of an Exposition corridor light rail line from downtown to Venice/Robertson, including the next steps of completion of its Final EIS/EIR, additional neighborhood mitigation planning, and Preliminary Engineering. Now, finding available funding to speed up construction and complete the project all the way to Santa Monica is the next hurdle for LRT supporters.
While approving LRT on Exposition, the LACMTA also approved major bus service improvements in the roughly parallel Wilshire Blvd. corridor – one of the most intensive, high-volume single transit corridors in the world. LACMTA already operates its famous Rapid Bus limited-stop service on the Wilshire Blvd. – a Better Bus service (or so-called "BRT") operating in mixed traffic with some traffic-signal prioritization and spiffy new waiting shelters (stations). This service will be expanded and upgraded with the purchase of additional buses, construction of new bus stops, and reconstruction of curbs and lanes.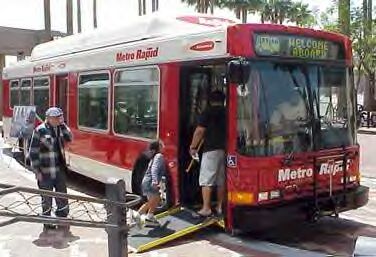 Whether a full busway will ever be constructed in the Wilshire corridor is doubtful, and rail supporters say it would be a waste of resources, since extension of the Red Line rail metro system in the Wilshire corridor is ultimately necessary to provide adequate transit capacity. in the interim, supporters look for upgrades of the Rapid Bus service on Wilshire Blvd., perhaps with larger buses, to provide transit service until the obstacles to Red Line extension can be overcome. in this scenario, LRT in the roughly parallel Exposition corridor could play a role, by attracting some Wilshire corridor trips to the higher-quality, higher-capacity service offered by light rail.
Rev. 2001/07/20