NOTE: The following analysis has been slightly adapted for Webpage presentation on Light Rail Now! from a paper distributed by the authors at a Federal Reserve Bank ("Fed") of St. Louis public event in August 2004, responding to an attack by a Fed official on the MetroLink light rail transit system as a "boondoggle". While the focus is primarily on the St. Louis MetroLink system, the paper provides an illustrative case study of the fallacies in the myths underpinning the common "buy every rider a luxury car instead" argument used by opponents to disparage rail transit investment.
In two separate publications, personnel of the Federal Reserve Bank of St. Louis have recently launched vigorous attacks on US urban mass transit and particularly light rail transit (LRT) systems, together with the suggestion that rail transit passengers could more "cost-effectively" be transported by private motor vehicles, and that rail transit development and expansion in American cities might be replaced by further promotion of highway travel instead. The Regional Economist, a periodical of the Federal Reserve Bank of St. Louis, in its July 2004 edition published an article by Molly D. Castelazo and Thomas A. Garrett titled "Light Rail: Boon or Boondoggle?" Then the Fed published a study by Garrett alone, titled "Light-Rail Transit in America: Policy issues and Prospects for Economic Development", and dated August 2004.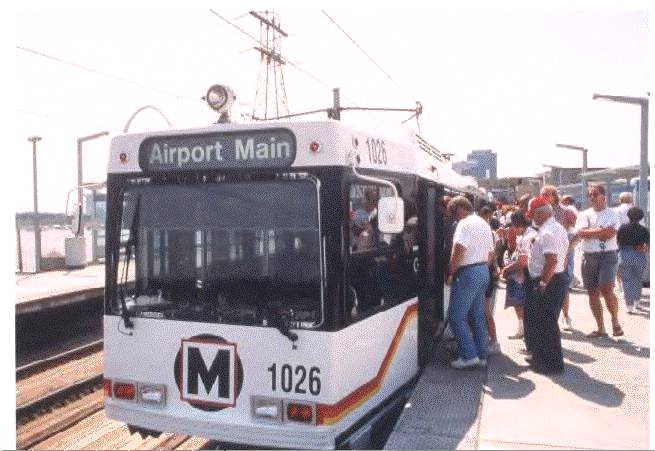 The "Boondoggle" article (with criticisms particularly focused on St. Louis's MetroLink LRT system) has far more of the character of a political tract than a well- reasoned, fact-based analysis conducive to sound public policy decisionmaking. While Garrett's "Light-Rail Transit in America" study is slightly more demure and informative, it shares most of the "Boondoggle" article's fallacies and serious methodological weaknesses. identifying and understanding these fallacies and weaknesses is critical to furthering sound transportation decisionmaking in US cities.
Societal benefits get "disappeared"
The Castelazo-Garrett article is replete with contradictions and non-sequiturs. in their first paragraph, they state, "Whether light-rail transit is a boon or a boondoggle depends on whether the societal benefits of light rail outweigh its costs" – as if it is the intent of the paper to methodically address this issue, examine both costs and benefits, and provide evidence one way or the other. Unfortunately, they do nothing of the sort - the remainder of their paper simply ignores this pivotal question, turning instead to other assertions and themes. Not one shred of tangible information on "societal benefits" (on the basis of which the key question is purportedly to be decided) is presented throughout the article. This issue is simply "disappeared".
Castelazo-Garrett do seem aware of the kinds of issues they should be examining: They mention, in passing, benefits such as Increasing "community well-being", "creating jobs", "boosting economic development and property values", "reducing pollution and traffic congestion", and "providing drivers with an economical alternative to the automobile". Yet no evidence is presented, and no effort is made even to quantify a single one of these benefits in a common measure (e.g., dollars). instead, all these issues, as well as the notion of comparing "societal benefits" to costs, get jettisoned with a cursory dismissal that "Opponents counter that light-rail transit provides little of these benefits to citizens...."
Garrett's independent study avoids this contradiction by simply ignoring the issue of a benefit-cost comparison altogether. At most, Garrett simply discusses an assortment of "Economic issues" (Sec. III), in what is largely an oration of personal opinion while making no serious effort to develop a meaningful, fact-based, professional analysis of the benefits vs. costs of LRT.
LRT's impact on traffic congestion
Curiously, both the "Boondoggle" article and Garrett's independent study acknowledge that LRT does have some kind of positive impact on traffic congestion. The Castelazo-Garrett article dismisses this impact with the disdainful observation that "building light rail is only a short-run solution to the problems of traffic congestion and pollution." Garrett's "Light-Rail Transit in America" study examines this issue in a bit more depth, presenting what Is apparently Garrett's own research into traffic congestion, which actually finds that "light rail may have slowed the growth in roadway congestion in some cities." This leads him to conclude that perhaps there is some very marginal usefulness for LRT.
But what is rather bizarre is the central contention in both papers in regard to traffic congestion. The Castelazo-Garrett paper makes the assertion that "To permanently alleviate the problems of traffic congestion and pollution, policy-makers must address the root cause of both: the inefficient pricing of roadway usage. Traffic congestion and pollution exist because the costs of driving an automobile are artificially low." Similarly, Garrett's independent study argues that "Traffic congestion exists because of inefficient pricing of roadway usage."
This is a somewhat astounding contention, which seems to suggest that, if you could just make roads sufficiently expensive to use, you would force people to stay at home and not create all that congestion. Well, perhaps. But doesn't that seem to run counter to the basic objective of providing publicly sponsored transportation systems to promote mobility, enable workers to get to work, and make it possible to turn the wheels of industry and foster economic growth? What is especially disconcerting is that this is a Federal Reserve Bank representative (in a Fed publication) who is arguing for ratcheting up road-use costs to hold down traffic!
Public transport "profit" and subsidy
Both papers attempt to build a case against LRT (actually, against virtually all publicly provided mass transit) by attacking government supplementary funding ("subsidy") of these services. Thus the authors repeatedly and emphatically disparage St. Louis's MetroLink and other LRT systems for not paying their full costs from farebox revenues alone. Notwithstanding the fact that this is true of almost every public transport system in the world, and that the huge systems of New York, Toronto, London, Paris, Moscow, and elsewhere would have to shut down if they adopted the Castelazo-Garrett profit criterion as their key financial principle, the authors proceed to build their entire denunciation of LRT on the basis of this characteristic.
It should be noted here that there's a compelling reason why transit systems cannot fund their operations purely from passengers' out-of-pocket payments. The competing roadway-based transportation systems – highly subsidized after nearly a century of strong government investment – have been structured to minimize motorists' out-of-pocket costs. The high costs of private motor vehicle travel are covered by a largely unobtrusive umbrella of public and private subsidization as well as the transfer of "external costs" (like accidents and air pollution) to the general public. indeed, Vukan R. Vuchic, referring to a 1994 study by the US Office of Technology Assessment (OTA), observes that
the OTA study ... estimates that car drivers pay about 60 percent of the total cost of their travel. The remaining 40 percent consists of costs of highway construction, maintenance and control (traditionally subsidized by all three levels of government), "free" parking (subsidized by employers, store owners, schools, federal tax laws, and so on), and various social and environmental costs absorbed by society.
[Vuchic, Transportation for Livable Cities, Center for Urban Policy Research, Rutgers, 1999]
Against this heavily subsidized, government-promoted competition, public transport operators find it virtually impossible to charge fares high enough to secure "profitable" operation – especially if social policy goals such as maximizing ridership, reducing motor vehicle traffic, and stimulating downtown revitalization are being pursued.
Mass transport feasibility and public funding
The feasibility of major public investments, from libraries to highways to dams to public transport projects, is typically based on an economic assessment of the project – especially comparing costs to benefits - and a financial assessment of various funding mechanisms to pay for the project. But Castelazo and Garrett hopelessly confuse these methodologies. The feasibility of public transportation is, in effect, evaluated solely on the basis of the level of government funding, or subsidy – i.e., a financial mechanism.
The "Boondoggle" article, for example, asserts that "The economic value that society places on light-rail transit is reflected, in part, by people's willingness to pay for it. This is true for most products and services in the economy. To make a profit and stay in business, private companies must offer a product or service whose production costs are below what consumers are willing to pay for it."
To apply such a yardstick of private-profit-sector business operations to critical public enterprises and projects is an absurd distortion of the realities of economic functioning. The economic value of a library is not determined by how much users are willing to pay to check out books. The economic value of a public school is not determined by how much parents are willing to pay in tuition to send their child to classes. The economic value of a dam is not determined by how much lake users are willing to pay to use the lake, nor by how much those in the flood plain downstream of the dam are willing to pay to avoid being flooded. The economic value of a street is not reflected by how much money motorists and bicyclists are willing to insert in a tollbox or meter to run their vehicles on the street. in essence, by the Castelazo-Garrett "profit" criterion there would be no public schools, no fire stations, no public libraries, very few dams, no sidewalks, and a lot fewer bridges, viaducts, arterials, and other roadway facilities.
Nevertheless, Castelazo and Garrett leap from their private-profit-based frame of reference to a denunciation of LRT, including MetroLink, for failing their "profit" test:
The public provision of light-rail services, in contrast, costs more than consumers are willing to pay. For example, fare revenue covers only 28.2 percent of operating costs in St. Louis, 19.4 percent of costs in Baltimore and 21.4 percent of costs in Buffalo. Nationwide, annual light-rail operating costs ($778.3 million) far exceed fare revenue ($226.1 million); the balance ($552.2 million) is paid for with tax dollars. ... No privately owned system would ever be operated (or even be built) with such a dismal balance sheet.
In his "Light-Rail Transit in America" study, Garrett repeats this argument, arguing that MetroLink's failure to cover its total costs from the farebox "shows the value that residents place on their transit system is much less than the system's operating cost." This leads him to pronounce that "rail transit systems are cost-ineffective...."
Both papers proceed from this conclusion – plus the unfounded premise that the core objective of public transport should be to provide some vestigial service to "the poor" – to promote bus and other non-rail transit modes as supposedly preferable alternatives. The "Boondoggle" article recommends that, "instead of building light-rail systems to provide transportation for the poor, communities could expand bus service, offer more express bus routes or expand on-demand services; these would still realize the benefits of providing public transportation to the poor." And, in his independent study, Garrett makes a similar argument, adding the rather contorted thesis that "Although bus service is also cost-inefficient, it is socially beneficial to have fewer inefficient public transportation systems."
One would infer from this that the authors' preferred public transport alternatives – buses and "on-demand" transit (usually called "demand-responsive" service) – exhibit "healthier", more "cost-effective" farebox revenue performance vs. cost performance according to the authors' stated criteria. This however is far from the reality.
As previously noted, transit's rate of farebox return is actually more a measure of financial performance and indicator of social policy, and not a measure of economic cost-effectiveness or viability. Yet, even by this measure, there is a major inconsistency in both Fed papers' analysis.
At the same time that Castelazo and Garrett chastize MetroLink for achieving a farebox return of "only" 28.2%, they propose substituting bus services and "on-demand" public transportation service, which have a significantly lower farebox return: St. Louis Metro's bus services achieve only a 21.2% farebox return, and their "on-demand" demand-responsive services an astoundingly low 4.2%! Clearly, there is something seriously out of kilter with the authors' methodological approach, which assails low farebox returns for LRT, but then advocates modes with even lower farebox returns.
Indeed, MetroLink's farebox return of 28.2% compares very favorably with the performance of most comparable major cities operating only buses (as of 2002). in the table in Exhibit 1, it can be seen that St. Louis achieves a higher return than in all these cities except for Las Vegas, Milwaukee, and Minneapolis. And certainly, in not one of these cities is transit "paying its way" out of the farebox – every single one of these systems would fail the "profit" test postulated by Castelazo and Garrett.
Exhibit 1