In some cities, monorail promoters are aggressively marketing monorail technology as a substitute for light rail transit (LRT). However, to date, besides recreational monorail lines in resorts, amusement parks, and similar venues, only in Seattle and Jacksonville have actual monorails been deployed in an urban revenue-service setting – and, so far, only in very short circulator or shuttle applications.
Soon, however, these small systems will be joined by the most ambitious urban monorail yet to be installed in North America: the Las Vegas Resort Corridor Monorail. But how much does this project differ from the Seattle and Jacksonville model?
While the Las Vegas project represents the most extensive application of monorail technology in an urban revenue transit setting in North America to date, it bears much more resemblance to recreational, circulator, and shuttle-type monorail applications than to a major fixed guideway mode serving as an urban transit "spine" (although, given the unique character of Las Vegas, it will have some of this function as well). Nevertheless, the LV project is being presented by monorail enthusiasts as a model of monorail technology suitable for virtually all other North American cities, particularly as a replacement for LRT projects.
However, in assessing this system, the highly significant special circumstances and limitations of the LV monorail must be emphasized. The project, which will result in a relatively short but high-traffic public transportation service, exhibits an array of unique conditions and characteristics which are unlikely to be duplicated in most other urban areas. Furthermore, even before its opening, the LV project has begun to exhibit some of the shortcomings of monorail technology.
"The Strip" – a unique resort corridor
Las Vegas's resort corridor (including the famous "Strip") is, in effect, a kind of gambling and entertainment "DisneyWorld"-like recreational area embedded in the heart of the Las Vegas urban area. Exacerbated by an unusually high volume of visitors to the city and its resort corridor, traffic congestion is extremely severe for an otherwise lower-density city; furthermore, parking availability is somewhat restricted in some locations.
Accordingly, the casinos have taken the initiative to install unique transportation systems – particularly "glitzy" systems with a "high-tech" veneer. These include the original monorail, established in 1995, less than a mile in length, which is now being expanded.
With the rehabilitation of the original monorail, and additional guideway and stations, an expanded 3.9-mile (6.4-km) system, with 7 stations (almost all at hotels or casinos), is expected to open in 2004. This system, under the aegis of the nonprofit Las Vegas Monorail Co. (LVMC), has been privately financed, but it has proceeded with the support of $650 million in bonds guaranteed by the State of Nevada.
Glamorous "high-tech" facade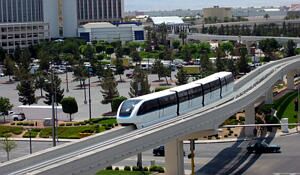 The primary system technology contractor is the Canadian company Bombardier. The system is totally automated, using 4-unit (car) articulated trainsets approximately 138 feet (42 m) long, with 62 seats and comfortable standing space for about 127 to 152 passengers (somewhat more than in a single LRT railcar). in revenue service, these driverless trainsets will speed up to a maximum 50 mph (80 kph), albeit at about 25% slower acceleration than LRT or other standard rail transit trains. End-to-end travel time for the 3.9-mile route is projected at 13 minutes, calculating to an average schedule speed of 18.0 mph (30.0 kph).
[Bombardier, "M-VI Monorail System, Las Vegas, USA" (brochure), 2001; Parsons Brinckerhoff Quade & Douglas, Inc., Advanced LRT and Monorail System Comparison, OCTA, July 2002; in Business Las Vegas 7-13 November 2003]
But how much rapid transit is being bought for the more than $600 million in investment? An analysis of performance characteristics suggests that, whatever the value of the "glamor" and "image" of monorail technology, this has in effect been procured at the expense of the better performance and capacity of standard rail transit – including LRT.
As noted above, the acceleration rate of the LV monorail rolling stock is about 25% less than that of available light rail vehicles (LRVs). This in itself has an impact in terms of slowing schedules, ultimately either reducing capacity or requiring more rolling stock.
Despite the heavy rapid transit-scale infrastructure, the Las Vegas monorail cars unfortunately provide nothing like the capacity of standard rail rapid transit. And, on the basis of vehicle size, they don't appear to offer even the capacity of LRT.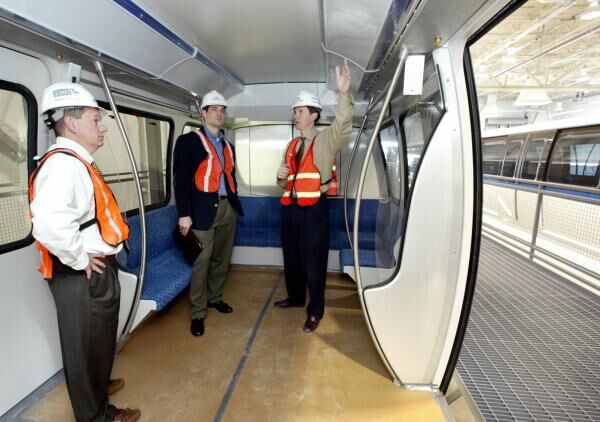 With a width of only 2.6 meters (about 8' 8"), the LV monorail cars are substantially narrower than rapid transit cars, although they have approximately the same width as many modern North American LRVs. However, monorail cars' interior space is more constricted. An analysis of monorail vs. LRT performed for the LA-area Orange County Transportation Authority (OCTA), using the Las Vegas vehicle as the monorail model, found that monorail trainsets provided significantly reduced passenger capacity, with a 4-car monorail trainset roughly equaling the capacity of one to two LRVs (probably because of the intrusion of monorail wheel bogey housings into the passenger area). This also meant that monorail station platforms needed to be longer, increasing station costs. The constrained size of an LV car is illustrated in the photo at upper right, as workmen inspect the car (with door opening onto station platform).
[Parsons Brinckerhoff Quade & Douglas, Inc., Advanced LRT and Monorail System Comparison, OCTA, July 2002; photo: LRN library]
The OCTA study also determined that monorail trains' degraded acceleration did indeed impact performance. Combined with reduced passenger space, this meant that a greater and more expensive fleet procurement would be necessary.
innovative and unique funding...and high fares
Funding for installation and operation of the monorail ultimately has de facto recourse to potential casino revenues, although promoters project that farebox and advertising revenues will be sufficient to pay for the project. Because of the unique resort corridor travel situation, an exceptionally high nominal fare of $3.00 per trip will be expected from each passenger (although this will be mitigated by passes, discounts, promotions, etc.). The Strip's casinos and resort/entertainment complexes represent a unique environment, and, for travel among the various casinos, the monorail may be designed to serve something close to a captive market.
The LV monorail project has also managed to attract an unusually high amount of advance advertising revenues (particularly brand-sponsorship of some stations and trains) – undoubtedly a result of the project's high visibility in this extremely lucrative resort environment. For example, in November 2003, Nextel Communications Inc. announced a 12-year deal, worth "an estimated $50 million", to attach its name on the monorail station at the Las Vegas Convention Center and on one of the nine trainsets in the system. Other train sponsorships have been signed with international Game Technology in Reno, BankWest of Nevada in Las Vegas, and Paramount Pictures in Hollywood, and New York-based CBS Television. The monorail's "asking price" has been quoted at $1 million a year to sponsor a train and $2 million a year to sponsor a station.
[Metro, 17 November 2003; Las Vegas Sun, 8 March 2004]
And it must be recognized that, if worst comes to worst and these revenues fall short, highly profitable casino operations represent an unusually lucrative, creative, and flexible financial and funding fallback source of potential financial support. A Las Vegas Review-Journal article (14 December 2003) lists "casino benefactors" as well as potential farebox receipts among the revenue sources other than advertising sponsorships are which expected to cover the rest of the monorail's costs.
Commitment to a "seamless" system
Expansion of the monorail, this time under public rather than private-sector authority, is already in planning. Monorail has been adopted as Las Vegas's Locally Preferred Alternative mode in order to have (1) a totally grade-separated system, and (2) a "seamless" system with the original monorail being installed privately. A major consideration in Las Vegas has been the intensely constricted, congested traffic situation in the Strip corridor, plus a policy deference on behalf of facilitating private motor vehicle access.
These factors have underlain a preference for an elevated rather than surface-routed system. The specific original choice of monorail technology seems to have been driven by the quest for a glamorous, "space-age" image and the appeal of a narrow, rubber-tired system perceived as most compatible with the goal of penetrating hotel buildings and other structures with minimal impact. However, this has had the downside of committing designers to a proprietary system with certain technical drawbacks and the expense of total grade separation in all situations, which may constrain future expansion beyond the urban core.
In any case, an additional project to expand the monorail some 3.1 miles in length (including the construction of 6 stations and guideway to a new maintenance and storage facility) is being sponsored by Las Vegas's Regional Transportation Commission (RTC), which is pursuing funding from the Federal Transit Administration (FTA). All told, the system will total about seven miles when finished in 2006, and is projected to carry some 142,000 daily boardings. in Year of Expenditure dollars, according to the FTA's New Starts Report, the cost of this expansion will be $440 million – calculating to approximately $142 million per mile. It should be noted that Las Vegas is also planning a 20-mile regional ("commuter") rail transit system.
Drawbacks of monorail technology
Even before the system has opened, however, seemingly inherent technological limitations and pitfalls of the monorail (and automated guideway) mode have already presented problems. Limitations in monorail switching technology, for example, have resulted in operational constraints in the design of the next extension. (See Las Vegas: Monorail Spur Cost Hits $141 Million per Mile.)
The Las Vegas project already under way has also afforded the North American public another opportunity (in addition to Seattle and Jacksonville) to assess the visual aesthetics of monorail technology in an urban setting. Monorail promoters habitually tend to portray monorail systems as light, airy, slender, unobtrusive structures sailing gracefully over fields and streets; typically, only photos or renditions of single-beam guideways (sans safety evacuation walkway, drip pan, and stations) are presented.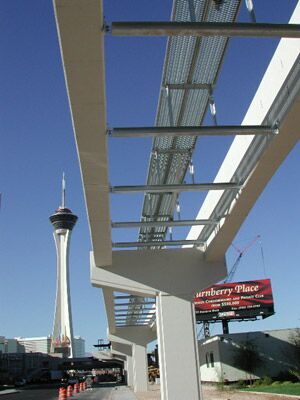 But, as the Las Vegas project demonstrates, a bona fide, heavy-duty, real-world monorail consists of a lot more heavy, physical, elevated infrastructure than just a slender beamway. As this project has evolved, the true dimensions and appearance of overhead monorail switch decks, switchbacks, and stations, as well as the true appearance of dual-direction beamways (see photo at right), have emerged. While there are differences with the profile of a standard transit railway, one is hard-pressed to discern truly significant improvements over the visual impact of a common, modern rapid-transit line. This is even further emphasized in the views of an elevated crossover and station, as shown below. (Additional photos of Las Vegas monorail construction can be found on the Monorail Society website).
[Photo: People for Modern transit, Seattle]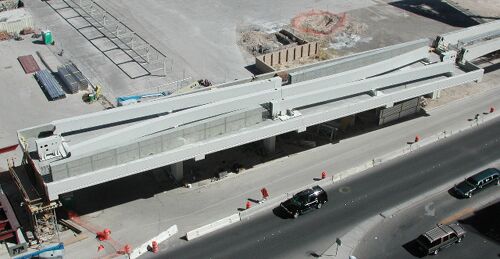 Overhead view of monorail crossover switch, also showing dual-beam guideway with central emergency catwalk.
[Photo: LRN library]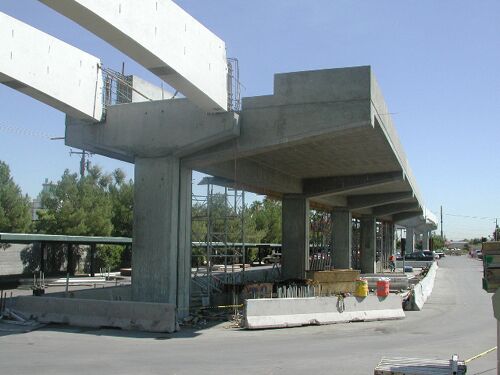 Crossover switch structure, still under construction, seen from ground level. Emergency evacuation walkway has not yet been installed.
[Photo: LRN library]
Even under construction, the enormous scale of the Sahara monorail station is evident.
[Photo: LRN library]
For many communities, elevated structures are nuisances – and, despite the assurances by monorail proponents of the graceful aesthetics of monorail beamways, the visual impact of the LV monorail seems no exception. Community opposition has already forced a rerouting of the proposed monorail extension.
Mandalay Resort Group executives and residents of the upscale Turnberry Place high-rise condominiums opposed an original route plan which would have placed beamways along Paradise Road, Riviera Boulevard, and Las Vegas Boulevard, ending near Desert inn Road. According to the Las Vegas Review-Journal, "Turnberry residents complained a rail line so close to their residences at Riviera and Paradise would invade their privacy, dump tourists on streets near the towers and lower their home values." in addition, Mandalay Resort executives contended that the "unsightly fixed guideway system" would block business marquees and detract from their business operations. Accordingly, planners substantially relocated the route.
[Las Vegas Review-Journal Friday, December 20, 2002]
Of course, any elevated rapid transit proposal would undoubtedly have provoked the same opposition. But this case demonstrates that the aesthetics of monorail technology provide no magical immunity from these criticisms, familiar to most rapid transit project planners. (Also see Seattle: Huge Monorail Project Faces Growing Community Squabbles.)
Straddle-type monorails are particularly vulnerable to the danger of "system droppings" – hardware, water, lubricants, or other materials falling from the trains or guideway onto pedestrians or motor vehicles below. This happens because monorail trains straddle their beamways, with, typically, nothing intervening between the beams and trains, and the ground below. Debris (including a tire) has fallen on occasion from the Seattle monorail, and in August 2002, a pedestrian was hit and seriously injured by a wheel falling from the newly constructed monorail in Kuala Lumpur (Malaysia).
[Utusan Malaysia, 27 March 2003; Monorail Society website, 27 March 2003]
The LV monorail has already seen this problem. On 5 January 2004, an 18-inch driveshaft fell from a trainset vehicle about 15 feet to the ground at the monorail's MGM Grand station. This delayed system testing for three days, and prompted project authorities to tether all driveshafts to the vehicles throughout the system. Because of such hazards, some transportation engineers, planners, and other professionals suggest that monorail beamways should be equipped with drip pans mounted below the support beams to catch such debris or other droppings (see, for example, the OCTA study cited above).
[KVBC-TV News, 2004/01/21; Las Vegas Review-Journal, 2004/01/21; Monorail Society website, 2004/02/01]
Most recently, yet another myth widely promulgated by monorail enthusiasts met its demise – the claim that monorails can be constructed far more rapidly than standard rail projects (including surface LRT). Already, in terms of the pace of construction, the 3.9-mile LV monorail project lags considerably behind Houston's 7.5-mile LRT line, which opened on 1 January 2004.
Started in March 2001, the Houston LRT project took a total of 35 months, or or about 4.7 months per mile of route. The LV monorail project, begun in August 2001, so far has taken 29 months – or about 7.4 months per mile – with no definite end yet in sight.
In mid-March 2004, after many months of publicizing that the project was "on schedule and under budget", LVMC announced that the opening of the system was to be seriously delayed, until at least late June or possibly even later. Problems with the automated, driverless train control control system appear to be among the main reasons for the delay. Financial losses could total as much as $85,000 a day in damages, for the contractors, plus so far unspecified losses for hotels, casinos, and other business operations which had been depending on an earlier opening of the system.
[Las Vegas Sun, 22 March 2004]
Despite tradeoffs, "great credit" for Las Vegas
Despite these problems, it is very likely that the LV monorail will open in the near future, will attract a high level of ridership, and will be regarded as a great credit to Las Vegas. Marshaling community support for any rapid transit project of this magnitude is a major accomplishment, and, if it took the "space-age", "high-tech", glamorous image of monorail to do it, so be it.
But it is also important for other communities considering major transit investments to understand the full ramifications of monorail technology, and the major tradeoffs that are involved in the decision to implement this unusual rapid transit mode. Las Vegas, in this respect, provides an excellent proving ground for assessing these tradeoffs. Certainly, many in the transit industry are watching this unusual project with interest, and hoping for its success.