Many monorail advocates claim monorails cost no more, or even less than, light rail transit (LRT), to install. On its website, the Monorail Society, for example, displays a table of speculative monorail capital costs ranging from about $4 million to a high of $68 million per mile. in Seattle, Austin, Reno, Fresno, Wilmington, and other cities, monorail proponents have garnered public support with similarly extravagant claims of phenomenally low installation costs for monorail systems.
But available, reliable data do not corroborate such claims of low capital cost. in "Monorail Capital Costs: Reality Check", we present actual cost data from a variety of systems and projects which strongly suggest that monorail systems have roughly three times the cost per mile of surface LRT systems.
Another way to compare costs per mile of monorail and light rail transit projects is to use data for projects included in the federal New Starts report for 2002 from the Federal Transit Administration (FTA). These data are useful because they present costs in roughly comparable Year of Expenditure (YOE) dollars.
It should be emphasized that these are mostly projected, not actual, costs. Also, while all amounts are expressed in YOE dollars, implementation periods vary, so escalation periods do not precisely coincide.
The Las Vegas Resort Corridor Monorail project is the only monorail project included in the New Starts report, and appears to be the only major urban monorail project in the United States at this time (see artist's rendition at right). it should be noted that the Las Vegas project is an extension of various casinos' current privately funded monorail project and is not therefore a totally new start. The extended system will use the operations facility presently under construction in the current project and a significant portion of the existing guideway and stations.
The cost of the planned Las Vegas project, in YOE dollars, is shown in Table 1, below.
Table 1. Monorail Project
Cost per Mile ($ Million)
Year of Expenditure Dollars
| | |
| --- | --- |
| Project | Cost/Mile |
| Las Vegas (ext.) | $141.9 |
For comparison, New Starts projects for LRT have been categorized into two groups: (1) basically surface-routed systems, and (2) systems with significant sections of either subway/tunnel or elevated construction. San Francisco's Third St. project has been omitted because, while it does include surface LRT, it also involves a substantial and unusual street and neighborhood rehabilitation project somewhat peripheral in purpose to the LRT project.
Surface LRT New Start projects are listed in Table 2, below.
Table 2. Surface-Routed LRT Projects
Cost per Mile ($ Million)
Year of Expenditure Dollars
| | |
| --- | --- |
| Project | Cost/Mile |
| Charlotte (new) | $31.1 |
| Dallas: North Central (ext.) | $41.4 |
| Dallas: NW/SE (ext.) | $51.1 |
| Denver: West Corridor (ext.) | $56.8 |
| Denver: Southeast corridor (ext.) | $46.0 |
| Louisville: South corridor (new) | $44.7 |
| Phoenix: East Valley (new) | $61.2 |
| Portland: interstate Ave. (ext.) | $60.3 |
| Salt Lake City: North-South (new) | $20.8 |
| Salt Lake City: University (ext.) | $42.4 |
| Salt Lake City: Medical (ext.) | $59.6 |
| San Diego: Mid-Coast (ext.) | $38.7 |
| AVERAGE | $46.2 |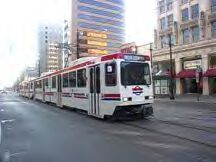 Regarding the Salt Lake City North-South project, this has been in operation since December 1999 (see photo at left). However, the project has continued and costs and funding are included in the current FTA budget. The University and Medical Center extensions are central-city, not suburban, extensions entirely in city streets. The original North-South line project included a portion in city streets but also a substantial segment in private railway right-of-way.
LRT New Start projects with significant sections of either subway/tunnel or elevated construction are listed in Table 3, below.
Table 3. LRT Projects - Significant Tunnel/Elevated
Cost per Mile ($ Million)
Year of Expenditure Dollars
Project
Cost/Mile
Notes

Hudson-Bergen: MOS-2 (ext.)

$199.2

(a)

Minneapolis (new)

$58.2

(b)

Orange County, Ca: Centerline (new)

$101.0

(c)

Pittsburgh: North Shore (ext.)

$243.7

(d)

San Diego: Mission Valley East (ext.)

$73.0

(e)

AVERAGE
$135.0
NOTES


(a) includes elevated sections, waterway bridges, tunnel sections




(b) includes 1.5-mile tunnel and subway station under Minneapolis-St. Paul international Airport




(c) Totally elevated




(d) includes new subway stations and a tunnel under Allegheny River




(e) includes significant elevated and tunnel sections
Of particular interest is the comparison between the Las Vegas monorail project, at about $142 million/mile, and the Orange County elevated LRT, at $101 million/mile. The Orange County project is approximately 85% elevated, and 15% at-grade (see artist's rendition, above right). At the north end of the line, in-street running is planned through Santa Ana Civic Center and downtown to Santa Ana Transportation Center. A mid-line section will also run at surface along the median of Main Street past the north end of the John Wayne airport main runway to avoid the latter's FAA-mandated clear zone.
From this overall comparison of various New Start projects, it can be seen that the per-mile cost of the Las Vegas monorail project is slightly over three times the average cost of the surface LRT projects included. This corroborates other cost-analysis data, and suggests that, for available finite resources, a transit agency could install three times as much surface LRT as monorail – achieving greater system spread, greater system accessibility, and, in all likelihood, greater ridership as well.