The writer is a retired journalist who worked in radio, TV, and wire service general assignment reporting for nearly four decades, mostly in Tucson and Phoenix, Arizona. He began his career with Armed Forces Radio & Television/Vietnam in 1965. He grew up in Media, Pennsylvania, and developed a fascination with electric traction while riding the Red Arrow and Philadelphia Transit Co. (PTC) trolleys in the Delaware Valley. He now lives in Tucson.
---
Plans for surface rail transit are once more on the public agenda in Tucson, Arizona – this time, with important official sponsorship.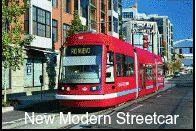 Tucson's Pima County, Arizona's second most urbanized county after Maricopa (which includes the city of Phoenix), is planning a special election in May 2006 with a half-cent sales tax on the ballot. The tax would fund a regional mobility plan (see map below) that includes a laundry list of piecemeal highway and street improvements, bus service upgrades, and a "modern streetcar". A streetcar service modeled after Portland, Oregon, and Tacoma, Washington, is envisioned, likely using cars similar to the Skoda or inekon-Trio tram (trolley) vehicles in those cities.
[Simulation: RTA]
Tucson's Regional Transportation Authority (RTA) held a series of public meetings and crafted a metro area improvement plan that specifically – for cost reasons – excludes either new freeways or reserved right-of-way light rail transit (LRT). Readers may recall that a community-initiated, "unofficial" ballot plan in the city of Tucson for a sales tax hike to fund an LRT system was vetoed by voters who earlier had defeated a streets-only tax hike. (See Tucson: Grassroots Campaign Sparks Nov. 4th Vote on Light Rail + Other Mobility Options and Nov. 4th Election Result: Major Net Victory for US Rail Transit.)
[Map: LRN, adapted from RTA]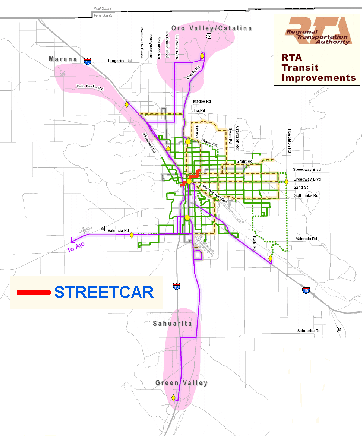 This previous LRT ballot initiative was spearheaded by local artist and transit activist Steve Farley, who subsequently lost a September 2005 Democratic primary bid for a City Council nomination. (Tucson nominates its council candidates by ward, who then run at-large in the general election.)
One legacy of the LRT tax election was to identify the inner-city wards which supported rail service. Thus, the modern streetcar would primarily serve Ward 6 where Farley lives – a political district that includes the University of Arizona.
Modern streetcar plan
To build support for its tax election, the RTA has included something for everybody – including new or widened roads in outlying suburbs. The modern streetcar is a carrot for the inner city.
The plan calls for a car line that runs from University Medical Center just north of the main university campus to downtown, where there is a redevelopment district known as Rio Nuevo. One showpiece of this district is to be the Flandrau Science Center, an educational institution which includes a planetarium. To be relocated from the main university campus to downtown, the new Flandrau would straddle interstate 10 – which bisects downtown and Tucson's westside (west of the Santa Cruz River) – with a unique bridge span to link both sides of the freeway and river. There would be a visitors center just west of the riverbank and the streetcar would terminate there.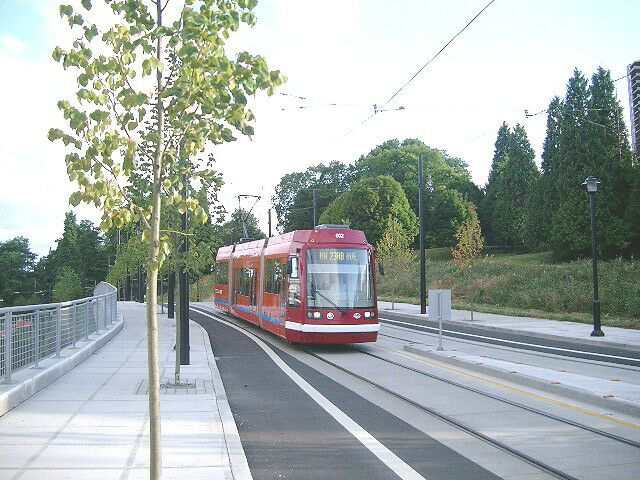 A Tucson streetcar system could resemble Portland's – as in this July 2004 view of a Portland car gliding along SW Harrison.
[Photo: Adam J. Benjamin]
From the medical center, the trolley would travel west on Helen, south on Cherry (into the university main campus), and then west to link up with the existing Old Pueblo Trolley (OPT) heritage line. OPT now terminates at Fourth Avenue and 9th St. just north of the Union Pacific Railroad tracks.
interface with heritage trolley
An unrelated City of Tucson plan would build a new side-by-side underpass under the railroad, with the early 1900s bridge underpass becoming a pedestrian and bicycle-only facility. The new underpass would have double-track trolley rails. The OPT extension would terminate at the north edge of downtown on Toole Ave. next to the former Southern Pacific railroad depot, now owned by the city and undergoing renovation for retail and museum purposes. A former Southern Pacific 2-6-0 steam locomotive is on a plinth for display there and Amtrak still uses the depot.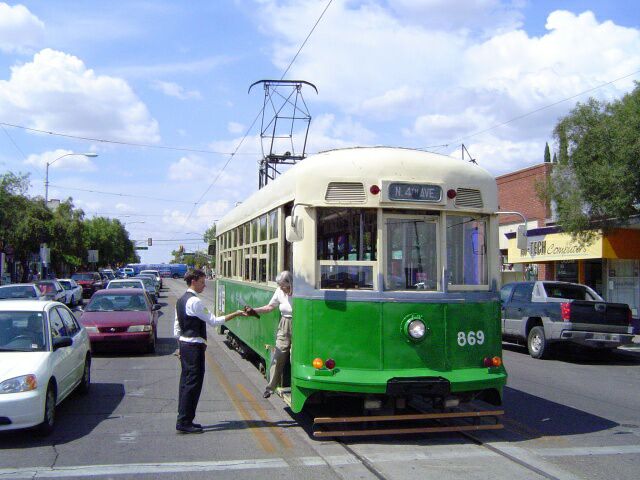 Old Pueblo Trolley operates over a 1.1-mile route, mostly single-track,between the trolley's car barn and the University of Arizona.
[Photo: Salaam Allah]
If the tax passes, the trolley line would continue through downtown, passing the municipally-owned Tucson Convention Center. It would then cross either under or over I-10 to terminate at the planned Rio Nuevo visitors center.
It's presumed at this point that the modern streetcar would use the OPT tracks with new extensions added at both the east and west ends. Who would operate the modern streetcar is undetermined – whether it would be an adjunct to SunTran, the city-owned but privately operated (under management contract) bus system is unknown. But the modern streetcar would be a full-time service, unlike OPT, which operates Friday evening, Saturday afternoon and evening, and Sunday afternoon – all with volunteer operators.
Project challenges, prospects
One hitch is that the bidding for a new 4th Avenue underpass came in way over budget. Blame much of that on countries like China and their demand for cement and construction materials in a booming economy. (Shanghai already is making plans for an extensive tram – read that light rail – system.)
The City of Tucson budgeted about $21 million for the underpass below Union Pacific tracks. However, the only bid, from Granite Construction, was $31 million ... so it's back to the drawing boards with the city planning a new bid call.
Another fly in in the planning oinment is the city of Tucson's desire to have Arizona Department of Transportation (ADoT) consider placing the interstate 10 freeway below grade and in tunnel through downtown to free up land for development and to eliminate an elevated "Chinese Wall" that divides downtown from the predominately Hispanic westside. I-10 is to be widened through downtown, but the concept of a below-grade freeway will be studied over the next three months. Should this project go forward, the modern streetcar would travel over the submerged freeway rather than under the existing high fill that carries I-10 traffic in elevated fashion over downtown streets.
U.S. Rep. Raul Grijalva, D-Ariz., a former member of the Pima County Board of Supervisors, obtained a $75 million earmark for the streetcar system; the tax election would provide local matching funds. The streetcar project, according to the RTA timetable of improvements, would be one of the first in the 2006-2010 time frame.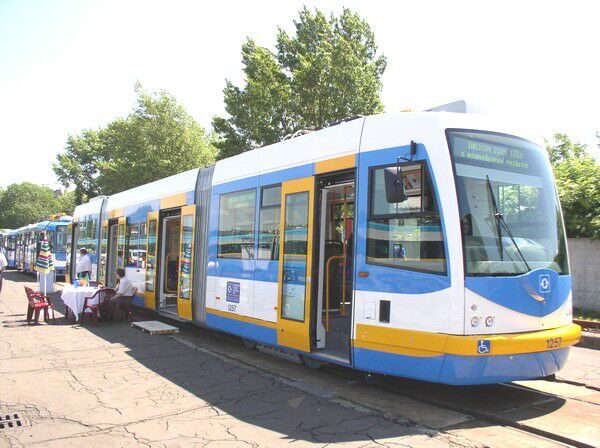 Tucson's rolling stock, expected to be low-floor and double-ended, might resemble the new Trio cars being purchased by Portland. Portland Streetcar, Inc. is buying several inekon-Trio streetcars as opposed to the Skoda-Astra cars that opened the service. The inekon-Trio model also has been ordered for the new Anacostia (Washington, D.C.) streetcar line, under development as the first trolley service in the nation's capital since D.C. Transit abandoned its lines in the early 1960s under congressional pressure.

First step to a larger system?

In proposing a modern streetcar, Steve Farley had suggested that it could continue from University Medical Center north of Campbell to take it a few more miles to Tucson Mall, the city's largest regional shopping mall. Interestingly, much of the concern over RTA's overall plan is expressed by merchants near Grant and Campbell and on East Grant Road, a developing antiques store corridor. They fear widening of the Grant/Campbell intersection and widening of Grant Road could have adverse impacts on small merchants. One Grant Road merchant wrote to a local newspaper, suggesting trolleys on Grant would be a better solution than a road widening.

So, it's possible that modern streetcar or high-capacity streetcar, whatever you choose to call it, could be the start of a larger system in Arizona's second largest city. Stay tuned...

Light Rail Now website
URL: http://www.lightrailnow.org/news/n_tuc_2006-02a.htm
Updated 2006/02/18