How about a chance to have a role in contributing to a little piece of history?
San Francisco's Market Street Railway is seeking donations to re-acquire one of San Francisco's historic electric streetcars to be placed in service on the F-Line (and, imminently, E-Line) of Muni (San Francisco Municipal Railway, SF's transit agency).
The Market Street Railway (MSR) is a non-profit (Sec. 501(c)(3)) organization which has played a key role in getting electric trolleys back in operation on Market Street, including carrying out actual restoration of many of the historic cars now running in San Francisco. The organization has also played a key role in helping to start San Francisco's F-line (see map) and the now the E-line.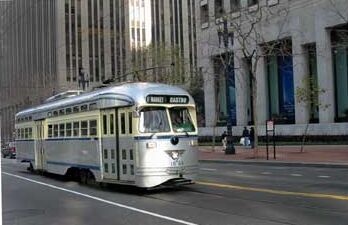 Since 1984, MSR members have been helping to locate and restore historic streetcars, such as those on Muni's F-line (see photo at left). The F-Line is one of the world's longest publicly-operated heritage streetcar lines in daily service (route length 6 miles), and carries about 20,000 daily rider-trips. No other heritage transit line operates such a diversity of equipment, with more than 30 historic streetcars, trams, and trolleys from around the world currently available for service.
Now the Market Street Railway is reaching out to the public to ask for support for one of the most important projects it's ever undertaken in its history. MSR has agreed to fund Muni's reacquisition of car #162 (see photo below). This "B-type" Muni car is one of only two survivors of a class of 125 cars (preserved car #130 is the other). The B-types were built in 1914 by Jewett Car Co. of Ohio to enable Muni to expand from its Geary Street beginnings to serve the 1915 World's Fair, and then the southwest quadrant of San Francisco, which was opened up to development by the Twin Peaks Tunnel. Car #162 served San Francisco faithfully for 44 years, then rested for 44 more years at Orange Empire Railway Museum in Riverside County.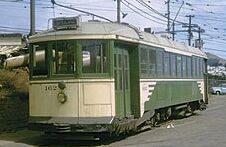 MSR's plan is to leave this car in its 1958 retirement configuration: rear platform doors and green and cream "wings" livery. This would provide Muni with heritage cars representing all three liveries of the "battleship" (sometimes called "iron Monster") period: grey and maroon (car #1), blue and yellow (car #130), and "wings" (#162).

As of mid-November 2002, MSR had raised about $16,000 of the historic car's $70,000 purchase price. MSR volunteers, who are well along on the work of restoring ex-Market Street Railway Co. "California Comfort Car" #798 (1924), "are excited about working on #162, which is complete and sound, but obviously will need significant work before going into service on the F-line (and later the E-line as well)" says MSR President Rick Laubscher.

Laubscher indicates that, when its restoration is complete, "the first operation of car #162 (after the formal dedication ceremony) will be our charter of it for a scenic trip out the J-Church, K-ingleside, and L-Taraval lines to Muni's last original piece of trackage (the Taraval spur, Belgian block still in place, from 46th to 48th Avenue, built in 1923)."

MSR emphasizes that "Those who join the 162 Charter Club ($500 or more contribution) will be invited on this first run."

"This is almost certainly the last streetcar from Muni's original heavyweight fleet (1912-1928) that we'll have the chance to bring back to San Francisco" says Laubscher. He points out that only two others survive, both K-types built in 1923, one at Orange Empire (#171) and one at the Western Railway Museum in Solano County (#178).

"Both are part of those museums' core collections and it is highly unlikely either would be offered for sale" Laubscher relates. "So this is literally a unique opportunity."

"For so many years, railfans around North America have dreamed of a real transit line featuring a variety of historic streetcars (with no replica equipment)" Laubscher observes. "Now we have it, in the F-line, and we'll have it all over again with the E-line."

"Here's your chance to help make it better by bringing one of the system's original fleet back home to run on the same street where it spent the first 44 years of its life" Laubscher emphasizes.

Supporters of this project can make a tax-deductible donation online, and learn more about car #162 and Market Street Railway, at http://www.streetcar.org.

You can also donate by sending a check to:

Market Street Railway
870 Market Street, Suite 803
San Francisco CA 94102.

For more information, contact:

Rick Laubscher President, Market Street Railway
ricklaubscher@yahoo.com

Rev. 2002/11/19