Photo-Report
Pittsburgh West BuswayLight Rail Now Production Team · August 2005
Pittsburgh's West Busway, the most recent addition to its "Bus Rapid Transit" busway system, was completed and opened in September 2000. The 5.0-mile (8.1-km) exclusive highway for buses is a key link in a total route connecting downtown Pittsburgh with the suburb of Carnegie and the Pittsburgh airport.
Pittsburgh West Busway – inbound Bus Approaching ingram Station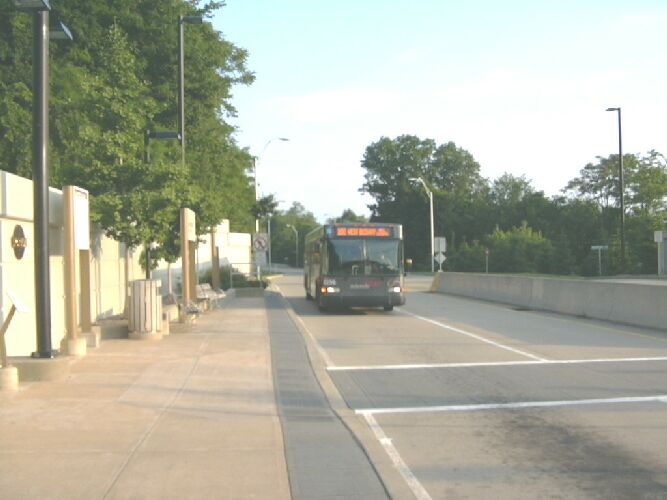 Inbound (eastbound) Route 100 bus approaches ingram station to pick up a single passenger (the photographer) in early June 2005. Inside lane (adjacent to barrier wall) enables other buses to proceed through station area without stopping if another bus is stopped to serve passengers. Striped pedestrian crossing allows passengers to access either side platform area through gap in barrier wall.
[Photo: L. Henry]
Pittsburgh West Busway – ingram Station, Showing Passenger Accessway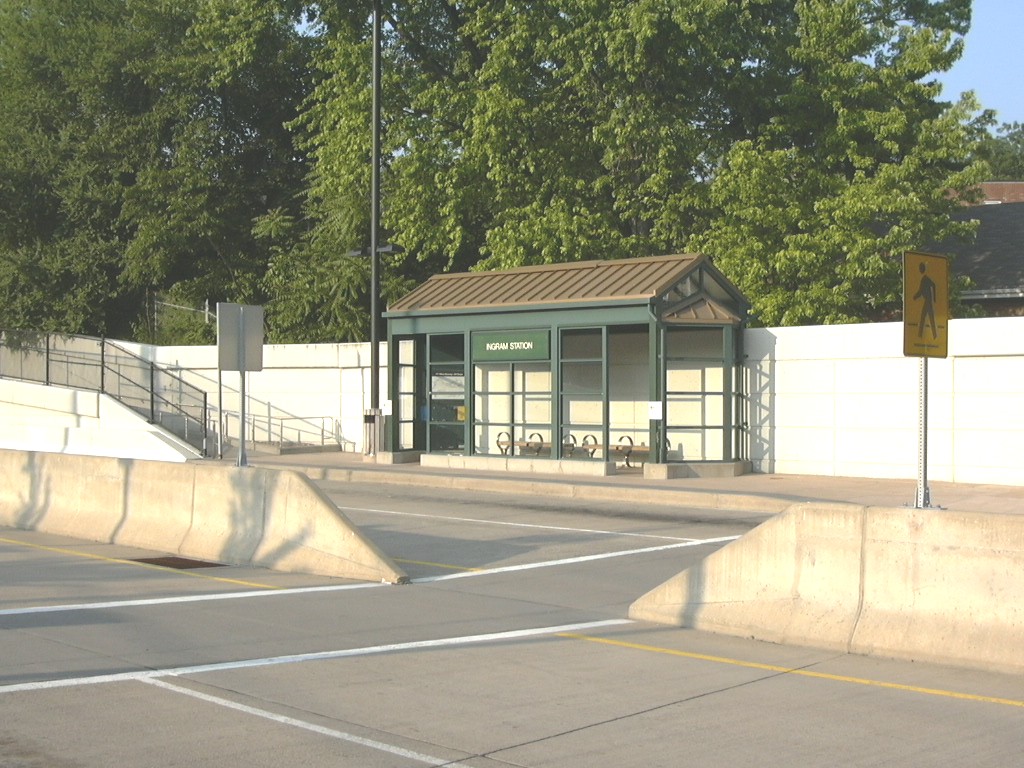 Ingram station, showing eastbound platform with cut through barrier wall for passenger access from one side to the other, June 2005.
[Photo: L. Henry]
The busway, installed and operated by Port Authority of Allegheny County (PAAC, Pittsburgh's regional transit agency), provides a relatively fast public transit service in the corridor, with a ramp connection to West Carson Street and an interchange connection to the Parkway West. The busway is designed for bus speeds of up to 55 mph, and provides direct access to the communities of Carnegie, Crafton, East Carnegie, ingram, and Sheraden is provided. (See map below.)
Pittsburgh West Busway – Map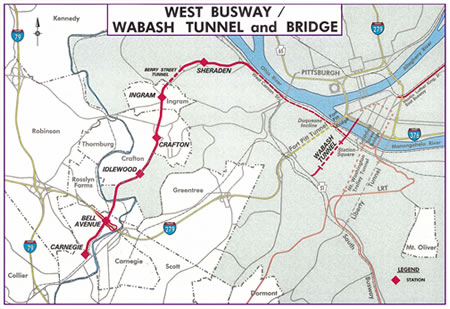 Map shows West Busway and link into downtown Pittsburgh via major arterials (dotted line) Also shown (to the east) is an HOV facility through the reconstructed Wabash Railroad Tunnel.
[Map: PAAC]
There are six stations along the West Busway, plus five park & ride lots with approximately 550 spaces adjacent to the stations. In addition, seven satellite park & ride lots providing more than 1,500 spaces are served by buses operating over the West Busway. Currently, 11 Port Authority bus routes operate via the West Busway. However, from the rider standpoint, service seems relatively sparse, with few passengers at stations much of the time.
PAAC emphasizes that the West Busway "serves as a reliable rapid transit alternative [for] bypassing traffic congestion on the Parkway West (i-279)." Since the busway opened in September of 2000, ridership has reached approximately 9,500 boardings per weekday.
According to Edson L. Tennyson, PE (a transportation engineer, former Pennsylvania Deputy Secretary of Transportation, and a technical consultant to the Light Rail Now Project), the West Busway as it now exists represents slightly more than half of the originally planned 8-mile (13-km) project, for which some 50,000 weekday passenger-trips were projected. Thus, the busway appears to be attracting less than one-fifth of the original ridership forecast (on the basis of which federal approval of the project was obtained). Tennyson also points out that, while the project was originally budgeted at US$320 million, "Bids came in at $515 million for eight miles ...." Thus, to stay within the $320 million budget, only five miles of actual busway were constructed – the outermost section farthest out from downtown, minimizing construction costs. (Nevertheless, the unit cost came to about $64 million per mile in 2000, or about $40 million/km – hardly a testament to the "extremely low cost" often claimed for the "BRT" busway concept.) For the remainder of the connection to downtown Pittsburgh, busway buses leave the exclusive facility and enter mixed traffic, which often means stop-and-go congested conditions.
One of the most challenging aspects of the West Busway project was the reconstruction of the 148-year-old Berry Street Tunnel, a 2,400-foot (727-m) former rail tunnel that now carries buses between Sheraden and the Borough of ingram. According to Tennyson, as a railroad facility the Berry Street Tunnel was once double-tracked but was single-tracked for high loads in the center. He notes that commuter trains used the tunnel until 1962; in addition, Amtrak's National Limited train to St. Louis also formerly operated through the tunnel.
Pittsburgh West Busway – Berry Street Tunnel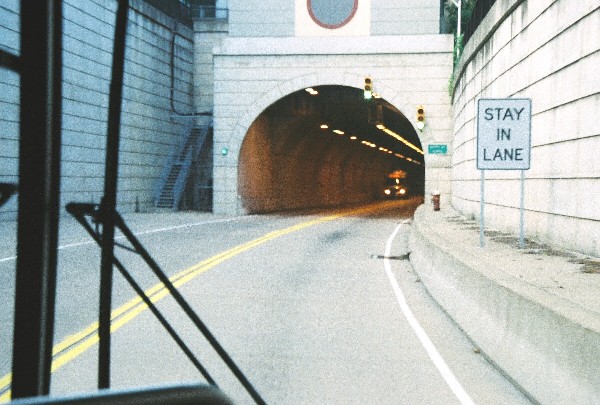 View of portal to Berry Street Tunnel from inside a Route 100 bus, June 2005.
[Photo: L. Henry]
PAAC relates that the $33.3 million tunnel reconstruction began in December 1995, and took more than two years to complete. Rehabilitation of the structure consisted of, among other alterations, widening the tunnel to accommodate two bus lanes, excavating the existing brick liner, and installing tunnel lighting, ventilation, fire protection, and drainage.
In addition to the Berry Street Tunnel, the former Wabash Railroad tunnel (well to the east of the West Busway) was also converted into an HOV facility, providing a 1.1-mile exclusive right-of-way for High Occupancy Vehicles (HOVs) between Route 51 and Station Square. The Wabash Tunnel underwent a $3 million reconstruction to accommodate two lanes of HOV traffic.
Built at the turn of the century to carry the Wabash Railroad through Mt. Washington, the Wabash Tunnel carried the Pittsburgh & West Virginia Railway, and subsequently the former Norfolk & Western. Tennyson relates that the tunnel was abandoned about 1950, then converted to a bus storage area about 1965. He goes on to note that the tunnel was partially rebuilt for the ill-fated Skybus project (an automated guideway system using the same technology as today's Miami MetroMover) in 1973-74. However, Tennyson recounts, the Skybus scheme was eventually perceived as "a boondoggle ... after they wasted $25 million on it." (The Skybus plan was subsequently superseded by the plan for light rail transit – LRT – and busways.)
Regarding the Wabash Tunnel conversion, Tennyson reports that "The $3 million was spent to win State Highway (PennDOT) favor for a temporary detour around the Point Bridge that was to have been rehabilitated, but since the busway bids came in at $515 million for a $320 million Full Funding Grant Agreement [i.e., federal funding approval], the new bridge was scrapped and the $3 million Wabash Tunnel improvement goes nowhere." (it does however provide a faster, unimpeded short connection for buses, carpool vehicles, and other HOVs from just south of the Monongahela River into downtown Pittsburgh.)
In addition to general travellers (mainly peakhour work commuters), the West Busway is also used by PAAC's express service to the regional airport. The airport service, using smaller minibuses, averages in excess of 1,500 boardings a day.
Pittsburgh West Busway – Airport Bus Passing ingram Station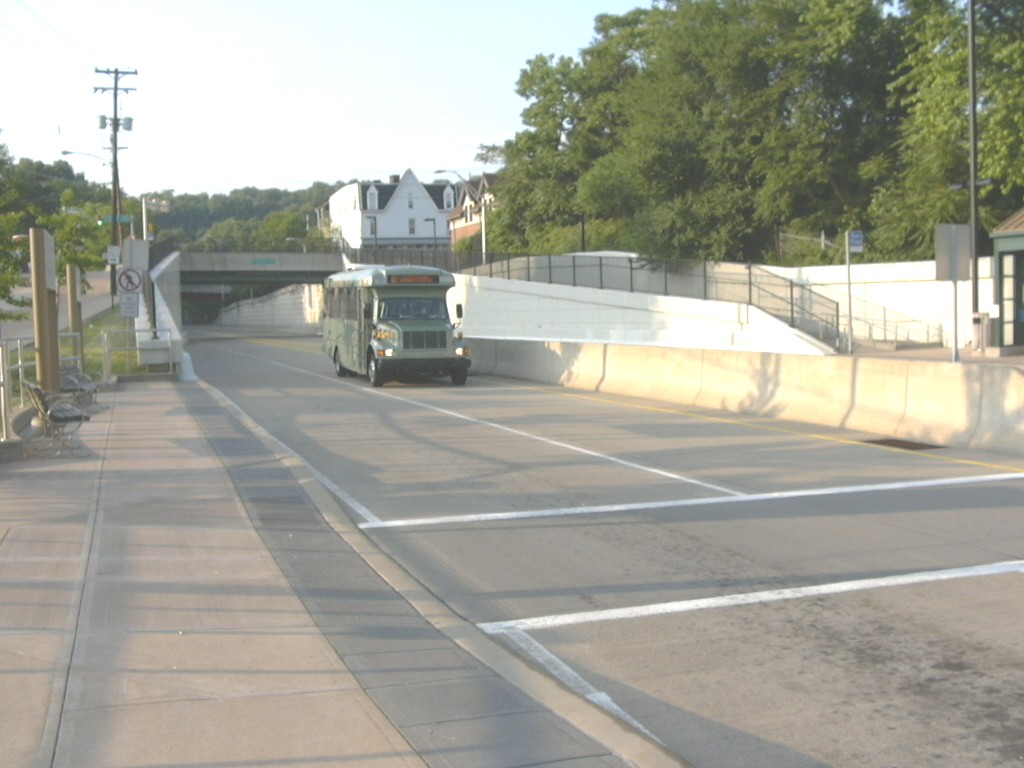 Outbound (westbound) Airport minibus, headed towards the airport, passes ingram station on the express lane in early June 2005.
[Photo: L. Henry]
Tennyson relates that an alternatives analysis predicted a daily ridership of 20,000 for LRT on the West Busway alignment. However, with a projection of 50,000 daily rider-trips, the busway plan was selected instead. As noted above, the busway ridership projection was subsquently revised downward to less than 10,000 – but by then, the project was already under way.
Tennyson further notes that LRT was never given a full and "honest" assessment; costs were not evaluated in detail, but rather there was "just a reference to LRT cost in Buffalo's subway ...."
Could LRT ever re-emerge as a possibility for the corridor? Perhaps LRT trackage could eventually be installed in the busway, with joint LRT/"BRT" operation (as, for example, in the Oberhausen-Mülheim corridor in Germany, and, in fact, in PAAC's own Mt. Washington transit tunnel, heavily used by both LRT and South Busway buses).
For now, Carnegie and the other communities west of central-city Pittsburgh will continue to be served by buses – certainly, superior public transport when compared to local buses on the corridor's crowded general-traffic streets.
Pittsburgh West Busway – Outbound Bus Passing ingram Station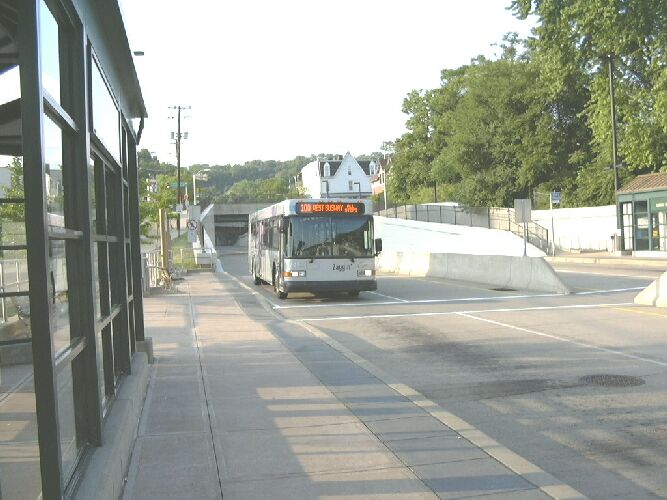 Outbound (westbound) Route 100 bus passes ingram station in early June 2005.
[Photo: L. Henry]





Some information in this report has been adapted from material on the PAAC website.

Light Rail Now! website
Updated 2005/08/04

More on Pittsburgh Public TransportMore on Busways and "Bus Rapid Transit"

FOCUS TOPICS