Minneapolis, Minnesota is on track and getting ever closer to seeing a return of the electric rail transit service it had until 1954. The metro area's light rail transit (LRT) new-start project – the Hiawatha Line – continues on schedule and within budget, as noted in our article Minneapolis: LRT Project On Time, Within Budget. in early June (2003), the first car began test running on the line (see photos below). Project partners include the Metropolitan Council (owner and federal grantee), Metro Transit (operator), Minnesota Department of Transportation (DOT) (design and construction), Metropolitan Airports Commission, Hennepin County, Minneapolis, Bloomington, and the University of Minnesota.
[Minneapolis Star Tribune 2002/12/09; LRT News, Vol. 16, No. 2, Fall 2001]
The project has persevered despite ferocious denunciation from anti-transit opponents (particularly rightwing pro-highway forces in the Minnesota legislature). in contrast to that opposition, local support is growing to re-route and extend the southern end of the starter line directly into the famous Mall of America (in the suburban community of Bloomington) – even while the project is still under construction! This alignment modification would add an estimated $35 to $45 million to the project.
[Minneapolis Star Tribune 2003/06/07]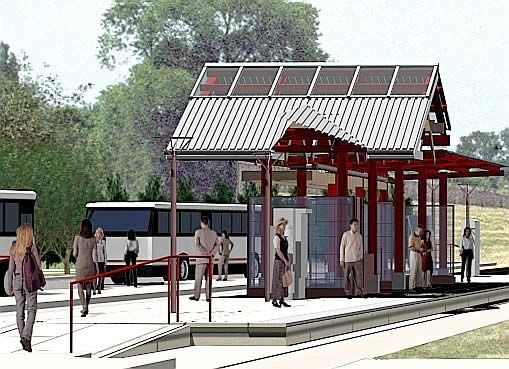 Without the proposed alteration, the project has consisted of an 11.6-mile line (see map below) connecting three of the Twin Cities' most popular activity centers – downtown Minneapolis, Minneapolis/St. Paul international Airport, and the Mall of America (the original design terminated the line across the street from the mall). Seventeen stations are planned: Warehouse District/Hennepin Ave; Nicollet Mall; Government Plaza; Downtown East/Metrodome; Cedar-Riverside; Franklin Avenue; Lake Street/Midtown; 38th Street (see graphic above); 46th Street; 50th Street/Minnehaha Park; V. A. Medical Center; Fort Snelling; Lindbergh Terminal; Humphrey Terminal; American Boulevard; Bloomington Corporate Center; Mall of America.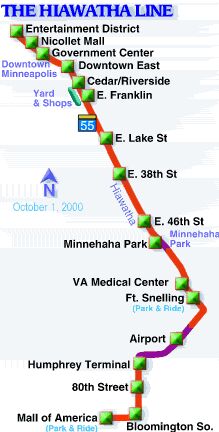 LRT starter line is 11.6 miles in length, with 17 stations.
[Map: Hiawatha Project]
Begun in January 2001, so far the Hiawatha LRT project has remained within its budget of $675.4 million, despite a tunnel under Minnehaha Park (660 feet) and twin bored tunnels plus two stations under the airport (7,400 feet). Even with these tunnels, and sizable stretches of elevated construction, the cost still comes to only about $58 million per mile (including rolling stock and maintenance facilities). The project cost also includes two major bridges, one spanning T.H. 55 (Hiawatha Ave.) at 28th St. and over Lake St., and the other spanning T.H. 62 (Crosstown). The system will be conventionally powered by an overhead contact system (OCS) at 750 VDC. The system is scheduled to open sometime in late 2004, according to the current timeline.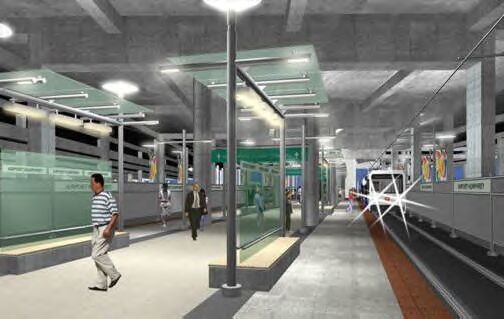 Travel to and from the Minneapolis/St. Paul international Airport will be conveniently served by the Hiawatha LRT line. This shows an artict's rendition of a subway station beneath one of the airport terminals.
[Graphic: Hiawatha Project]
The vehicle for the initial system (below) is a 94-foot-long lowfloor articulated car, manufactured by Bombardier, with 66 seats and a nominal maximum capacity of 187 passengers (although planners would be prudent to use about 125-135 as a working maximum). Cars are equipped with luggage racks and bicycle storage hangers, and are fully ADA compliant with lowfloor level boarding.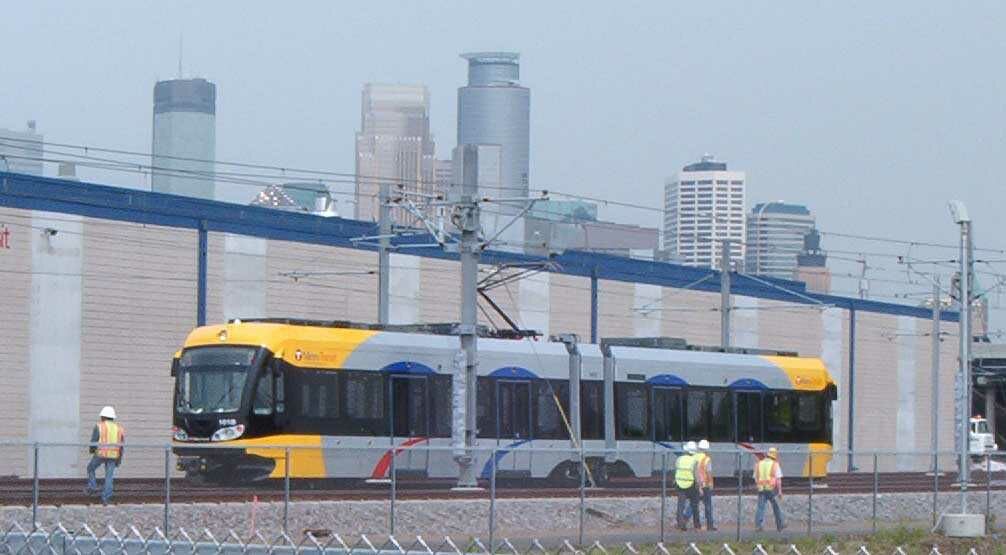 Actual operational testing began in early June (2003) with the first light rail car delivered by Bombardier.
[Photo: John Willmore]
Trains will operate with a top speed of 55 mph, and what designers are calling a "general speed" of 35 mph, with an unspecified slower speed in downtown Minneapolis. Up to 26 cars will be required. These will be stored and maintained at a new 26.5-acre maintenance facility at Franklin Avenue in Minneapolis.
Fairly frequent service is currently anticipated. Headways are planned as follows:
· Peak service – 7.5 minutes
· Midday "base" service –10 minutes
· Early evening service (18:00 to 21:00) – 15 minutes
· Early morning/late evening service – 30 minutes.
Fare collection is planned to be the self-service, proof-of-payment system that has become standard for most new LRT operations.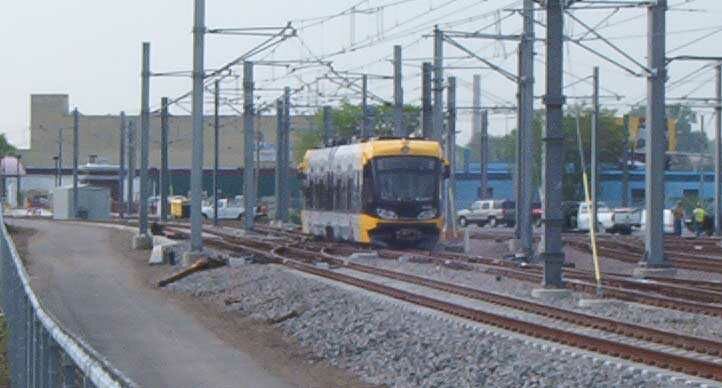 First light rail vehicle in test operation at maintenance facility site (June 2003).
[Photo: John Willmore]
Significant connector and feeder bus service will both provide access to the new LRT service and open new transit corridors which LRT itself will help feed. Metro Transit will offer 46 bus routes with connecting service and timed transfers at 13 of the LRT stations. Bus service will provide neighborhood access to the LRT line and will facilitate crosstown and reverse commuting travel options. University of Minnesota express buses will connect to the Downtown East/Metrodome Station.
Ridership for the Hiawatha starter line is Projected at 19,300 rider-trips per day in 2004, the first year of service, increasing to 24,800 in 2020. The Hiawatha Corridor serves some of Minnesota's most important traffic generators, including downtown Minneapolis (145,000 workers), the University of Minnesota (50,000 students and faculty), the airport (93,000 travelers a day), and the Mall of America (118,000 daily shoppers and employees)
In addition to these and other existing traffic generators and destinations on the LRT line, there is major potential for corridor development which has been projected to the year 2020 alone. This includes nearly 7,200 new housing units, more than 19 million square feet of new commercial development, and more than 67,000 new jobs.
Several LRT stations have been designated "catalyst" stations for development. These include the Downtown East, Lake St., 46th St., and Bloomington stations.
The Hiawatha line is just one part of a multimodal solution to Minnesota's transportation challenges. In addition to LRT, a system of exclusive busways and commuter rail lines is being developed in planning. After installation is completed, this transportation network will carry as many people as the equivalent of an extra lane added to each of the metro area's most congested highways.
Mobility and urban livability are important issues for residents of the Minneapolis-St. Paul area. Opinion polls have found that the public perceives traffic congestion in the Twin Cities metro area as a problem even more serious than crime, and a large majority favor the development of LRT, busways, and commuter rail as a critical element in crafting mobility solutions. With current levels of congestion expected to double by the year 2020, particularly with an influx of 500,000 new residents; and with freeway development financially and politically constrained, support for multimodal transportation alternatives is likely to increase even more as public frustration grows.
This report has included material adapted from the Hiawatha Project website and the TRB Light Rail News.