Dallas: Modern Light Rail Rolls into Plano
Light Rail Progress – December 2002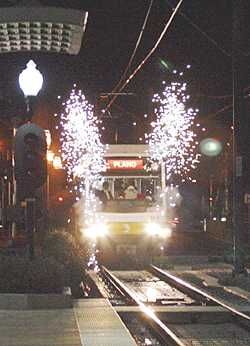 On Monday, 9 December 2002, modern light rail transit (LRT) opened regular service to the Dallas suburb of Plano. Dallas Area Rapid Transit (DART) officially opened the extension of its Red Line with new stations at Bush Turnpike in Richardson, and 15th Street (downtown) and Parker Road in Plano.
As we have previously noted, the 3.2-mile, $62.8 million section to Plano, finished six months ahead of schedule, illustrates how cost-effectively and affordably LRT can be incremented to reach out to suburban areas. The Plano extension has cost the agency less than $20 million per mile for first-class, highspeed rapid transit. With the opening of the Plano branch, DART now has 44 miles of LRT routes and 34 stations.
As a fitting recognition of this event, we reprint below an encomium by Jim RePass, president and CEO of the National Corridors initiative (NCI). The NCI is working energetically to promote both intercity rail passenger service and urban rail transit, and we highly recommend the NCI website as an excellent source of information and timely news:
Mr. RePass's commentary appeared in the 9 December 2002 edition of the NCI's online newsletter, Destination: Freedom.
---



http://www.nationalcorridors.org/df12092002.shtml

Destination: Freedom
Vol. 3 No. 50, 9 December 2002

Kudos for Plano

By Jim RePass
NCI President and CEO

Hats off to the people and the leadership of Plano, Texas for having the fortitude to stick with transit and, indeed, to expand service which opens today, December 9. They are about to enjoy the unique and substantial pleasures of light rail travel, and to experience what its advocates have known for years, that light rail is one of the single most important elements in the successful economic development of a city. Unlike most other means of travel, light rail sends a strong signal that the city's leadership is committed to a powerful, environmentally friendly infrastructure investment, and growth and development invariably follow the route of the new lines. In addition, by making travel easier and more pleasant than driving, light rail effectively expands the employee pool for a given locale, giving employers in turn a reason to expand in cities with convenient transit service.

It has also been a pleasure to follow the superb coverage of this story in the Plano Star Courier, whose reporter Paul Meyer and others have taken the trouble to learn about light rail, and report on it thoroughly. The reporters and editors of Destination:Freedom have experience at places like The Washington Post and Dow Jones Newswire, and we recognize and admire good journalism when we see it.

Light Rail is making an amazing comeback all across America, for two very simple reasons: it works, and it's fun.

Kudos to Plano for understanding that fact, and acting upon it.

Updated 2002/12/13