Ottawa's BRT "Transitway": Modern Miracle or Mega-Mirage?
LRP Note: The following article, originally published in the January 1998 issue of Tramways & Urban Transit, has been slightly updated by the author and revised for publication on the Light Rail Progress website.
by Harry W. Gow
The author was the Founding President of Transport 2000 Canada and is its Media Relations Officer. He teaches Criminology at the University of Ottawa. The reader is cautioned not to make a hasty connection between criminology and busways!
This article is an attempt to put on paper an account that we have had to repeat for inquirers in four countries who have come to Transport 2000 Canada for help in the wake of claims advanced by the world-roving advocates of "cloning" Ottawa's busway around the globe.
Since the retirement of the General Manager of OC Transpo (The Ottawa-Carleton Regional Transit Commission ) and his metamorphosis into a worldwide busway consultant, T-2000 Canada has had requests for information from Charlotte, North Carolina; Auckland, New Zealand; Bristol, U.K.; and Brisbane, Queensland. Each time, the plaint is the same: "We thought we had a chance of advancing on a light rail project, but a consultant from Ottawa (John Bonsall) has come here and enchanted our decision-makers with tales of major economies and booming ridership on the Ottawa 'Transitway'. is this system a modern miracle or are there flaws?" What follows is offered in the hope that, after reading it, light rail specialists and advocates, armed with the truth, will not be caught off guard and will have relevant facts and figures on the Ottawa case from the start.
First, a little history. For nearly a century, Ottawa, Canada's capital from 1867, had an efficient and innovative tramway [streetcar] system – from horsecars to postwar modern electric trams, though, exceptionally, the Ottawa Electric Railway and the successor Ottawa Transportation Commission owned no PCCs [streamlined streetcars], even in the post-World War II era. The track was for the most part well-maintained, as were all the cars, right to the ignominious end, when the cars were mostly sold for scrap to pay for a fleet of 1959 standee-window GM buses. This writer helped a number of museums acquire cars and parts despite the mayor trying to ensure that all the cars went to a scrap merchant. The mayor, soundly defeated in an ensuing election, did get the trams off the streets, making these "safe" for the automobile, preferred by his merchant supporters and the [Canadian] federal planners.
Twenty years later, the Transit Commission and the regional government announced public consultations to determine the shape of future transit: should it be metros, light rail, or busways? it soon became apparent that the dice were loaded: The consulting firm hired was the same outfit that had pulled up the tracks on the lengthy reserved-track Britannia tram line, and the Transit Commission management had little time for the proponents of rail-based systems, calling even professional transport experts "railfans".
In such a context, it was no surprise that the latters' arguments were swept under the magic carpet of dazzling promises of an integrated , speedy, inexpensive far-flung system. Of course, to mollify residual objectors, it was promised that when ridership boomed to new heights, conversion to light rail or metro would be examined. The region, for the moment, had "too small a population" for a revival of rail. (The region, in 1981, had a population of about half-a-million – the Québec Outaouais included – and this has grown to nearly a million since).
An eight-volume set of "Rapid Transit" studies was produced for the Region in the late 1970s; this led to a 1981 study which proposed a busway system costing C$ 97.1 million, providing 26 kilometers of exclusive right-of-way and 5 km. of street running. Ridership, it was projected, would reach 95 million/year by 1991. (in fact, ridership was 71 million trips in 1995, and had declined by ten per cent on the central busway line since the opening). The number of buses needed would supposedly decline to 610 buses from the then-current fleet of 660 because of promised efficiencies of running local collector buses on through downtown. (in fact, over the next decade-and-a half, even as ridership went down, more buses had to be bought.)
The leadership skills of the former General Manager were critical in getting Regional Council to adopt the plan. This civil engineer, formerly a highways specialist with the Ontario Ministry of Transport, assured the politicians that "Buses are cheaper than trains and they can get you where you where you want to go" – or words to that effect.
The project went ahead, paid for much more by grants from the provincial government than by the region; these were the heady days of post-energy crisis concern for alternatives to the automobile, and the Province was disposed to write the cheques for seventy-five per cent of capital costs sans trop regarder. At first, managers could point to some measure of apparent "success". in rush-hour, sixty-five percent of downtown workers came into Centretown by bus, the best ratio for a bus-only system in North America. This is often made to sound like the "absolute best" in North America. (By comparison, it's reported that about 65 per cent of commuters to central San Francisco come by public transit, and more than 80 per cent of rush-hour commuters come into Manhattan by public transit, mostly on rails.)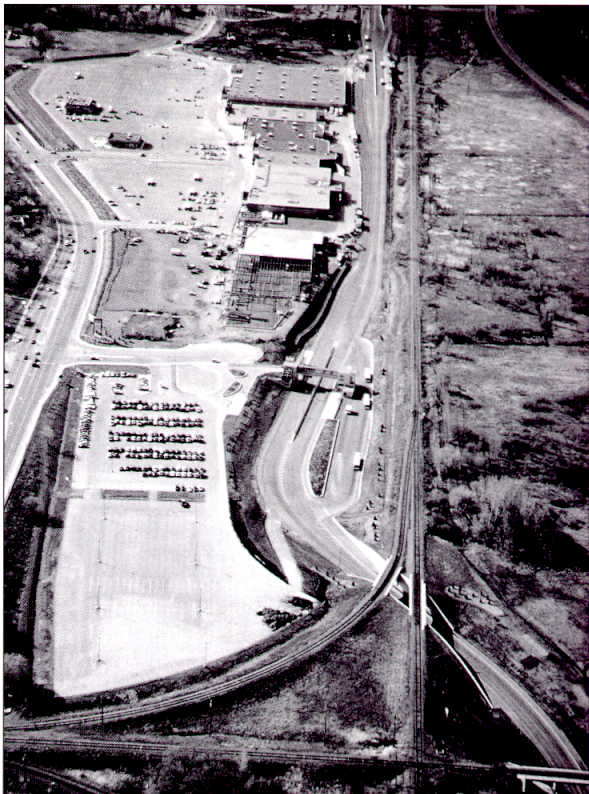 So BRT is cheaper and requires less construction? The massive construction of the Ottawa Transitway is evident in this 1997 photo, with the 4-lane busway and Greenboro park & ride station in the middle, and the South Keys shopping center in the upper left part of the photo. While almost all North American LRT park & ride lots these days are scrambling to accommodate demand, this Ottawa Transitway parking lot was only about one-third full at 8:45 AM on a May morning.
What was left unsaid was that ridership on OC Transpo had already increased from 36 million trips to 82 million trips before the busway was built; transit priority had been implemented on city streets; the federal government had implemented strict rules governing centre-core parking for civil servants – only one parking spot for ten employees – and hefty fees were charged for nearly all. Ottawa has ca. 300 parking spots per 1000 downtown jobs compared to a typical North American rate of 500 to 600 per 1000 jobs.
The City of Ottawa's strictly-enforced ban on (weekday) all-day parking and other car-curtailment policies and a northern civic ethos among the people targetted helped, too. In fair weather and foul, many will walk or bicycle to work! in the severe Ottawa winter, others have always left their cars at home to take transit to work. The writer's fellow-citizens on the Québec side of the Ottawa River have traditionally had no such scruples: until recently, sixty-five per cent of them going to the downtown core have done so by car (although this pattern appears to be changing, as described further in this article).
Urban sprawl, the early demise of their tramways and commuter trains and a slow "spaghetti" bus system help explain this, but cultural values may play a role: compare this to Genève where roads in from France are clogged with the single-occupant vehicles of the travailleurs transfrontaliers. (it should be noted that since this article was originally written, Outaouais ridership has been rising; transit priority measures, road congestion, and but one modest fare increase have changed the pattern).
The final price for the system described (see map) was C$ 440 million as of 1996. The provincial taxpayers had bought an east-west line from Blair Road Station in the east to Baseline Station in the west with four kilometers of reserved lanes in Centretown and 6 km. of shoulder-lanes reserved along the Queensway, an urban motorway built mostly on former steam railway alignments – and named for the Queen, who inaugurated it. (No, the subsequent pollution and congestion aren't her fault!). Of the money spent, C$ 180 million went to the South-East Transitway, which exactly duplicates parallel active railway lines, from Hurdman to South Keys, with onward running in traffic to the nearby airport.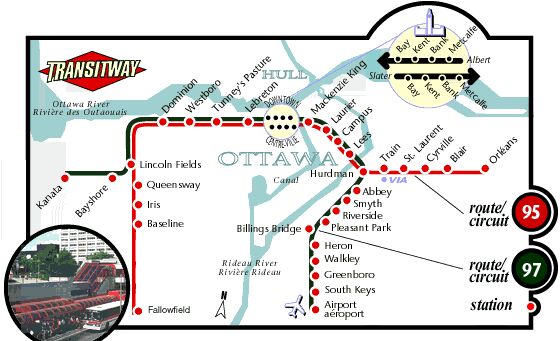 In 1986, following an editorial on already-escalating costs of the Ottawa Transitway in The Ottawa Citizen newspaper, this writer was stimulated to write a critical opinion piece for the paper on the subject. This led in turn to the Ontario Auditor's Report (Queen's Printer 1986) which contained, inter alia, the following information:
The Ottawa Rapid Transitway Project was approved by the Ministry in 1981 at an estimated cost of 97.5 million dollars [for 31 kilometers]. The Ministry [of Transport] committed itself to funding 75 per cent of this Transitway's costs. As the project proceeded, it was apparent that not all costs had been identified [emphasis added] and revisions had to be made to the estimates. Total costs escalated as follows:
| | |
| --- | --- |
| Budget year | Estimated total costs (million C$) |
| 1981 | 97.5 |
| 1982 | 160.6 |
| 1983 | 174.2 |
| 1984 | 226.2 |
| 1985 | 270.1 |
| 1986 | 389.2 |
The main reasons for the cost increases were underestimation of original costs, exclusion of inflation, incomplete details [in] plans and changes in standards of transitway stations. By 1986, the estimated cost had increased 400 percent from that anticipated at the start of the project.
The reference to stations is important: From the relatively simple shelters we expected, these grew to Taj Mahals worthy of a gold-plated metro system such as BART, outclassing Vancouver's 'Skytrain' stations. The Ottawa stations are vast enough to be intimidating; in the 1990's the Bronfman Foundation sponsored Transport 2000's Transit Advocacy Project which proposed and got humanisation of these inhospitable palaces: newspaper and coffee kiosks, better signage, safety features, and better integration into the streetscape.
The cost could have been even greater: to replace street running downtown, OC Transpo proposed twin downtown bus tunnels at a cost of C$ 1 billion. Luckily, in the early 1990s the then newly-elected New Democratic Party (Labour) government had some doubts: At an award ceremony for the Minister of Transport, the writer tipped him off as to the excessive cost of the project, and he in turn confided that the Minister of Housing, Evelyn Gigantes, M.P.P. for Gloucester, was also opposed.
The project was cancelled shortly after. it was already apparent that the busway was not attracting development along its line a la Toronto subway, and throwing "good money after bad" might not have improved matters, according to satisfied opponents.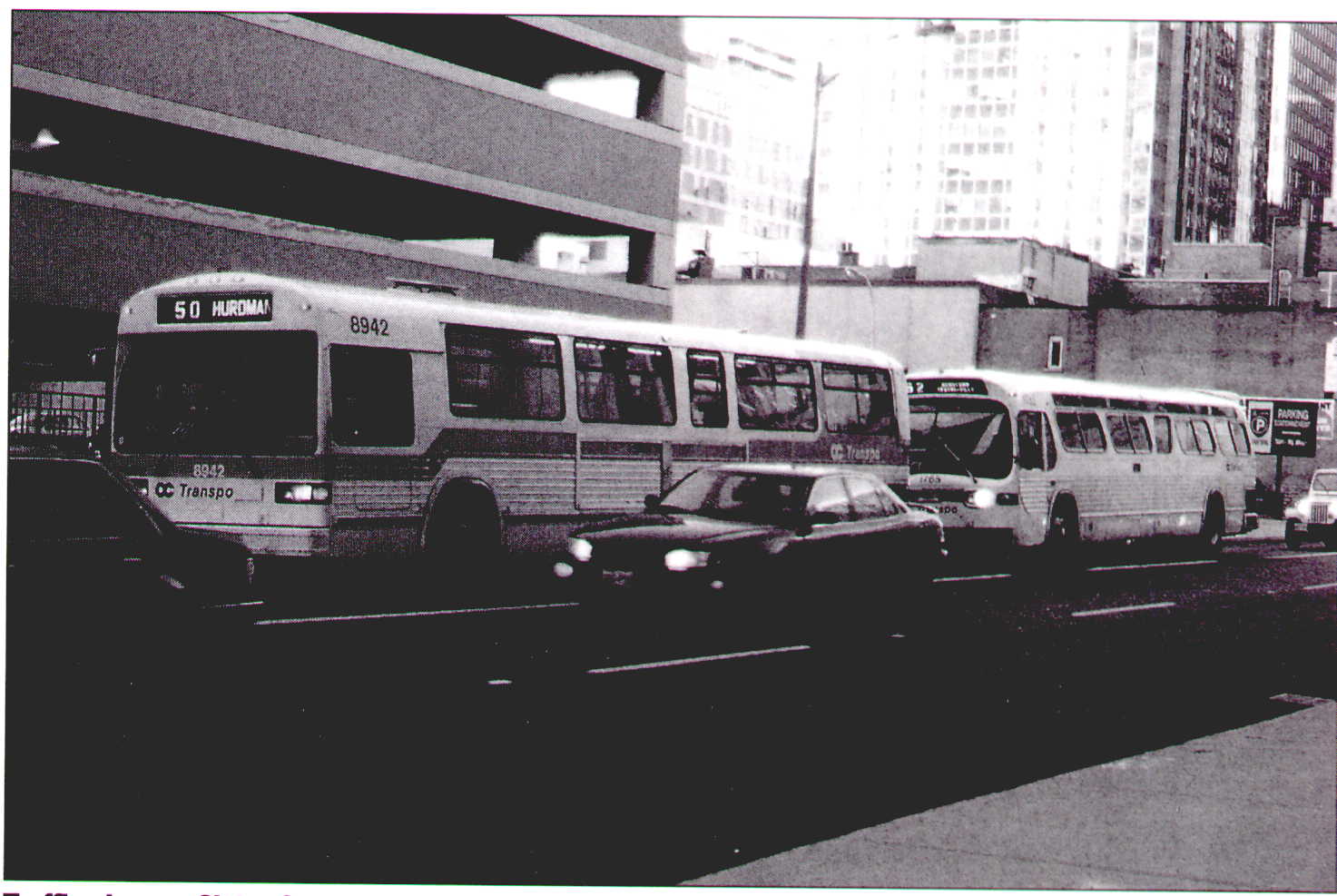 BRT in downtown Ottawa in the morning rush hour – Batallions of "express" buses contribute to the traffic chaos as they use the curbside "bus-only" reserved lanes that were the supposedly "low cost" alternative to LRT
The Transitway has absorbed an increasing portion of the resources that used to serve the streetcar neighbourhoods and commercial streets, as well as the night and weekend services, even in the suburbs. Riders are still jostled and jounced on buses that ride little better on a road for buses than on roads for cars. Ottawans introduced to Calgary and Edmonton light rail by the writer are unanimously amazed by the smooth, silent ride! North Americans, used to car comfort, still flock to commuter trains and light rail, but Transitway ridership remains below expectations. The special Orion/ikarus articulated buses are deteriorating, and a large number are sidelined, inoperable. These were supposedly the answer to LRT high-capacity cars. Sic transit gloria mundi! (Note: Ottawa is preparing in 2001 for a large order for new buses to replace the Orion/ikarus busses after only a dozen years of use).
The province is now removing its 75 per cent busway construction subsidy. This has resulted in deferral of about C$ 500 million in additional busway plans. Regional Council has just approved C$ 9 million (with 50% interim funding by the province – the last) for pre-construction work on a 3 km. extension of the West Transitway from Pinecrest to Acres Road. For the period 2021, other extensions have been downgraded from grade separated Transitways [busways] to "at grade" (surface) bus lanes, and a regional councillor is pressing to have car pools allowed on these. This may mean the end of bus priority, as many single-occupant vehicles sneak onto bus lanes here once vehicles with three persons are admitted.
As part of a wider review of the Regional Plan, Council asked in 1995 for a review of OC Transpo, and had it carried out by M.M. Dillon Ltd., consultants not previously involved in OC Transpo. The resulting 1997 report recommended a change in emphasis away from busway construction to bus priority at intersections. it also recommends a 40-km. diesel light rail transit (DLRT) system using underused heavy railway tracks. The Canadian Pacific Railway (CP) DLRT line (7 km.) will cost C$ 16 million (plus lease/purchase of three Bombardier Talent diesel three-section articulated railcars now delivered) compared to at-grade bus lanes at 37 million and a full busway at 263 million! The Canadian National Railway (CN) DLRT line would cost C$ 100 million for a double-track system compared to C$ 150 million for at-grade bus lanes and one billion dollars for a full busway. The rail corridors, now on the draft transport master plan and the draft official plan, will be livened up with an initial DLRT three-year test service on the CP line following a unanimous vote by councillors to accept it. The new council chairman, Bob Chiarelli, elected in November 1997, is now talking of converting the transitway to electric LRT.
Electric light rail has not so far fared as well as DLRT in the study process: consultants were apparently prevented from comparing ELRT trains of two or three cars with buses for operating costs. Nonetheless, the clear findings in favour of DLRT point the way.
Clearly the rolling stock costs are not significant (in modal choice). The guideway costs are significantly in favour of the rail transit option. Given the much lower capital cost, it is recommended that the preferred technology for the CNR corridor be rail transit service. (Repeated for the CPR corridor).
In fact, Calgary Transit (CT) operates both buses and electric LRT, and has hands-on experience with diesel LRT. CT reports operating costs for all three:
| | | | |
| --- | --- | --- | --- |
| item | Diesel Bus | Regiosprinter DLRT* | Electric LRT** |
| C$ per vehicle hour | 42.58 | 66.79 | 92.87 |
| Seats/vehicle (train) | 45 | 75 | 160 |
| C$ per seat per hour | 0.95 | 0.89 | 0.58 |
* One-car train, preliminary maintenance costs during 6-month trial, can be operated in MU
** Average of 2.5 cars per train
Not enough can be said about the role of the neutral outside consultants M.M. Dillon and subcontractor Transport Concepts, both of Ottawa, in taking a fresh look at the Transitway conundrum. One individual involved in the work (who has asked not to be identified) says key elements in the Region's change of vision included the involvement of the business community, including rail "champion" Barbara Ramsey, a pharmacist, and the Board of Trade. Cost concerns fueled their involvement, as did the elimination in two stages of the Provincial grant for busways, which had seemed attractive as long as someone else was paying. The charismatic leader had left the system, which, with declining ridership, could no longer ride on the image of success; and the business community no longer believed what the bus lobby and bureaucrats had been saying.
A controversy over building new bridges or expanding an old one for Québec-based car commuters into Ottawa helped too. Although the Outaouais (Qué.) Regional Council adopted a busway mega-project (en principe) and road-bridge expansion in preference to a rail commuter service as proposed by the CPR , lack of funds will make busways there "as likely as a snowball in hell" in the words of one well-known social activist. Bus lanes and an expanded parkway bridge will have to suffice. The Ontarians oppose the bridge expansion, and like to hold up their commitment to rail as the alternative. This may win out in the end, as the media have quoted the Mayor of Hull, Yves Ducharme, as saying that if the DLRT trial is successful, "the Outaouais will have to take a second look at rail service".
(As previously noted, in 2001 Outaouais travel habits appear to be changing rapidly: The installation of transit-preference lanes has sped up bus service, and transit growth rate on the Société de Transport de l'Outaouais (STO) has been around 5% per annum for a few years. in the first quarter of 2001 it was 11%, so the modal share must be improving in favour of transit. Now the challenge will be to get sceptical STO transit officials to adopt a DLRT extension to the Québec side of the Ottawa River!)
I have been asked by American and Commonwealth inquirers to give some advice on strategy. (Remember, they have to counter the sales blandishments of "experts" and their decision-makers are going on junkets to Ottawa). Never shy, after consulting my colleagues, may I offer some pointers:
• Be persistent; do not give up even after seemingly "final" setbacks
• inform and involve the business community
• Stay on a friendly basis with politicians
• Avoid the trainspotter image
• Marshall and know your facts; do your own research
• Plead the case for rail in the media using credible spokespersons
• insist on the economies of using existing rail infrastructure (e.g., San Diego, St. Louis, Karlsruhe etc)
• Bring in outside experts on your own and demand that busway projects be reviewed by independent consultants as above.

---
Has the Transitway been a mirage? The reader can judge this, as can he or she speculate as to any connection with the discipline of criminology.

The author wishes to thank the following for information which has been incorporated into this article: Martin Collicott, David Glastonbury, Greg Ross, Tim Lane, Mark Walton, Bert Titcomb, and Gail McEachern, as well as Radio Canada (CBC). Written sources include documents by M.M. Dillon, Transport Concepts, Professor John Bakker, the journal Le Droit, and OC Transpo. Errors and unattributed opinions are mine. H.W.G.

Transport 2000 Canada, a charitable consumer group, may be reached at Box 858, Station B, OTTAWA. Ontario, Canada, for further information.
Telephone 613-594-3290; Fax 613-594-3271.

EMail: ad377@freenet.carleto.ca
For graphics used in this report, Light Rail Progress wishes to acknowledge Bill Barker, OC Transpo, and Tramways & Urban Transit
Light Rail Progress Rev. 2001/05/18