Cincinnati Light Rail Plan Seeks Public Approval
© Light Rail Progress – February 2001
Special Note: Since this article was originally posted, Cincinnati's light rail plans have been substantially revised. The revision – including surface streetcars and a light rail system using Cincinnati's old unfinished subway tunnels – will be described in a forthcoming story.
As enthusiasm for light rail transit (LRT) spreads in North America (as it's doing worldwide), Cincinnati is yet another city seriously considering the installation of a brandnew LRT system. Cincinnati is situated in the furthest southwest corner of Ohio, on the Ohio River, and bordering both Kentucky and indiana. All 3 states – Ohio, Kentucky, and indiana – are involved in the OKI Regional Council of Governments (OKI), which is overseeing the major transit expansion program.
Overall, the final built-out system of 43 miles would access the overwhelming proportion of the Cincinnati area. Some 92% of the population and 92% of jobs would be located within 1/4 mile of a corridor transit route.
[Source: OKI, August 1998]
LRT Starter Project
Called the I-71 Corridor project, the initial LRT line would run for about 18 miles, roughly to the west of, and parallel to interstate Highway 71 between Covington, Kentucky and Blue Ash, Ohio, with approximately 20 stations. Following I-71, the 18-mile route would connect the 2 major suburban areas with downtown Cincinnati, crossing the Ohio River in the process. installation of such a starter line is estimated to cost about $800 million.
The starter line (from 12th Street in Covington to Pfeiffer Road in Blue Ash) is to be routed mostly in an old Pennsylvania Railroad right-of-way (ROW), known most recently as the so-called Blue Ash Running Track, whose southern portion is abandoned, with its northern portion used by a short line. The railway alignment stops short of the CBD, and its far south end is about a mile east of the University of Cincinnati, missing the campus. Therefore the LRT starter line alignment will leave the railroad ROW, operate west along MLK Blvd., then turn south through the University of Cincinnati campus and head downtown. Cincinnati's downtown and the university are the two largest employment centers in the region.
Mt. Auburn Tunnel
However, a major obstacle – Mt. Auburn – lies between the university and the CBD. With 250 vertical feet of elevation, this is a particularly steep hill that, in the days when Cincinnati had streetcars, was surmounted by a cable car big enough to carry streetcars up and down the incline. The new LRT line can't go over the hill; it's either "around" or "through", and "through" is the straighter shot ... thus a 1.2-mile tunnel through the hill is planned.
On top of Mt. Auburn is a once-posh, now rather poor neighborhood – and Christ Hospital. The latter isn't really big enough to justify a subway station, so a station will probably be deferred for the time being, although some engineering experts recommend excavating the rough station shell, so it can just be finished later.
Despite the obvious problems and risks in tunnelling, geological conditions are apparently ideal – not such hard rock to require blasting, nor so unstable to cause worry about cave-ins. However, it's important to note that 1.2 miles of tunnel is an expensive proposition, and raises both the total and the per-mile cost of the Cincinnati project.
The remaining four miles of the LRT route, into downtown Cincinnati and Covington, will mainly follow alignments in streets and arterials.
Public Supports LRT
Light rail would have to be approved by voters, and an election is tentatively being targeted for November 2001. Supporters in Cincinnati – the Alliance for Regional Transit – are already gearing up for the campaign. So far, LRT seems to have the plurality of public support, with 33% preferring the LRT plan, compared to 14% for a busway, 12% for HOV lanes, and only 7% for highway widening.
[Source: OKI, August 1998]
If approved, construction of the LRT starter line might begin in 2004. The approximately $800 million cost is expected to be met through local, state, and federal funds. The first stretch likely would be completed by 2008. Eventually the system could stretch 43 miles from Florence and Cincinnati/Northern Kentucky international Airport to Paramount's Kings island near Mason. Total cost of the larger network is projected at $1.2 billion.
[Source: Cincinnati Post 2000/11/28, 2000/12/08]
Congestion Reduction in Corridor Served
The comprehensive transportation strategy including an LRT system is projected to have major benefits for the region – including reductions in some key measure of congestion. Compared with the No-Build alternative, the LRT strategy is projected to reduce daily vehicle miles of travel by 146,768 and daily vehicle hours of travel by 9,397. As a result, total daily vehicle hours of delay in the corridor will be reduced by 4,055. As the graph below indicates, the LRT strategy has a major impact on congestion – measured by vehicle-hours of delay – which will be reduced by 7.2% in peak hours and nearly 7% overall.
[Source: OKI, August 1998]

Rail opponents attempt to downplay the impact of LRT and to portray its impact on traffic as negligible by comparing trip volumes in a single corridor served with the overwhelming magnitude of the metropolitan area's entire regional traffic. But this is sophistry – why try to compare traffic improvements in this single corridor with the travel volumes of the entire region? if that were routinely used as a basis for evaluating projects, not a single bridge, underpass, freeway, or other costly corridor improvement would ever get built.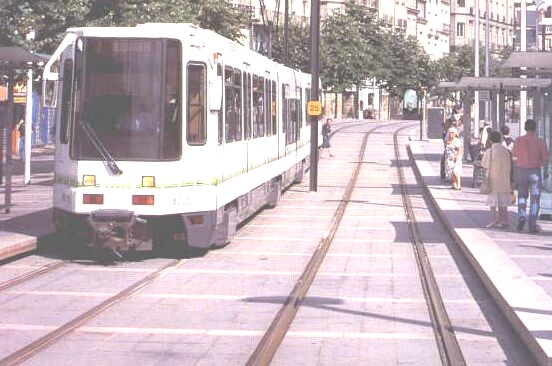 The impact of the LRT strategy will be very significant. The LRT line will carry about 20,000 additional riders compared with the No-Build alternative; overall, about 22,000 new daily riders are projected to be attracted to the transit system as a whole. The LRT strategy is thus projected to increase total regional transit ridership by about 30%.
[Source: OKI, August 1998]
While this amount of traffic is small in comparison with total regional traffic, LRT's impact in the I-71 corridor served will make a major difference. This is especially true since the route parallels I-71 in its most constricted segments.
It's important to note that 18 miles of LRT – or even 43 – will not, in and of itself, stop the growth of Cincinnati's traffic congestion. However, LRT has shown in other cities that it has the potential for at least slowing the growth of overall congestion, providing an alternative to congested car and bus traffic, and representing the initial steps in building a future system which can impact overall congestion. in other words, growth in Cincinnati's congestion will be slowed along specific LRT routes, but LRT alone won't be enough to overcome current growth rates in car travel.
Other Major Benefits
The LRT strategy is projected to have other major benefits, such as reduction in air pollution, reduction in automobile operating and parking costs, savings in travel time, and savings in public services. Expressed in dollar amounts, some of these benefits are listed in the table below.