Orléans Light Rail Tramway: Key Facts
NOTE: This data page is provided as a quick reference for planners, engineers, transit agency professionals, and others involved in the advocacy, planning, and development of rail transit systems. However, it must be recognized that, particularly with the rapid expansion and upgrading of these systems, some important parameters and characteristics (such as ridership, route lengths, fleet sizes, etc.) are subject to frequent change. Thus, while we make every possible effort to keep information current, we recommend that the data provided for such items on this page be regarded as approximations. "If errors are detected, we will appreciate corrections and updates provided by readers, preferably with some substantiation. Please contact us at:
lightrailnow@lightrailnow.org.
Orléans Light Rail Tramway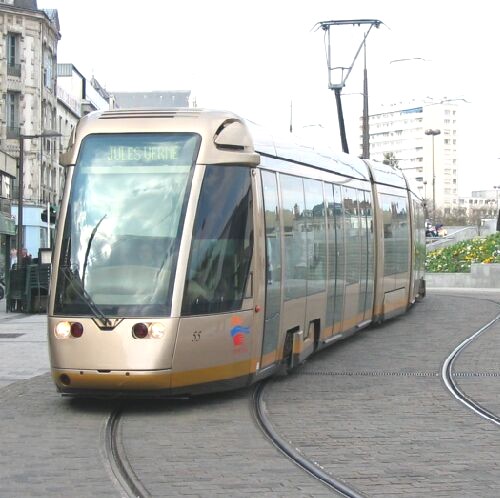 Orléans light rail tram running on grassy median alignment. Approximately 45% of the Orléans Tram Line 1 is situated on such grass-covered alignments.
(Photo: N. Z. Adams)
---
Overview
Tram Line 1
· Route length: 11.2 miles (18.0 km) (March 2005)
· Stations: 24, including 6 with park & ride (March 2005)
· Weekday ridership: 37,000 (2002)
· Average operating speed: 14.3 mph (23.0 kph)
· Average stop spacing: 0.5 mile (800 m)
· Railcars: 22

Rolling Stock – Alstom – Citadis Model 301 (2000)
· Fleet size: 22 (March 2005)
· Width: 7 ft 8 in (2.32 m)
· Length: 99 ft (30 m)
· Maximum operating speed: 50 mph (80 kph)
· Passenger capacity: 174

Orléans Tram Line 1 Map
Orléans Tram Line 1 Map
[Map: Grizzli Beat website]
Light Rail Now! website
Updated 2005/03/27

Return to France Rail Transit Page
Return to NewsLog article Orléans: New east-west light rail tramway to be "true tram on rails", not "BRT"
HOME
| FEATURES | NEWS | EVENTS | FACTS | MYTHS | ABOUT LRN | CONTACT LRN | LINKS | SEARCH
© 2000-2007 Light Rail Now Project Project